Nigeria Named World's Most Violent Persecutor of Christians
Catholic Communications, Sydney Archdiocese,
16 Jan 2015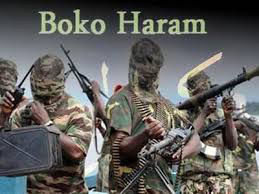 Nigeria has been named as the world's most violent persecutor of Christians. In 2014 Boko Haram's militant Islamic extremists massacred more than 2484 men, women and children of faith. This was followed last week by even more atrocities when it is believed, but as yet unconfirmed, that as many as 2000 were slaughtered by Boko Haram in a bloody attack on Baga, a city in Nigeria's north.
In a disturbing new report by Open Doors, the US-based international organisation that supports persecuted Christians worldwide, Nigeria tops the list of the most violent and dangerous nation for for Christians.
Although exact numbers of the dead in last week's horrific attack by Boko Haram are not yet known, satellite images of Baga and the nearby town of Baga Doron show complete devastation with Christian churches, schools, houses, clinics, hospitals and almost every building razed to the ground.
Human Rights Watch and Amnesty International have both published separate satellite images on their websites and describe the destruction as one of "catastrophic proportions" with more than 3700 structures estimated to have been destroyed.
Nigeria's President Goodluck Jonathan and Nigeria's notoriously corrupt government and army, which have done little to try to halt Boko Haram's murderous advance, dispute the number of those killed and claim no more than 150 died in the attack.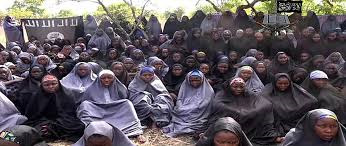 But accounts from the one man and the more than 5000 others forced to flee for their lives to together with the satellite images of the stricken towns make a mockery of claims by the President and the army.
"People were slaughtered like animals. They were shot indiscriminately," a survivor said and gave an horrific account of a woman in labour, the baby's head already emerging, shot at point blank range.
Another man, 38-year-old Yanaye Grema told the Nigerian Premium Times that dead bodies were strewn over more than three and a half kilometres.
"All I could hear were ceaseless gunshots, explosions, screams from people and chants of Allahu Akbar (God is Great)," he said.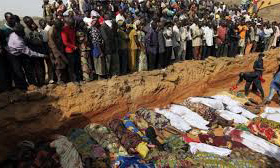 Just as the ISIS is rampaging across Syria and Northern Iraq in an attempt to create an Islamic Caliphate under strict Sharia Law, Boko Haram is intent on creating an Islamic Caliphate across Nigeria, the Cameroons and much of Africa.
Equally disturbing is the fact that of the nations named as the 20 most dangerous for Christians in the World Watch List for 2015, released by Open Doors this month, the greatest threat posed in 18 of these, is Islamic extremism.
Included among the 20 most dangerous nations for Christians in the Report are Somalia, Iraq, Syria, Afghanistan, Sudan, Iran, Pakistan, Eritrea, the Maldives, Saudi Arabia, Libya and Yemen.
"While 2014 will go down in history for having the highest level of global persecution of Christians in the modern era, current conditions suggest the worst is yet to come," Open Doors warns.
Among the trends the detailed survey for the organisation's annual World Watch List shows a rise in Islamic extremism in Africa. In 2013 Kenya was ranked 43 out of 50 for persecution of Christians. In 2014 Kenya jumped to number 19 as one of the world's most dangerous nations for Christians.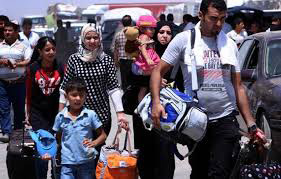 In the Middle East, 700,000 Christians have left Syria since the 2011 civil war began while more than 70 percent of Christians in Iraq have fled the war torn nation since 2003.
In Asia, North Korea remains extremely dangerous for Christians with more than 70,000 Christians currently in prison camps where there is no chance of release or escape. The death rate in North Korea's grim camps is high and may account for as many as 20,000 deaths a year.
But one of the newer areas of persecution in Asia is India where Christians face violence not only from Islamic extremism but Hindu fundamentalism as well.
"Approximately 100 million Christians were persecuted last year with Christians now one of the most persecuted religious groups in the world," says David Curry, CEO of Open Doors.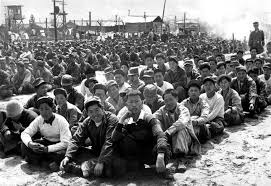 Islamic extremism continues to be the main source of persecution in 40 of the 50 nations named in the World Watch List. The survey's researchers reported a rise in persecution even in countries where Christians are in the majority.
"Christians worldwide are facing unprecedented levels of exclusion and discrimination," David Curry says.
The World Watch List is the only annual survey of religious liberty conditions for Christians around the world and is published in January each year, with each survey taken of the 12 months beginning on 1 November until 31 October the following year.
Founded 60 years ago, David Curry says the goal of the organisation's survey and annual World Watch List is to keep Christian persecution on the radar and also to let those who are being persecuted know they have not been forgotten.