All Saints of Sydney
Catholic Communications, Sydney Archdiocese,
6 Nov 2015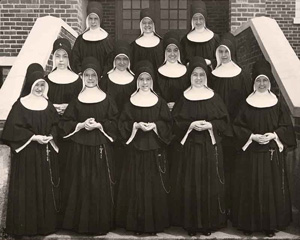 In a Pastoral Letter distributed throughout the Archdiocese, Archbishop Anthony Fisher OP has paid tribute to all the Saints of Sydney - the consecrated men and women who have been an heroic and major factor in the history of the Church in Sydney and called on other men and women to also have the courage to be a hero
Titled "For all the Saints - Consecrating Life to Grace, Joy and Love", the letter is to the clergy, religious and lay faithful of the Archdiocese for the Year of Consecrated Life.
Thousands of copies were distributed throughout the parishes last weekend.
"Consecrated people have certainly been a major factor in the history of the Church of Sydney.," he writes.
"Pioneering priests, sisters and brothers brought the faith to Australia and built up much of our spiritual and social heritage, "Charities", 'Good Sams', 'Joeys', 'Christies', 'Mercies', Marists and others founded and long staffed our schools and hospitals. Religious such as Franciscans, MSCs and Jesuits ran parishes and chaplaincies, and many newer congregations and movements have now joined them in doing so. Consecrated women and men have served the poor, sick, newcomers and needy, carried the Gospel out to our community, and constantly prayed for us at the feet of the Lord.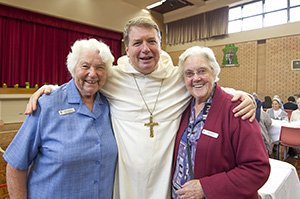 "The first religious community in Sydney were Sisters of Charity. On arrival from Ireland they made their way immediately to the Female Factory in Parramatta where some of the most abandoned women and children in the colony and the world were living.
"Our most famous Australian Catholic was Mother Mary MacKillop, now St Mary of the Cross. In our city of Sydney alone she directed the founding of schools in Annandale, Bankstown, Bondi, Camperdown, Campsie/Canterbury, Drummoyne, Dulwich Hill, Granville, Hunters Hill, Lane Cove, Leichhardt and Leichhardt North, Lidcombe, Mosman, Naremburn, North Sydney, Penrith, Ryde, St Mary's, Sydney and Woolwich. Her Sisters of St Joseph have educated thousands of children and cared for Aborigines, orphans and others.
"There are many more stories to be told of heroic and hidden religious who built the Church of Sydney. Today there are over 900 sisters, around 450 male religious, several members of new forms of consecrated life, a consecrated virgin and a hermitess within the Archdiocese. Several new religious congregations and movements have come to us from overseas or been started in Australia in recent years. Together these consecrated persons enormously enrich our Church and society. They pray for us and work in their traditional apostolates such as education and nursing. Others now work in parishes, prisons or spiritual direction; with refugees, prostitutes and migrants; campaigning against the trafficking of women, men and children or the abuse of creation and the poor; or assisting the old, sick and lonely in new ways. "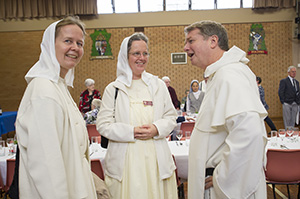 Archbishop concludes the Letter by asking everyone to pray for those who have worked tirelessly in their vocation and for new vocations.
"To all young Catholic men and women I say: listen to God speaking in your hearts, in Word and Sacrament, in your families and communities, in the signs of our times and the needs of our world. Have the courage to be a hero! Be generous enough to join the great adventure of consecrated life! "
The full Pastoral Letter can be found at here