Historic St Brigid's Church Not Under Threat of Closure
Catholic Communications, Sydney Archdiocese,
15 Jan 2015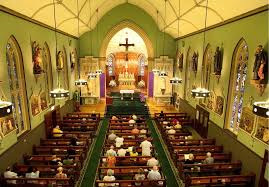 Parish priest at St Brigid's Catholic Church, Miller's Point, Father Ray Chapman, SM dismisses claims by a Sydney newspaper that Australia's oldest surviving place of worship is under threat of closure as preposterous.
"I told the journalist who contacted me there were no plans to close St Brigid's. Nevertheless the article that did not include what I said and I believe caused unnecessary distress to our parishioners," he says.
The news story earlier this week claimed the 180-year-old church was under threat as a result of the Baird Government's decision to relocate 600 public housing tenants from Miller's Point in order to sell their houses had decimated the number of those attending St Brigid's weekly Mass.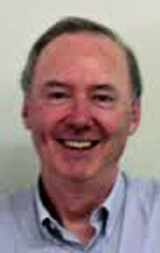 Fr Chapman disputes the newspaper's assertion that Mass numbers have sharply declined, and points out that in the twice yearly census of Mass and Reconciliation attendance conducted over the past five years by the Parish of St Patrick's and St Brigid's there has barely been any change in numbers of those attending St Brigid's weekly Mass.
Reconciliation followed by a 9 am Sunday Mass are the only services celebrated at St Brigid's. Parish Masses and Reconciliation are held several times daily instead at the Parish's other equally historic, St Patrick's Church in Grosvenor Street, The Rocks.
But what Fr Chapman is most concerned about is what he described as the inaccuracy of the report and its attempt to embroil St Brigid's in the controversy surrounding the decision to relocate public housing tenants in order to sell off Miller's Point Nineteenth Century terrace houses, which the NSW Government claims are too expensive to maintain.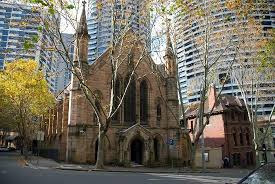 "To print an article asserting St Brigid's is under threat of closure after I had said categorically this was not the case, is improper use of the media and an attempt to create controversy where there is none," he says adding there did not appear to be any concern shown for how such claims would affect the parish community.
Ironically rather than having fewer parishioners, the Parish of St Brigid's and St Patrick's is likely to swell once the $6 billion massive residential and commercial redevelopment at Barangaroo is completed. Barangaroo is part of the Parish of St Brigid's and St Patrick's and with the hundreds of apartments being built, Mass attendance at both historic churches are expected to see a considerable increase in numbers.