New Altar and Church an All Saints Celebration at Redfern
Catholic Communications, Sydney Archdiocese,
4 Nov 2015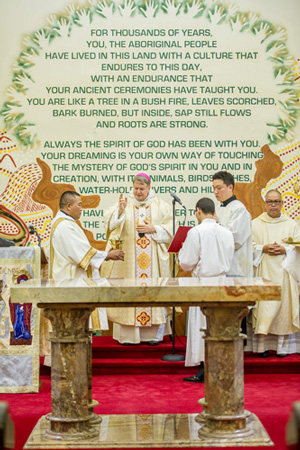 The Archbishop of Sydney joined the community of St Vincent de Paul parish at Redfern on the weekend to celebrate the consecration of a new altar and re-dedication of their church on the feast of All Saints.
The church has undergone major restoration and refurbishment under the guidance of parish priest Fr Melvin Llabanes.
With a new marble altar, seating, lighting, sound system sacristy and organ, the church is now as welcoming as it was when first opened in 1886.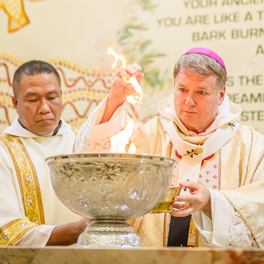 A Tongan and Neocatechumenal Way choir greeted the Archbishops and priests for the start of the Mass with parishioners and friends quickly filling all the seats, leaving many standing. A first class relic of St Vincent de Paul placed inside the altar and sealed following by the prayer of dedication, anointing of the altar by the Archbishop with holy chrism and incen sing. The altar was then prepared for the Eucharistic Liturgy.Acknowledging the Gadigal people of the Eora Nation as the traditional custodians of the land, Archbishop Fisher said all people, no matter their background or ethnicity, are called to universal holiness. He said we are all a communion of states and the parish at St Vincent de Paul demonstrates exactly that."Founded in 1886, this parish has been home to many significant figures in the history of our Church in Sydney, such as Parish Priest Fr Ted Kennedy and his great mate Mum Shirl, whose outreach and ministry to the Indigenous people of this area inspired many ,Archbishop Fisher said.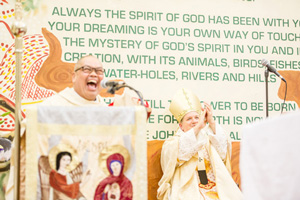 "Many other priests, religious and lay people have also laboured in this area: I think for instance of the Pagani family whose missionary work on the streets of this area is so inspiring. At this time of All Saints and All Souls we pay tribute to the great work of all those who have gone before us and as we pray for them we pray also that we might be worthy successors in service to the local community of Redfern and beyond.
"Building on that legacy we bless today contributions made by the next generation to the beautification of this place of worship. A fixed, permanent and raised altar as the focal point of the church, is not only required by Church law and practice but goes to the very heart of Catholic faith and worship: it is not only the place for offering the Sacrifice of the Mass, but also anticipates that heavenly future when we hope to join the communion of saints around the altar of God."