Vinnies Launches Bushfire Appeal
Catholic Communications, Sydney Archdiocese,
13 Jan 2015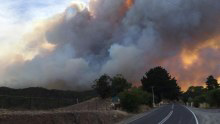 St Vincent de Paul Society has launched a Bushfire Appeal to help victims of last week's devastating fires in the Adelaide Hills that destroyed 27 homes, 132 outbuildings, severely damaged many more and left 134, mainly fire fighters injured.
The blaze which erupted on 2 January in 40-degree plus temperatures and swept across 13,000 hectares, also killed or injured untold numbers of livestock and wildlife.
Brian Spender, President of Vinnies SA is calling for Australians to help victims of what is being described as South Australia's worst bushfires since 1983's horrific Ash Wednesday fires. He is also asking those who wish to contribute to give a financial donation rather than clothes, blankets or household goods.
"We are always extremely grateful for donations of material goods but in the immediate aftermath of this crisis, financial donations are crucial so we can assess the needs of each of those affected needs and give them urgently needed assistance," he says.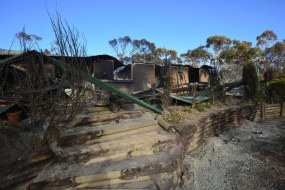 During the first week of the bushfire emergency, Vinnies SA worked closely with the South Australian Government. Now that the fire is under control and proper assessments can be made, Vinnies is looking ahead to providing those affected get back on their feet not just in the short term but over the medium and longterm.
"We will be there to help as long as we are needed," he says.
Best & Less, IGA and Foodland have also come on board to support Vinnies SA's efforts to help those affected by the fires. Any store owned by one of these companies is accepting donations on Vinnies' behalf. IGA and Foodland have also given $10,000 in gift cards to be distributed by Vinnies to those in need.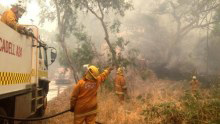 Although financial assistance is urgently needed to assist families in the short term, later in the year Vinnies SA will be seeking donations of household goods, furniture, clothing and kitchen equipment for those affected by the fires. Many of these will need help with these goods as they move into rentals while homes that were destroyed are rebuilt or while those damaged by fire are repaired.
"Part of our long term assistance will include financial support, budget counselling, assistance with bills, food vouchers and material assistance such as furniture and clothing to support those affected by this tragic event," Brian Spencer says, adding with more than 2880 members across South Australia, Vinnies has many supporters who are part of communities that have been devastated by the fires and who will be feeling deeply the losses suffered by their neighbours.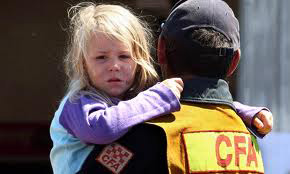 More than 500 fire fighters from NSW, Victoria and South Australia battled the Adelaide Hills blaze for six days until finally helped by rain and a much needed change in the weather, the fire was finally brought under control.
Just as members of the SA Rural Fire Service helped bring 2013's ferocious fires in the Blue Mountains under control, members of the NSW RFS gave up their New Year break to fight the Adelaide Hills fire.
In Western Australia, recent devastating fires in Perth and parts of Bullsbrook have been downgraded to watch and act.
To donate to Vinnies to help victims of SA's bushfires log on to www.vinnies.org.au/sabushfireappeal