Pope Francis Arrives in Sri Lanka for Start of Asian tour and Calls for Truth, Justice and Healing
Catholic Communications, Sydney Archdiocese,
13 Jan 2015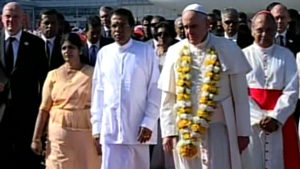 Pope Francis has called for respect for human rights and the pursuit of truth at the start of his six-day Asian tour in Sri Lanka.
This is the first papal tour to Sri Lanka since the end of the four-decade civil war in 2009Just a few days ago the nation's wartime leaders were voted out and the Pope was greeted warmly by a large crowd and the new President who has promised an end to growing repression of religious minorities.
Presented with a long garland of white and yellow flowers on his arrival, the Pope was entertained by dancers and a children's choir. The President, Maithripala Sirisena said the Pope's visit was a blessing for his new government.
Speaking Colombo's airport Pope Francis said; " It is a continuing tragedy in our world that so many communities are at war with themselves.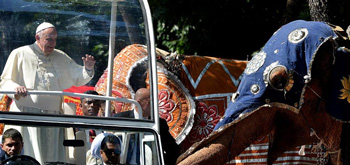 The inability to reconcile differences and disagreements, whether old or new, has given rise to ethnic and religious tensions, frequently accompanied by outbreaks of violence. Sri Lanka for many years knew the horrors of civil strife, and is now seeking to consolidate peace and to heal the scars of those years. It is no easy task to overcome the bitter legacy of injustices, hostility and mistrust left by the conflict. It can only be done by overcoming evil with good and by cultivating those virtues which foster reconciliation, solidarity and peace. The process of healing also needs to include the pursuit of truth, not for the sake of opening old wounds, but rather as a necessary means of promoting justice, healing and unity."
There have been long-held battles between the minority Tamils and the majority Sinhalese for many years. The separatist rebels of the Tamil Tigers fought for decades for independence, citing discrimination by the government. When the civil war ended in 2009 the United Nations said both sides committed atrocities against civilians.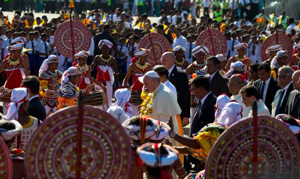 A Buddhist-majority country, St John Paul 11 was boycotted by Buddhist leaders when if visited 20 years ago however on this trip Pope Francis will hold a multi-faith prayer meeting which is expected to include Buddhist representatives.
After Sri Lanka Pope Francis will visit the Philippines where it is expected one of the biggest crowds ever for a Papal visit will gather when the Pope conducts an open-air mass in the capitol, Manila.
Follow live streaming of the Apostolic Visit to Sri Lanka and the Philippines with Pope Francis on www.xt3.com