The People's Climate March
Catholic Communications, Sydney Archdiocese,
30 Nov 2015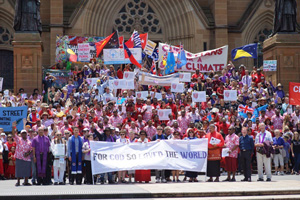 Thousands gathered for the People's Climate March in Sydney on Sunday representing a variety of groups, communities, associations and lobbyists.
A large contingent of Catholics gathered outside St Mary's Cathedral where they were blessed by the Archbishop of Sydney, the Most Rev Anthony Fisher OP.
Before heading off down Macquarie Street to the Opera House to join thousands of other supporters they gathered together for a photo shoot under colourful banners on the Cathedral steps.
Catholic Earthcare Australia said Pope Francis has stirred the world to action by his encyclical Laudato Si.
His encyclical delighted millions around the world detailing his concerns about climate change, and what it noted were the effects on biodiversity, global resources and poverty.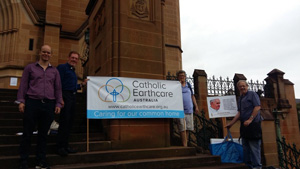 For many the encyclical allowed the church to re-engage with both its followers and also non-Catholics - using it as a bridge that everyone around the world could use.
Pope Francis has said a number of times the poor are the victims of climate change, not the cause so by actively promoting climate change awareness, he is also tackling socio-economic equality.
With many road diversions in place the crowd of around 45,000 all up gathered for the green march in Sydney's Domain before the march down Macquarie Street.
Similar marches occurred right around Australia ahead of the Cop-21 climate talks in Paris.