Special Needs Children a Gift From God
Catholic Communications, Sydney Archdiocese,
2 Nov 2015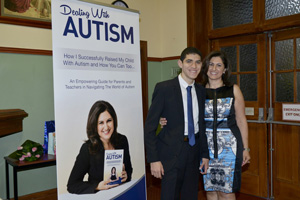 When Sydney mother, Randa Habelrih led a group of Australian pilgrims along the famed El Camino de Santiago pilgrimage trail last year, she came up with the idea to write a book about successfully raising a child with autism based on her own experience with her much loved son, Richard.
By September this year, just over 12 months later, Randa was back on the El Camino de Santiago trail leading another group of pilgrims. By this time she had not only written her book: "Dealing with Autism: How I Successfully Raised my Child with Autism and How You Can too.." but had carried a copy with her along the trail so that when she reached St James Cathedral in Santiago de Compostela, she attend Mass and give thanks.
With its message of hope and optimism, backed by sound practical advice, Randa's book has been picked up worldwide. Launched in May this year at the University of Notre Dame Sydney by former NSW Governor, Dame Professor Marie Bashir at a ceremony attended by the Hon John Ajaka, NSW Minister for Ageing and Disability and Bishop Peter Comensoli, the highlight of the night was the speech given by her now 19-year-old son Richard - mwith his characteristic big smile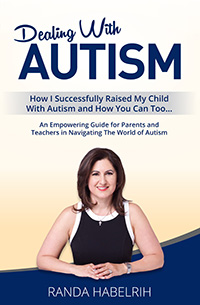 "I could never have imagined back in those early years when Richard was non-verbal, non-compliant and just wanted to spin in a circle that this could or would ever be possible," Randa says. "I had no idea back then that there was indeed a light at the end of our autism tunnel."
Randa's refusal to give up hope and to not only meet the challenge of raising a child with autism but to help him realise his full potential on all levels is inspiring parents not only of children with autism, but special needs children of all types. Now Randa's message of hope is about to go international.
On November 14, just over two weeks away, she will travel to India with Sam Cawthorn, the outstanding young man who lost an arm and a leg at age 26 after an horrific head-on road accident with his car, a semi trailer and another car. Initially pronounced dead by paramedics, he confounded everyone by not only surviving but becoming one of the nation's most inspiring motivational speakers.
Now aged 34 with a bionic right arm and prosthetic right leg, Sam was named Young Australian of the Year in 2009 and would later document his struggle to recover from the injuries to his pulverised body in his 2013 book: "Bounce Forward - How to Transform Crisis into Success."
The message of Sam's book, like Randa's book on autism, is one filled with hope and optimism, and proof positive that no matter how difficult life's challenges may seem, they can also be enriching emotionally, physically and spiritually.
Sam and Randa are now taking this message to India as part of the small group who will give a series of presentations and talks in Mumbai and New Delhi.
"I'll be talking about my own story of our family and raising Richard. But as well as discussing autism the major focus will be on the importance of being positive, of moving forward and overcoming whatever challenges life throws at you," she says.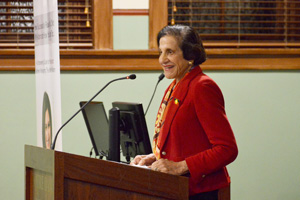 For Randa the aim of her talks in India, as well as on her website and book on autism are all aimed at trying to change attitudes.
"It's no good making just little noise," she says and is determined that her message calling for a change in attitude for those with special needs, and in particular, with autism, be available to everyone who wants to listen.
"One of the problems with diagnoses such as autism is that the medical profession whether by habit or whether they have been trained this way, almost always give parents the worst possible scenario, and take away any hope for the future. This is a huge disservice and disempowers parents and families," Randa says.
Instead of the doctors acting as advocates and offering a light at the end of the tunnel, families are filled with despair whether they are dealing with autism or struggling to cope with a loved one who has suffered a life-threatening stroke or been involved in an horrendous car crash like Sam Cawthorn, she says.
In Richard's case the diagnosis of autism was a long time coming, with doctors telling her when he was six months old that her son was simply: "globally developmentally delayed."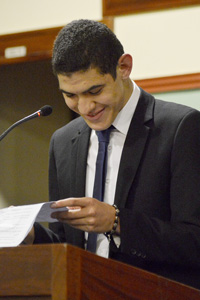 "This was a sanitised way of telling me something was wrong but they didn't know quite what," she says. The doctors also told her that her six month old son would unlikely ever be able to walk.
Randa refused to believe them. "No matter what the doctors told me, from very early on I was convinced he had autism," she says explaining that unlike his elder sister Emily at the same age, Richard wasn't making eye contact, wasn't waving or starting to talk or interacting or responding to those around him.
While Richard did not receive an official diagnosis of his autism until he was four years old, from the time he seven months, Randa had quit her high-powered marketing career with an international cosmetic company and begun early intervention with a series of therapies used for autism at that time that she had created from research as well as speaking with other families who had children born with autism.
As part of this vital early intervention program, Richard underwent eight hours of physical therapy each day, six days of the week. By the time Richard was five, Randa's devotion and determination were paying off. Not only could he talk and read above his age level, but against those early predictions by his doctors, he could also walk.
Since that time Richard has continued to defy the odds. After some difficult experiences at public schools where he was bullied and would arrive home covered in cuts and bruises, the victim of countless taunts that he did not understand and from being a happy passive child, became unsettled and tearful and unable to sleep at night.
Although there are 250,000 or one in 100 children with autism across Australia, teachers in the public school system are largely untrained and have no resources or support in how to deal with children with special needs such as those with autism, Randa says.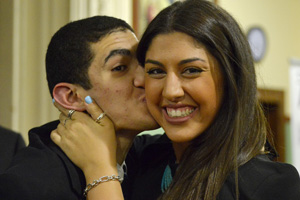 Once Richard began school at the Archdiocese of Sydney's St Mary's and St Joseph's Primary, Maroubra, his life changed. Encouraged by the school and trained staff, the children as well as their parents befriended Richard. He was invited to birthday parties and supported by his classmates not only during lesson time but on the sports field.
At an athletics carnival in Year 6, unbeknown to their teachers, for one race the children decided they would all slow down so that Richard could be the first one across the finish line.
Randa has nothing but praise for Sydney's Catholic Education Office, and says the positive experience Richard had at primary school continued into secondary school.
Attending the Pagewood's Champagnat Catholic College, Richard found the same encouragement and support, particularly from Principal David McInnes and in November 2013 he was awarded his Higher School Certificate and proudly graduated with the rest of his class.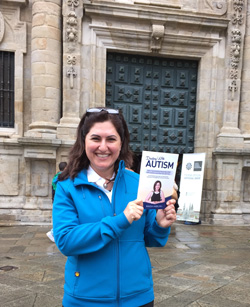 Since the start of 2014, Richard has been involved in NOVA's two-year transition-to-work program which teaches life and job skills to Year 12 school leavers with a disability.
"He absolutely loves it. He is also enormously proud that he has become more and more independent and can now catch a bus to Rockdale for classes which is a significant distance from where we live. The people at NOVA are very committed and caring and he is thriving," Randa says.
Richard is also getting work experience serving at Cafe Bacetti two days a week but his hope is to eventually find a job placement with a nursing home working with the elderly.
"He really loves being around his grandfather and elderly people and in his words, his favourite thing of all is to be a 'helper,'" she says.
Richard talks happily to whomever he meets, and sees the world and everyone in it as his friend.
"He is my hero. He has taught me so much including the meaning of patience, understanding, acceptance and honour. He teaches me every day how to love unconditionally. How? By example. It's the only way he knows," his mother says.
Randa is equally proud of her daughter, Emily who adores her brother. Emily's Honours Thesis entitled Habelrih, E.A., & Hicks, R.E. (2015) Psychological well-being and its relationships with active and passive procrastination, the International Journal of Psychological Studies, 7, 25-35. doi: 10.5539/ijps.v.7n3p25 has just been published in a professional journal and won high acclaim. Emily is currently working towards her Masters Degree in Clinical Psychology.
"She continues to amaze me. They both do," Randa says.
To find out more about Autism, to purchase Randa's book or to support her next venture, the School M.A.T.E.S Autism Program to equip teachers, staff, mentors and classmates with a training manual to support, help, understand and guide children with autism through the social labyrinth they find so alien, see http://new.dealingwithautism.com.au/