Students Learn About the Relevance of Consecrated Life in Modern Society
Catholic Communications, Sydney Archdiocese,
27 Nov 2015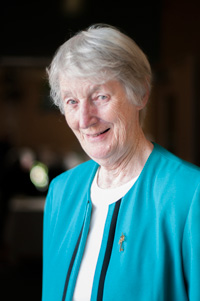 The Archdiocese of Sydney is this week hosting Cardinal Braz de Aviz, Prefect of the Congregation for Institutes of Consecrated Life and Societies of Apostolic Life, as part of its celebrations for the Year of Consecrated Life. The Cardinal's visit is being coordinated by Sister Maria Casey, the Vicar for Consecrated Life.
Cardinal Aviz and Father Elias Ayuban, who has accompanied him, arrived in Sydney on Wednesday.
On Thursday, the Cardinal addressed a large group of senior students from high schools around the Archdiocese, who gathered at the Broadway campus of the University of Notre Dame Australia. Cardinal Aviz spoke to them about the relevance of Consecrated Life in modern society.
Co-ordinator of the schools event, Christopher Neaves, who is the Leader of Learning in Adult Faith Formation and Evangelisation, Religious Education and Evangelisation for the Catholic Education Office, said the event was a wonderful experience for all who attended.
"Cardinal Aviz was engaging and enthusiastic, even with his address in Italian and translated into English he captured the students and teachers audience," he said. Mr Neaves said Cardinal Aviz happily included his own personal testimony in the discussion, and encouraged them in their journey of faith by explaining that even his own faith is continually on a journey.
"Our formation in faith begins in the womb and finished with ones' last breath," Cardinal Aviz said.
Following the address and a period of Q&A by the students, Cardinal Aviz shared a meal with them, posed for photos and spoke with many more gathered.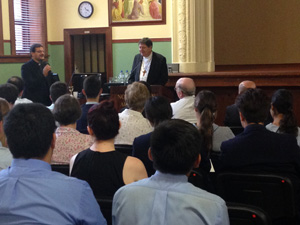 On Thursday evening, Cardinal Aviz addressed the Australian Catholic Bishops' Conference Plenary Meeting in North Sydney.
On Friday, Cardinal Aviz visited a number of the ministries within the Archdiocese being run by consecrated men and women.
He began by visiting the John Berne School in Lewisham, which is run by the Marist Brothers. The school focuses on the education of young people who, due to behavioural issues or learning difficulties, find themselves excluded from mainstream education and at risk of not completing their schooling.
Cardinal Aviz then visited the site of the Eileen O'Connor School, which is due to open its doors next year. The school will be the first secondary school for students moderate intellectual disabilities and complex learning needs.
Following that, Sister Ailsa Mackinnon, RSM, the Executive Director of Mercy Works, and other religious and volunteers hosted Cardinal Aviz at Mercy Works at Lewisham, run by the Sisters of Mercy. Mercy Works partners with communities to promote justice, self-reliance and to support displaced people, including assisting in education, health care and social welfare.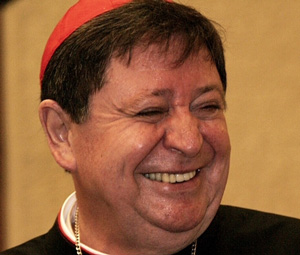 Cardinal Aviz then had lunch at the Two Wolves Community Cantina in Chippendale, run by the Jesuits and an initiative of the Cardoner Project, which was founded by Father David Braithwaite SJ and seeks to provide graduates from Jesuit-run schools with volunteering opportunities in Australia and overseas. Two Wolves is co-ordinated by Jesuit seminarian Ramesh Richards, and is staffed by more than 100 volunteers. Profits from the Cantina go to Jesuit Refugee Services and other projects, but it has a further goal of being a training centre for the long-term unemployed.
Tonight, Friday evening, Cardinal Aviz will speak with hundreds of consecrated women and men from the Archdiocese of Sydney and the Dioceses of Broken Bay and Parramatta, as well as young people from around Sydney, at Australian Catholic University, North Sydney.
Before departing Australia on Saturday, Cardinal Aviz will visit the Carmelite Monasteries in Varroville.