A Christmas Celebration and Concert at St Mary's Cathedral
Catholic Communications, Sydney Archdiocese,
27 Nov 2015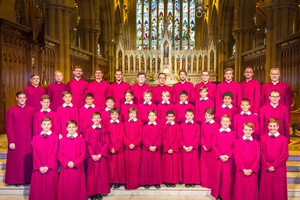 St Mary's Cathedral will host a very special Christmas Celebration with the St Mary's Cathedral Choir and Chamber Orchestra on Friday evening, 18 December at 7.30pm.
Everyone is invited to the ticketed event to celebrate the beauty and wonder of Christmas which will include congregational carols and music by J S Bach, Handel, James MacMillan and John Rutter.
Hosted by the Archbishop of Sydney, the Most Rev Anthony Fisher OP, there will also be seasonal readings, both sacred and secular, by civic and community leaders, with the Archbishop giving
a Christmas reflection.
This is the first time such a ticketed concert for Christmas has been held in the Cathedral.
Representing the spiritual origin of the Catholic Church in Australia, St Mary's Cathedral stands in the centre of Sydney and is a Christian statement of grace and beauty.
Generations of artists have bequeathed to it their magnificent gifts in stone and glass so it is fitting this generation of artists and musicians contribute their skills.
The Choir of St Mary's Cathedral is the oldest continuing musical organisation in Australia, tracing its history to the very earliest days of the colony.
Today the choir is under the direction of Thomas Wilson, formerly of Westminster Cathedral in London. St Mary's Cathedral is the only Roman Catholic Cathedral in Australia with an on-site Choir School where the twenty four boy choristers are educated. The gentlemen of the choir are professional singers.
The presenting partner for the evening is WN Bull Funerals which has been serving Sydney for more than 120 years and has a close association with the Cathedral.
For many years the Cathedral's Carol Service has been an overwhelmingly popular event. However this year is a new celebration.
"A Christmas Celebration will be a very special and exciting concert" Thomas Wilson said.
"Apart from the magnificent music audiences will have the opportunity to join their voices to those of the choir, with the mighty Cathedral organ and orchestra, to sing favourite Christmas carols together.
"Tickets are available at various prices and I hope many people, families and friends, will come and join us."
Tickets are available for purchase from the Box Office at City Recital Hall, (02) 8256 2222, or online at www.achristmascelebration.com.au