Journey Through Time This Advent With Xt3.com
Catholic Communications, Sydney Archdiocese,
26 Nov 2015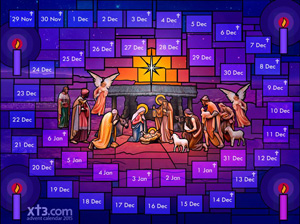 The Archdiocese of Sydney social network xt3.com is excited to release its 2015 Advent Calendar. The calendar, also available as a free App, features daily reflections and multimedia resources to help you make the most of the season of Advent which begins this Sunday.
First launched six years ago as an online resources, this year's Advent Calendar has even more exciting content than ever before including podcasts, Advent reflections, video animations created by xt3.com, a message from the Archbishop of Sydney, the Most Rev Anthony Bishop OP, videos from both Australian and international presenters, and Advent messages from Pope Francis.
The Calendar is also available as a free App for iPhone, iPad and Android devices.
The first door of the Calendar will open on 29 November 2015, the first Sunday of Advent. App users will be able to open a new door of the Calendar every day until Christmas Day and then onto the Feast of the Epiphany.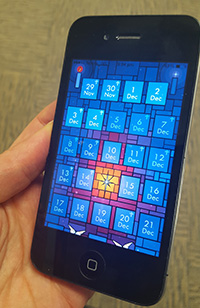 This year's Advent Calendar and App has a theme from Hebrews 3:8, "Jesus Christ is the same yesterday, today and forever," and features a timeline of depictions of the Nativity of Christ in art through time. Starting with stone carvings from 300AD, progressing with great artworks from different eras of history, and ending with the very modern take on Nativity in art with Sydney's famous Lights of Christmas display at St Mary's Cathedral, the 2015 Advent Calendar makes it clear that the message of the Christmas story remains a constant throughout history.
Advent comes from the Latin word meaning "coming." Jesus is coming, and Advent is intended to be a season of preparation for His arrival. While we typically regard Advent as a joyous season, it is also intended to be a period of preparation, much like Lent. Prayer, penance and fasting are appropriate during this season.
Advent is not as strict as Lent, and there are no rules for fasting, but it is meant to be a period of self-preparation. The purple colour associated with Advent is also the colour of penance. The faithful should fast during the first two weeks in particular and receive the Sacrament of Reconciliation.
The colour of the Third Sunday of Advent is rose. This colour symbolizes joy and represents the happiness we will experience when Jesus comes again. The Third Sunday is a day of anticipatory celebration. It is formerly called "Gaudete" Sunday; gaudete means "rejoice" in Latin.
Finally, Sundays during Advent, just as during Lent, should not be given to fasting, but instead to celebration because we celebrate the resurrection of Our Lord every Sunday.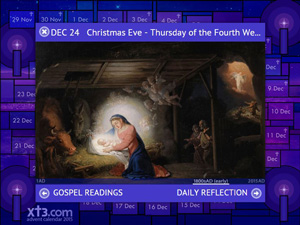 Some of the artworks from the Advent Calendar can been previewed in Xt3's Advent 2015 promo video: https://www.youtube.com/watch?v=o7foOclk33w
View Xt3's 2015 Advent Calendar online at: www.xt3.com/advent or search the App Store for "xt3 Advent".
For further App information:
For iPhone - https://itunes.apple.com/au/app/xt3-advent-calendar-2015/id477943115?mt=8
For iPad - https://itunes.apple.com/au/app/xt3-advent-calendar-2015-hd/id579533380?mt=8
For Android phones - https://play.google.com/store/apps/details?id=xt3.advent
For Android tablets - https://play.google.com/store/apps/details?id=xt3.advent.hd