Sydney Parishioners Open Hearts and Homes for Syrian Refugees
Catholic Communications, Sydney Archdiocese,
25 Nov 2015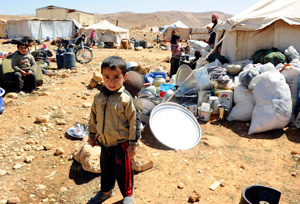 The launch of the Archbishop Anthony Fisher OP Syrian Refugee Appeal was launched just last Sunday but already parishioners from around the Archdiocese are pledging their support.
Many people are offering financial support, others temporary accommodation and all their friendship.
Students have already volunteered to help raise donations.
In announcing the appeal at Our Lady of Mercy Syrian Catholic Church in Concord, CatholicCare CEO, Bernard Boerma,. Said the appeal would pool resources of the Catholic community to welcome some of the 12,000 refugees Australia has agreed to accept as a result of the Syrian crisis.
Fr Rahal Derghm is parish priest at Concord to a mostly Iraqi-born or origin community who say they have seen Islamic State purge their traditional lands of Christians and other minorities.
He told parishioners last Sunday that Syrian Catholics would forgive but never forget the atrocities that had been committed against them by Islamic State terrorists.
Already many families have offered temporary accommodation to around 200 families.
Also the Archdiocese's Chaplain to Sydney's Syrian Catholic Community, Fr Rahal is advisor to CatholicCare, the official welfare agency of the Archdiocese and the organisation responsible for operating the appeal.
"The situation in Syria is now nearly unbearable and that's why people are leaving," he said.
"They are leaving in masses and probably no one will stay, even in the safe areas because they will no longer be safe. Anyone, any Christian who is still there, live in constant fear and they are right to be in fear."
While welfare agencies and church's welcomed the Federal Government's decision to take the additional 12,000 refugees fleeing persecution, there have been recent concern the refugees may not come from persecuted Christian groups and other religious minorities in the Middle East who cannot obtain UNHCR registration, who do not live in refugee camps and who do not have immediate family members to propose them.
Agencies have also expressed concern that Christians were afraid to go to the official refugee camps because they were predominantly filled with Muslims and had also been infiltrated by terror fighters.
Archbishop Fisher wrote to Prime Minister Turnbull expressing concern the bulk of the refugees would be Muslim and not non Muslim groups. He told The Australian newspaper it was clear Islamic State, also known as Daesh, wanted to "exterminate or enslave" Christians as part of its belief in the terrorist Caliphate.
The Federal Government gave assurances Australia would be taking refugees not only from the UNCHR program but also under wider use of the Special Humanitarian Program.
Archbishop Fisher said he had been heartened by government assurances but warned there would "continue to be anxiety among the Eastern Christian churches, until they could see the talk would become action".
For more information, or to make a donation to the Archbishop Anthony Fisher OP Syrian Refugee Appeal, visit http://www.catholiccare.org/Syria