Bishop Porteous Anti-Discrimination Claim Heading to Conciliation
Catholic Communications, Sydney Archdiocese,
19 Nov 2015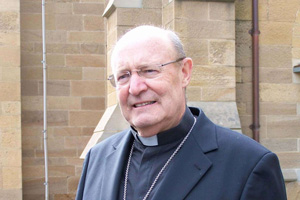 Despite initial comments from Tasmania's Anti-Discrimination Commissioner that it would be unlikely to resolve the issue, it appears the anti-discrimination case against Hobart's Archbishop Julian Porteous and the Australian Catholic Bishops' Conference will proceed to conciliation.
Last week, Archbishop Porteous and the Bishops' Conference received notification that a complaint made to the Tasmanian Anti-Discrimination Commission over the Don't Mess With Marriage booklet by Greens candidate Martine Delaney would proceed to an investigation.
According to the website of Equal Opportunity Tasmania, the parties involved will usually be asked to attend a conciliation conference to talk about resolving the complaint with the aim of reaching a mutually acceptable agreement. But Anti-Discrimination Commissioner Robin Banks told media that a conciliation conference would be unlikely to result in agreement because the complaint raised "issues of public importance."
Speaking to media after receiving the complaint, Archbishop Porteous said that he hoped to reconcile with Ms Delaney. He said it was never intended to cause hurt or distress to Ms Delaney or others.
Archbishop Porteous spoke of his desire to meet Ms Delaney. "I'm very happy if we can arrange to meet through the offices of the Commission for Anti-Discrimination that we might sit down and talk," he said. "I'd like to be able to say to her that firstly there was no intent on our part at all to cause any personal distress. I'd like to reassure her that we have a personal respect for her in her own situation and in no way do we want to cause her to feel distressed."
Following Archbishop Porteous' comments, complainant Ms Delaney issued a media release, also expressing her willingness to proceed to conciliation.
"In light of the Archbishop's comments, I wrote to the Commissioner requesting her to refer this matter to the conciliation process," Ms Delaney said. "I look forward to a positive resolution, and thank Archbishop Porteous for allowing this possibility."
An online petition from the Australian Family Association in support of Archbishop Porteous and the Bishops' Conference has already received over 10,000 signatures.
And in NSW Parliament this week, Finance Minister Dominic Perrottet MP made a private members' statement in support of Archbishop Porteous, the Bishops' Conference and the free debate of ideas in a democratic society. "Freedom to express our views and engage in debate that has enriched our nation in the past and will ensure we flourish in the future," he said.
Additionally, an editorial in The Australian newspaper said that a finding against Archbishop Porteous and the Bishops' Conference would be a "blow against free speech."
Tasmanian Premier, Will Hodgman, who supports gay marriage, late this week flagged a review of the state's Anti-Discrimination Act following the ruling.
"There is concern that it could become a landmark case and compromise some people's ability to participate in the national debate as we head towards the plebiscite (on same-sex marriage)," he said.
"That is why we believe it is appropriate to look at these matters and assure ourselves the balance is right."
It will most likely focus on section 17 (1) of the act, which prohibits conduct that a reasonable person would judge as causing "offensive, humiliation, intimidation, insult or ridicule", on the basis of attributes including "sexual orientation" and also "gender identity".
A suggestion has been to remove "offence", as well , potentially, as "insult" and "ridicule", from the section, while retaining the other terms, imposing a higher threshold for illegal conduct.
While the case will proceed to conciliation it is not known exactly when this will take place.