Requiem Mass and Prayers for Peace for Those Killed in Paris and Elsewhere by "Merchants of Terror"
Catholic Communications, Sydney Archdiocese,
17 Nov 2015
Hundreds of people packed into St Mary's Cathedral for a Requiem Mass for the victims of terror in recent days, especially in Paris and to pray for peace.
Archbishop Anthony Fisher OP offered the Mass for the 132 killed in the Paris terrorist attacks as well as those killed in recent suicide bombings in Beirut and Baghdad.
He welcomed leaders of other faiths along with the Governor of NSW, His Excellency the Honourable David Hurley, the NSW Premier the Honourable Mike Baird and the French Consul General in Sydney, Nicolas Croizer. There were many other State Ministers and politicians, civic and community leaders and members of the consular corps and service chiefs.
City workers, families and students, a number from the French school at Maroubra, and members of the Sydney French community also came together to pay their respects.
They joined former NSW Governor, Professor the Honourable Marie Bashir, former NSW Premier Barrie Unsworth, Lord Mayor Clover Moore, Acting NSW Police Commissioner Nick Kaldas and Deputy Commissioner Catherine Burn as the Mass was also streamed live.
The red, white and blue national colours of France washed a sandstone column above a floral tribute. The Australian and French flags stood proudly under the pulpit.
In a moving moment of musical solidarity the St Mary's Cathedral Choir led the gathering in the Australian National Anthem which was followed by a stirring rendition of the National Anthem of France sung by opera singer Amelia Farrugia.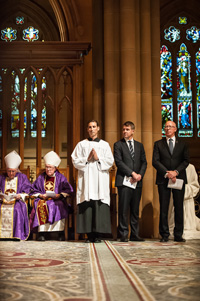 In his homily, Archbishop Fisher said it as it was. An evil act by merchants of terror.
"This was an attack on innocent human beings. It was assault, also, on humanity, on every aspect of human flourishing: human life and health, family and friendship, work and leisure, freedom and security; on truth, beauty and goodness. It was an assault, also, on religion: for to attack everything good, everything sacred, is to attack the God who gives us such things. To add insult to injury, to add blasphemy to insult, Daesh claim to do such things in God's name," Archbishop Fisher said.
He said the the world looks on, appalled, vulnerable, grieving.
"We know this evil is not localized to one city only. Before the Paris atrocities, in the same twenty-four hours of blood, a suicide bomber in that "Paris of the East" that is Beirut killed 43 and injured 250; another, in Baghdad, killed 18 people at a funeral and injured 41. Sydney now joins Paris in horror, even as Paris joins Beirut in grief.
"We've lit our Opera House in Le Tricolore of France, in solidarity in grief and determination. All that is best in French civilisation, including its deep Christian roots, cries out for better than this. It cries out for a world in which people may flourish, in genuine liberty, equality and fraternity; a world in which people are not merely left alone to flourish - which is already more than the black-flagged haters will allow - but actually assisted to flourish, as red, white and blue promise.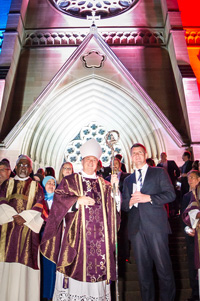 "The merchants of terror may care little for life and liberty, family and friendship, truth and beauty, faith and goodness. But we will
never
repudiate these things: indeed, we recommit to them this night. "
The Archbishop of Sydney told those in the Cathedral that he had contacted the Archbishop of Paris soon after the attack.
"When I contacted my friend, Cardinal André Vingt-Trois, the Archbishop of Paris, to express heartfelt condolences on behalf of the Catholic people and all friends of France in Australia and to promise this Mass tonight with our civic and religious leaders and people, for the repose of the dead and healing for the living, his answer was very simple: others have suffered too; these horrors we are experiencing will only deepen our commitment to a faith that unites rather than divides, to ideals that build peace."
Representatives from other faith communities including Jewish, Muslim, Armenian, Sikh, Hindu, Buddhist and the Coptic representative the Very Rev Fr Shenouda Mansour were also at the Mass and were invited to light a candle of peace.
Governor-General Hurley read the First Reading, Premier Baird the Second Reading and Chaplain to Sydney French community, Fr Jan Chrzczonowicz read the Gospel in French.
People followed the English translation of the Prayers of the Faithful in the Mass booklet as they were read by the French Consul General and young people from the French Community.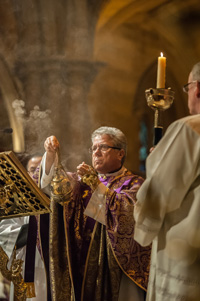 Following the Mass the Archbishop invited everyone to join him outside the main entrance to the Cathedral with candles as a symbol of our joint aspiration and prayer for peace.
When people followed the Archbishop, Governor, Premier and Consul General outside they saw the beautiful facade of the Cathedral flooded in red, white and blue.
"Whatever our faith or politics or national affinities, we must all speak out in favour of peace and love and life, and condemn vicious and lethal parodies of religion, politics or culture. We must all pray for such courage for our civic and religious leaders, " Archbishop Fisher said.
Our special thanks to the Catholic Cemeteries Board for their special tribute in light - both in the form of the candles they provided and the light display on the Cathedral facade.
"Our thoughts, hearts and prayers are with the people of France, Beirut and Baghdad and all people wqho have been affected by these tragedies and wish to live in peace and harmony." - Catholic Cemeteries Board.