Enforced Exclusion Zones Around Abortion Clinics Threat to Freedom of Speech
Catholic Communications, Sydney Archdiocese,
12 Nov 2015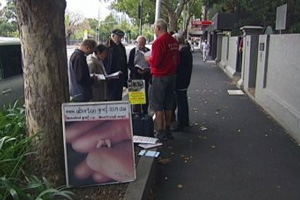 State, territory and even the federal parliaments have in recent weeks dealt a significant blow to regular prayer vigils held outside abortion clinics and the popular 40 Days for Life campaign with legislation enforcing exclusion zones around abortion clinics.
At the end of last month, the Australian Capital Territory passed the Health (Patient Privacy) Act 2015 and joined Tasmania as an "exclusion zone" jurisdiction. Under the new laws, a person can be fined up to $3750 if they do something which can be seen or heard by anyone who is within 50 metres of an abortion clinic and which is intended to stop them from having or providing an abortion.
Prayer vigils would also seem to be banned under provision which ban protests, in whatever form they occur. It could even go as far as prohibiting any type of advertising of pregnancy assistance.
Then on Tuesday of this week, the Victorian Parliament began debating the Public Health and Wellbeing (Safe Access Zones) Bill 2015, the prohibitions and penalties of which are more serious than those in Tasmania or the ACT.
Under the proposed laws, the "exclusion zone" is an area of 150m from an abortion clinic, with the public prevented from gathering in that area, or communicating in any way relating to abortion. This would prevent any form of sidewalk counselling or offers of assistance, which has reportedly saved the lives of 300 Victorian children in the last 20 years.
As in Tasmania, penalties for breaching the exclusion zone could include fines and imprisonment, with a potential penalty of $18,200.40 and/or up to 12 months prison time.
And in the Federal Senate this week, a request by Nationals Senator Matthew Canavan to have the Senate affirm the importance of freedom of speech and freedom to protest in public debate, particularly in relation to these exclusion zone laws did not gain a majority as required being narrowly defeated in a vote of 29-29.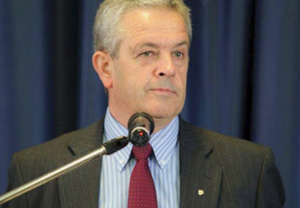 In introducing the different exclusion zone laws, abortion advocates often speak of the need to protect women from harassment and threats of violence.
The Helpers of God's Precious Infants, who have held a presence in Melbourne for more than 20 years, are being accused of harassment and intimidation, of following women to and from the clinic, threatening to kill, shouting obscenities, and assault.
"I know them all, I've prayed on the street with them. It is just not true," says Family Life International Australia's Executive Director, Paul Hanrahan. "If the Helpers were doing anything of which they are accused, then they wouldn't be there. The existing criminal law would see them taken away."
Mr Hanrahan said that couples who have kept their babies as a result of the Helpers' presence at the abortion clinics in Melbourne are now asking parliamentarians to reject the legislation.
Similar legislation is being proposed in NSW by Greens MLC Mehreen Faruqi, but has not received any significant traction as yet.
Mr Hanrahan said that this doesn't mean Catholics should be complacent. "If you don't exercise your rights, they will be taken away from you," he warned. "If we're not prepared to stand up as Catholics, then someone will come in and override your ability to stand up for what is right."