First Anniversary for Archbishop of Sydney in a "Getting to Know You" Year
Catholic Communications, Sydney Archdiocese,
12 Nov 2015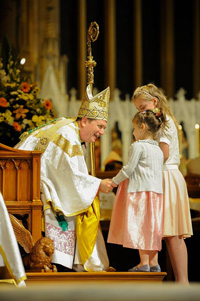 One year ago on 12 November 2014 the Most Rev Anthony Fisher OP was installed as the ninth Metropolitan Archbishop of Sydney.
He has already travelled extensively throughout his Archdiocese meeting large numbers of parishioners, celebrated numerous masses, conducted hundreds of interviews with priests, seminarians and community leaders and contributed to a wide range of public debates and discussions.
This has been part of what he calls the "getting to know you year". At the same time there has been a great deal of work undertaken in the areas of which he specifically spoke during his Installation homily - evangelisation ,marriage and the family, transmitting the faith and mercy to young people, education, interfaith dialogue and his commitment to giving a lead in the Church being humbler, more compassionate and spiritually regenerated in light of the child sex abuse revelations .
Reflecting on the past 12 months, Archbishop Fisher said; "Years pass increasingly quickly and my first back in Sydney is no exception. It's been something of a whirlwind, but a first year is very much a "getting to know you" year, even if Sydney was my first home (for 25 years) and Greater Sydney where I've ministered for 14 years.
"Spending time with my clergy has been very important to me, as well as with our agencies and especially our parishioners. High points have included the Installation Mass (with my Mum and Dad and the whole archdiocese there!), the Pallium pilgrimage to Rome (including meeting the Holy Father) and Pallium Mass back here; beautiful ordinations of six priests and two permanent deacons; World Youth Day activities; public contributions on marriage, euthanasia, religious liberty and interfaith dialogue; reviews and planning for the future of key agencies and of our parishes; developing relationships with leaders of other churches, faiths, government, media, police; interviewing all our seminarians and some future ones (which gives me a huge lift)."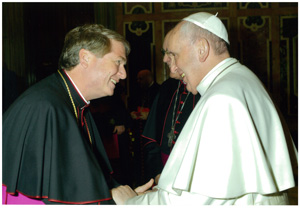 During his Installation homily in a packed St Mary's Cathedral on the night of 12 November 2014, the Archbishop indicated he was keen to move forward in dealing with survivors of sexual abuse.
"The responsibility of the pastor is a grave one in any age, but in our time that has been aggravated by the shameful deeds of some clergy and serious failures of some leaders to respond," he said.
"I have personally found it harrowing as a bishop to listen to survivors tell me their stories, to hear how abandoned they felt and how they continue to suffer. To survivors of abuse and all affected I say: the Church is - I am - profoundly sorry for what happened. All young people must be cherished and protected. The Church can do better and I am committed to giving a lead in this area."
The Archbishop has since established a new child protection office within the Archdiocese. To be known as the Safeguarding and Ministerial Integrity Office it will work to achieve best practice when dealing with child protection, education, training, working with parishes and responding pastorally to survivors of abuse.
Archbishop Fisher has been faced with many joyous moments within the Archdiocese but also many tragic and challenging events.
A little more than a month after the Installation Sydney was confronted with the horror of the Martin Place siege which saw the deaths of two innocent people, and the Lindt Cafe hostages and their families and friends traumatised. The day following the terrifying event Archbishop Fisher celebrated Mass at St Mary's Cathedral for the victims, their families, the injured, the police and emergency workers, our civic and community leaders who dealt with the crisis while the CBD was in lock down.
Hundreds poured into the Cathedral, people of all faiths and no faith but in solidarity with each other.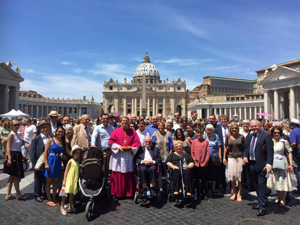 There were prayers that such an event would never be repeated nor would it mar the spirit of our community.
Sadly there was another terror event just last month. While leaving work on 3 October, long-time police accountant Curtis Cheng, 58 was shot dead by a 15-year old student outside the Parramatta Police Department in what police called a terrorist attack. His funeral with full NSW :Police honours was held at St Mary's Cathedral. Again the Cathedral was packed by people of many faiths to pay tribute to an innocent man loved by his wife and children and respected by his workmates. The Archbishop offered prayers for the repose of his soul, for the consolation of his family, and for peace and good order in our society.
In the area of interfaith dialogue the Archbishop has continued to meet with leaders of other faiths especially Muslim leaders and also Jewish leaders which was highlighted recently by the 50th anniversary celebration of the Vatican 11 document Nostra Aetate. Archbishop Fisher has also established working groups to assist with the Federal Government's additional intake of refugees from Syria. The Archdiocese's community-based and outreach programs will work closely with the government assisting with practical on-the-ground help through accommodation and parish support.
As the countdown to Christmas is well and truly underway there will be many more masses and moments to celebrate, people to meet, places to visit.
This will also include the Australian Catholic Youth Festival over three days in Adelaide during which the Archbishop will be a guest speaker in his role as Chair of the ACBC Bishops Commission for Family, Youth and Life .And this event only six months out from the next World Youth Day in Poland!
"So I'm never bored… Fact is: I love this city and its Catholic people and their God - and the more I get to know them, the more I love their company!"