Makerspace Can Make a Difference - Education Award Winner
Catholic Communications, Sydney Archdiocese,
11 Nov 2015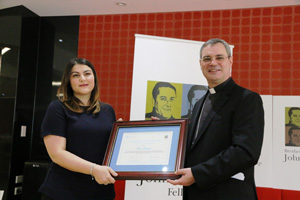 Zeina Chalich is a teacher who has made Makerspace her mission - that is the academic study into virtual and physical spaces where students can tinker, invent and learn in a practical, hands-on way with mentors, experts and the latest 'edutech' tools.
A leader of Learning and Innovation at St Finbar's Primary School in Sans Souci, Zeina can now devote more time and study into the innovative learning model following the Catholic Education Commission of NSW (CECNSW) awarding her the 2015 Brother John Taylor Fellowship.
The $25,000 Brother John Taylor Fellowship is offered each year to an educator with a passion for teaching, to enable research into a priority or challenge facing Catholic education.
Zeina says a Makerspace is a non-structured environment where students of all ages can connect with experts, create, collaborate, share, invent, tinker, build and explore the elements of STEAM (science, technology, engineering, art and maths) through experiential play.
"I want to explore how Catholic schools can use Makerspaces to revamp student-centred teaching to engage learners of all ages in an innovative way," said Zeina, a school teacher for 10 years.
"I've always enjoyed harnessing the power of technology to improve learning. The reality is young people are now learning online, without their teachers. As educators, we need to become disruptors and find ways to support our students to think critically and creatively - to give their learning authentic purpose."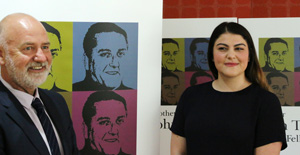 "The aim is for students to acquire skills and knowledge while solving a problem, creating a product or generating a new understanding. We want our students to turn their knowledge into action, to become creators, not mere consumers," she said.
"Makerspace uses the hands-on philosophy of learning through building things. It overlaps with the natural inclinations of children and the power of learning by doing."
Zeina, who writes for Educational Technology solutions and is also a tutor at the Australian Catholic University, said she will use the Fellowship to attend two conferences in the United States to study the latest innovative edutech resources and teaching methods.
"I will also visit the Massachusetts Institute of Technology (MIT) Lab in Boston and hope to develop my design thinking skills and connect with like-minded educators at the Design School at Stanford."
Brother John Taylor was Executive Director of CECNSW from `1984 until his death in 1993.
A Christian Brother, he was also a member of the NSW Board of Studies, the National Catholic Education Commission and the Commonwealth Schools Council during this time.
He had a key role in the development, organisation and management of Australian Catholic schools across three decades especially in the development of the Higher School Certificate and particularly in the field of science.