DeBrief from the World Meeting of Families in Philadelphia
Catholic Communications, Sydney Archdiocese,
9 Oct 2015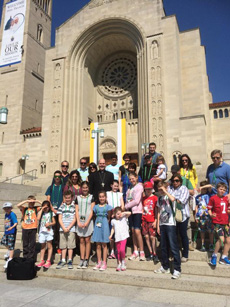 Australia's families and bishops who attended the 8th World Meeting of Families in Philadelphia, United States recently said they feel inspired and spiritually energised.
Cathy and Matt Bourke from the Diocese of Darwin and their four children were among the Aussie families. While they described the Keynotes and other addresses as well as the discussion groups as insightful, uplifting and inspiring, their kids said simply "it was awesome".
Pope Francis visited the World Meeting for the final day and the Papal Mass. At the end of the closing Mass he presented a copy of the Gospel of St Luke to a family from each of their six continents. The family chosen from Oceania was an Australian one, Thomas and Tina Coorey and their four children from Our Lady of Fatima Parish at Kingsgrove.
The Australian delegation was led by Bishop Delegate for Marriage and Family, Michael Kennedy however he was ably supported by Ron and Mavis Pirola in managing the 21 adults and 23 children.
Bishop Kennedy has said since returning to his Diocese of Armidale, Bishop Kennedy said he thoroughly enjoyed "hanging out with the kids" in Philadelphia and thought when Pope Francis advised bishops and priests to "waste time with families" it was terrific fatherly advice.
"For me one of the highlights of the Australian pilgrimage to the World Meeting of Families was being with and wasting time with the nine couples and families who made up the Australian delegation. It was wonderful to see how the parents and children quickly became friends and supported each other in faith and love. I certainly benefited greatly from being with them and hopefully they benefited from my presence too," Bishop Kennedy said.
For Bishop Kennedy's debrief of the World Meeting of Families click here, and for comments from Cathy and Matt Bourke and Ron and Mavis Pirola click here.