Papal Honour for Australia's Longest Serving Priest
Catholic Communications, Sydney Archdiocese,
2 Oct 2015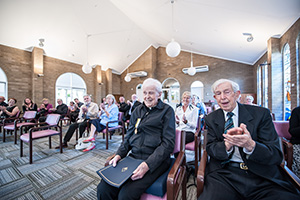 Father Francis "Frank" Martin has served as a priest for 75 years. Much loved, the 98-year-old is the longest serving priest in Australia. Yesterday his long, dedicated and selfless service to Sydney's parishioners and to the Australian Catholic Church was recognised when Bishop Terry Brady presented him with the Papal Cross of Honour.
Surrounded by friends and family at an intimate and moving ceremony at the chapel of Cronulla's Stella Maris Aged Care Home, Fr Frank was awarded a Croce pro Ecclesia et Pontiface by Auxiliary Bishop, the Most Rev Terry Brady in recognition of a life-time of providing outstanding positive inspiration to the lives of others.
Fr Frank was also presented with the written citation from the Holy Father Pope Francis which acknowledged his "outstanding and very long and lasting devotion to the Priesthood and the Archdiocese of Sydney."
Unfortunately the Archbishop of Sydney, the Most Rev Anthony Fisher OP who nominated Fr Frank for the Papal award was unable to attend the ceremony as he is currently overseas. But others at the Papal Award ceremony included Fr Frank's brother, John Martin who at 97 is a year younger. He was accompanied by his wife. Also there was Monsignor Brian Rayner, Parish Priest at St Catherine Honoure Parish, Gymea who served as Fr Frank's altar boy during the years the Papal recipient served as Parish Priest at East Granville.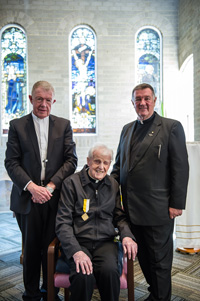 Mons Rayner has been an admiring and devoted friend ever since.
Another good friend who insisted last week that nothing would stop him being at the ceremony and that he would be there "with bells on" was Alan Staunton, current Executive Officer for the Archdiocese's Priest Retirement Fund.
"Beyond question, Fr Frank is one of the most magnificent human beings I have ever encountered," Alan says. "I know a lot of clergy and Fr Frank's a standout. He is kind, gentle, loving, selfless and Godly. Little wonder he is so universally loved and admired."
Alan points out that Fr Frank's 75 years as a priest is longer than many people live.
Although Alan didn't meet Fr Frank until after the priest's retirement, he says he was impressed with him from that first meeting and treasures their friendship.
"Praise to the high heavens, he is the very best," he told Catholic Communications.
Mons Rayner who has known Fr Frank for more than 50 years is equally fulsome in his praise when talking about his long time friend and fellow priest, describing him as the greatest preacher.
"He was absolutely brilliant," he says.
A few years ago taking part in a milestone anniversary at Gymea's St Catherine Laboure Church, Fr Frank who was then in his early nineties, preached with the same power and ability to inspire.
"His sight was failing and he was using a huge magnifying glass with his face almost on the page to read, then all that was forgotten when he started preaching. He was amazing. In all the years Fr Frank has never lost his love of the priesthood or his power as a preacher," Mons Rayner says.
Looking back over his days growing up in the newly-formed East Granville parish, Mons Rayner remembers how Mass in those early days was celebrated at the local primary school by moving some dividing walls between classrooms and replacing the school seats with pews.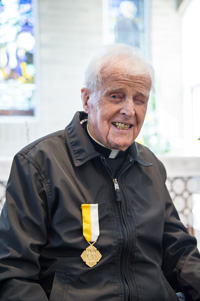 "We didn't have a church in those days. Mass was celebrated at the school across the road from the old wooden presbytery. The divider between classrooms would be removed and we would then use the school seats with the desk tops folded down as a pew for Mass," Mons Rayner says and remembers how thanks to Fr Frank a church was built with many of the workmen volunteers from across the parish.
"He didn't drink alcohol but every Tuesday and Saturday night he'd bring in cartons of beer for the workers. There was a big housing project in the area and many workers from there also pitched in and helped build a new presbytery and one of the first youth centres in Australia," he says. "In those days people might have heard of the Police Boys Clubs but no one had heard of a church youth club."
Fr Martin was well known at East Granville and the other parishes where he served as a dedicated and tireless worker for youth and it was through his efforts a few years earlier when he was Assistant Priest at Enfield that the Xavierian Club was created, which operated for the next three decades.
"He was the finest priest in every sense. People loved him. And I always remember in those days before decimal currency when two shillings was called a florin, that each week at Mass as the collection plate went around, he'd tell parishioners 'it was time to join the florin legion,'" he says.
Fr Frank was also understanding of the blue collar workers across the Parish and due to their early start he would celebrate a Mass at 6.30 am and understand if some of those present had to leave before the Mass had ended.
"He was a wonderful pastoral carer and when he visited the sick he would give communion in the way the ill were accustomed to receiving the Eucharist. If this was once a week, he would give the communion once a week. If it was every day, he would give them communion every day," Mons Rayner remembers.
He also has a vivid recollection of the concerts that Fr Frank would organise at what was then known as the Crest Theatre, which at the time was owned by the Church.
Partly as fund raisers and partly to bring the close knit parishioners together, and in particular the young people, Fr Frank's concerts were hugely popular featuring stars from the 1950s and 60s such as Judy Stone as well as perennial favourites like Jimmy Little.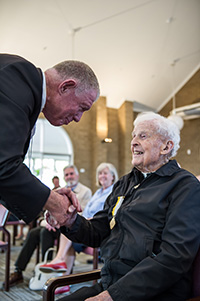 Fr Frank first began thinking about joining the priesthood during his time as an altar boy and at age 15, he entered the St Columba's Seminary in Springwood before finishing his studies at St Patrick's College, Manly.
Ordained on 25 July 1940 at St Mary's Cathedral by Archbishop Norman Gilroy (later Cardinal Gilroy), his first appointment was to Bellerive in Tasmania. In the midst of World War II there were no passenger ships from Britain to Australia and with so many men fighting overseas, there was also a shortage of priests.
Fr Frank spent three years in Bellerive where he was faced with a parish more than 24 kilometres wide with most of this swamp land. To visit his parishioners he needed a car. So he wrote to Archbishop Gilroy asking if he could buy a car and that he'd found one for £20.
"The Archbishop told him that the price didn't seem too extravagant. But the only problem was that before he could use the car he needed to get his driving licence," says Mons Rayner and recounts one of the stories Fr Frank loved to tell.
"In Bellerive there was just one policeman so Fr Frank who always wore clerical garb went down to the station on a Saturday and asked to see Sergeant Taylor who promptly told him he couldn't see him as he was guarding the money for an SP bookie. 'What is it you want?" he asked the young priest. 'A driving licence,' he replied with which the Sergeant thrust a piece of paper into his hand."
Fr Frank still enjoys relating the story particularly as he points out the first driving test he ever had to actually sit for was the year he turned 85!
Photography by Giovanni Portelli