Two Sydney Seminarians Ordained to the Diaconate in Rome
Catholic Communications, Sydney Archdiocese,
2 Oct 2015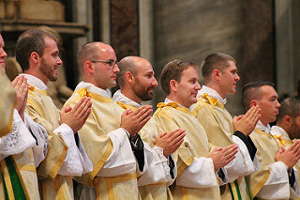 Two Sydney seminarians, Daniel Russo and Joseph Hamilton, currently completing their studies in Rome have been Ordained to the Diaconate at St Peter's Basilica.
Surrounded by family and friends - many of whom travelled from Australia - Daniel and Joseph were among 39 seminarians studying at the Pontifical North American College who were ordained by the Archbishop of New York, Cardinal Timothy Dolan.
Also attending the ceremony was Cardinal George Pell, former Archbishop of Sydney and now Prefect of the Secretariat for the Economy of the Holy See.
Cardinal Pell introduced and continually supported the initiative of enabling a number of Sydney seminarians to spend some of their study time in Rome. This has allowed them to experience and gain a greater understanding of the universality of the Church and providing an opportunity to continue their priestly studies and training at a Pontifical university in Rome.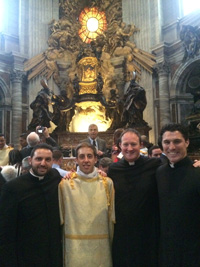 After beginning their priestly studies at the Seminary of the Good Shepherd in Sydney, Deacon Joseph and Deacon Daniel were invited to spend their final four years of studies in Rome. Archbishop of Sydney.
Their Ordination as Deacons marks an important milestone and is one of the final steps along the path to priesthood, and signals the profound change as they pass from the laity to the clerical state.
Not only did families of the Australians travel to Rome for the ceremony but so too did Sydney priests, Fr Daniel McCaughan and Fr Michael Gallacher of Melbourne. Both had also attended seminaries in Australia before travelling to Rome to complete their studies. Fr Daniel and Fr Michael were ordained to the diaconate at St Peter's Basilica in 2013 and were ordained to the priesthood last year.
Fr Lewi Barakat was another member of the Australian contingent at yesterday's ordination. Ordained a deacon in Rome in October 2014, and ordained to the priesthood on 15 August this year at St Mary's Cathedral by Archbishop Anthony Fisher OP, the young priest is now back in Rome where he is completing a Licentiate in Dogmatic Theology at the Pontifical University of St Thomas Aquinas, popularly known as The Angelicum.
At yesterday's ceremony Fr Lewi vested Deacon Daniel, his good friend and former fellow seminarian.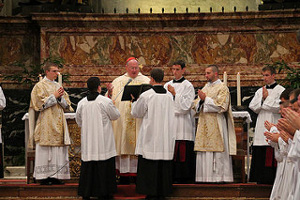 Seminarian Matthew "Matt" Meagher who studied at the Seminarian of the Good Shepherd before having the chance to continue his studies for the priesthood at the Pontifical Gregorian University was also among the Aussie contingent.
In his homily Cardinal Dolan spoke about some of the paradoxes of the Christian faith.
"You were called forth and were said to be found worthy, and yet we began our prayer with the acknowledgment to God of our sinfulness. You come here freely and yet will make a promise of obedience to your Ordinary. You are raised to serve at the altar, yet in a moment you will lie down prostrate in a symbol of submission to the supplication of the saints on your behalf," the Cardinal said.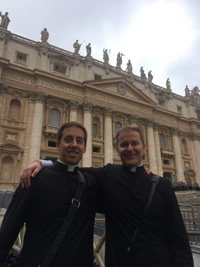 He went on to explain that this was all "perfectly fitting in the Basilica dedicated to the Apostle Peter, whose own martyrdom on a cross upside down allowed him to more clearly see right side up the Jesus whose love he had come to imitate."
Today Deacon Daniel and Deacon Joseph and the 37 other newly ordained Deacons who make up the Pontifical North American College's Class of 2016 will join family and friends for a Closing Mass to be held at the College.
While Deacon Daniel was just 19 when he responded to God's call, British-born Joseph was in his 30s and was working in international finance. After being awarded a Bachelor's Degree in Actuarial Science at the University College Dublin, Joseph was appointed senior asset consultant at Hewitt Associates working for the company in London as well as in South Africa. From there, Joseph joined Insight Investment London as Fund Manager, with specific responsibility for LDI (Liability Driven Investment) strategies for defined pension fund clients.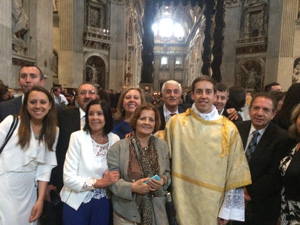 Then in 2006, Joseph joined Deutsche Bank to run the Bank's global pensions advisory group in London. Three years later he was sent to Sydney to establish Deutsche Bank's Asset Liability Management business in Australia and New Zealand, building on the success of the bank's franchise in Europe.
But for the corporate high flyer something was missing, and in his search for deeper meaning and closeness to God, he found his true calling and enrolled at the Seminary of the Good Shepherd.
Deacon Joseph and Deacon Daniel are expected to complete their studies before returning to Australia in 2016 where they will serve as Deacons at a parish within the Archdiocese as they prepare for their Ordination into the Priesthood.
Selection of Photographs courtesy of Fr Lewi Barakat, Seminarian Matt Meagher and the Pontifical North American College