Historic Vatican II Achievement in Jewish-Christian Relations Celebrated 50 Years On
Catholic Communications, Sydney Archdiocese,
28 Oct 2015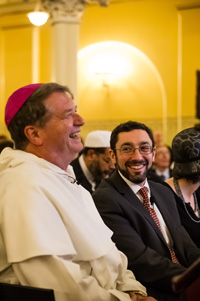 The 50th Anniversary of the historic Vatican II document on Christian and Jewish relations, Nostra Aetate, was marked by a conference at The Great Synagogue in Sydney today encapsulating the past, present and future of the Jewish Christian relationship.
The full-day conference included a number of leading national and international scholars including an evening session with the Archbishop of Sydney, Most Rev Anthony Fisher OP and Rabbi Dr Benjamin Elton, Chief Minister of The Great Synagogue in Sydney.
Nostra Aetate, In Our Time, has been described as most significant and epoch-changing and presents the case that everywhere religious communities can overcome negative images of the other through positive engagement. Pope Francis said earlier this year that as a result of this document an authentic fraternal Jewish-Catholic dialogue has been made possible.
Topics throughout the day included Jewish-Christian relations before Nostra Aetate - up to WWII; The Evolution of Nostra Aetate; Nostra Aetate and engagement with the Old Testament; Nostra Aetate and other faiths as well as personal reflections.
The evening session with Archbishop Fisher and Rabbi Dr Benjamin Elton was chaired by Prof Greg Craven, Vice Chancellor of Australian Catholic University and was titled "Jews, Christians and others together: Hopes and Expectations".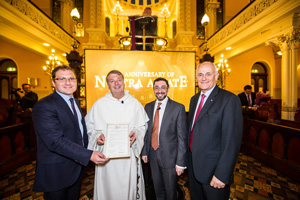 Many Jewish and Christian academics, clergy, post graduate students, those working in the field of interfaith relations found the speakers extremely engaging with th4e program allowing time for question and answer sessions.
Pope John XXIII convened the Second Vatican Council soon after he was elected Pope in 1958. He wanted to "update" the Church and address critical issues. Two years later following a momentous meeting between the Pope and French Jewish historian Jules Isaac the Pope entrusted Cardinal Augustin B ea with the task of bring a text to the Ecumenical Council to positively redress relations between the Catholic Church and the Jewish people. It was a challenging process and Pope John XXIII did not live to see its fulfilment.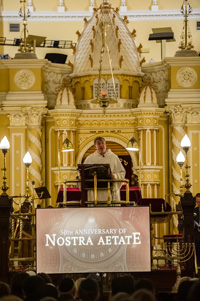 However 50 years ago, under the4 authority of Pope Paul VI the4 document on the Relation of the Church to non-Christian Religions - Nostra Aetate - was promulgated.Since the document there has been much progress in Jewish-Christian relations with St John Paul II, Pope Benedict XVI, and Pope Francis all visiting Israel and speaking of the spiritual patrimony common to Christians and Jews.Pope Francis said during his visit; "We are strangers no more, but friends, and brothers and sisters. Even with our different perspectives, we confess one God, Creator of the Universe and Lord of history."
The conference was hosted by Australian Catholic University, Catholic Archdiocese of Sydney, Executive Council of Australian Jewry, NSW Jewish Board of Deputies and the Sydney Jewish Museum.
Archbishop Anthony Fisher's full address can be found here