Catholic Spirituality Helps People in Their Search for Peace, Hope & Healing
Catholic Communications, Sydney Archdiocese,
23 Oct 2015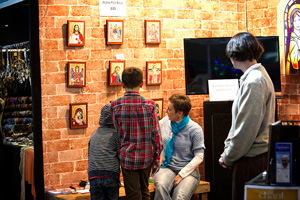 During the first one and a half days of Sydney's Mind, Body and Spirit Festival, the Archdiocese of Sydney's Catholic Spirituality Stall has had a steady stream of people of all ages, stopping to talk and share their stories in a bid to find a deeper meaning to their lives.
"Many also expressed surprise there was a Catholic stand amongst the 200 exhibitors who were promoting everything from anti-inflammatory properties of turmeric to Keiriki coffee cup readings, Feng Shui, Aromatherapy, Metaphysical Mysteries, Body Wraps and Chakra Mindset," says Catherine Kennedy, Director of the Archdiocese of Sydney's Catholic Renewal and Evangelisation Diocesan Office (CREDO).
"But as I tell them, the Catholic faith embraces far more than most people expect and involves the whole person - their mind, body and spirit," she says.
Catherine also put paid to the common misconception in secular circles that Catholic and spirituality are opposites, explaining to many who visited the stall yesterday and this morning that for Catholics the two are not only closely aligned but are one.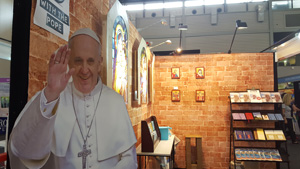 Among the steady stream curious about the Catholic Spirituality stand with its illuminated stained glass windows, some were Catholic, some were lapsed Catholics, others came from other Christian denominations and faiths, while still others were self-described agnostics or atheists.
One man who called by the stand yesterday described himself as a lapsed Catholic. He had grown up in a Catholic family and gone to a Catholic school but over the years he had lost his way. But after a powerful encounter with Catherine and the CREDO team, the flame of faith was reignited as he remembered the comfort and joy he had found in the Catholic faith as a child and teenager.
"I have a real desire to go to Confession," he told them and thanked the group for what he believed was a return of his faith and belief in the great love and mercy of God.
CREDO also featured a stand bannered "Catholic Spirituality" at Sydney's twice-yearly Mind Body and Spirit Festival last May.
"Instead of waiting for people to come to us, we decided it was up to up to us to reach out to them and go where they are," says Catherine.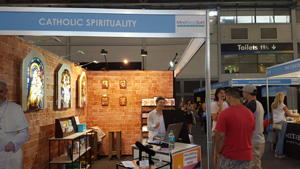 But she admits that initially there was a bit of trepidation about the response that a stall on Catholic Spirituality might receive. Setting up a stand at the Festival was an experiment and no one including Catherine was quite sure how things would work out at a New Age Festival showcasing psychic readings, soul food, Reiki massage and Equinox Astrology.
Not only were there no negative or anti-Catholic comments, but over the four days in June 1300 men and women and children visited the CREDO stand, keen to find out more about the Catholic faith or as lapsed Catholics, wondering how to reclaim their faith and their love of Christ, she says.
The response was remarkable and way beyond expectations.
"It really was New Evangelisation 101," she says laughing. "We gave away 1000 rosaries, had hundreds of prayer intentions placed in our Intentions Box and more than 83 specific requests for follow-up calls or emails, as well as many wanting information on retreats at the Mount Carmel Retreat Centre."
The October Festival, currently underway promises to be even more successful.
"There is barely a moment when we haven't had three or more people, visiting the stand with others waiting to talk to us since the Festival opened yesterday morning," Catherine says and predicts that over the weekend, it will be a case of all hands on deck with more than 1000 people expected at the Festival on Saturday and Sunday.
One of the popular drawcards of the CREDO stand is the chance for Festival goers to have a "selfie" with the stall's life-size cardboard cut-out of Pope Francis.
"Whether people are Catholic or non Catholic, they want to know all about Pope Francis and after taking a selfie, want to talk further about him, and about being a Catholic and what this means," Catherine says.
As with the Festival of the Mind Body and Spirit in June, the overwhelming majority of people visiting the stall yesterday and today, are searching for healing and hope as well as a deeper meaning to their lives.
"Some have been hurt emotionally, others are hurting physically while still others wanted healing for their mind and their spirit," Catherine says.
One woman who visited the stall yesterday explained she was an Anglican but that she always had this sense of Mary MacKillop's presence. She spoke of how she had always felt drawn to her and that a few years ago she had attended a talk about St Mary of the Cross Mackillop and realised what an incredible and remarkable woman she was.
"She was also struggling with the increasing loss of her eyesight so we told her about another saint, St Lucy of Syracuse who is the Patron Saint of the Blind and prayed with her for both St Lucy and St Mary of the Cross MacKillop to intercede for her and prayed to the Holy Spirit for strength and healing," says Laura Bradley, one of Archdiocese of Sydney's volunteers who helped out at the stall yesterday.
The Catholic Spirituality stall offers people a chance to talk, find out more about Catholic art, music, books, resources and in the adjoining stall, to speak with a priest who can also hear confession.
The CREDO stand at the Mind Body and Spirit Festival is numbered G08. The Festival at the Exhibition Hall, Sydney Olympic Park, Homebush is open to the public and runs all weekend.