Notre Dame's Waterski Champ an Example of Courage, Humour & Determination
Catholic Communications, Sydney Archdiocese,
21 Oct 2015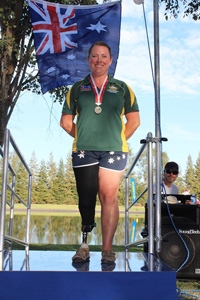 Awarded the silver medal for women's slalom and tricks at the Disabled World Waterski Championships in California last month, Notre Dame nursing student, Belinda Sidman continues to beat the odds.
"There were 12 of us in the Australian team. There's great camaraderie and we're all really supportive of one another and at the World Champs we were not only the loudest team with all our cheering but I'm sure we were also the team that had the most fun," she says.
Winning Silver at this year's World Championships with a performance that broke the Australian record for slalom and tricks, came on top of the bronze medals she won at the two previous Championship meets in 2011 and 2013.
At just 16, Belinda was involved in an horrific car smash. Suffering terrible injuries, she lay in an induced coma for four weeks during which time doctors fought to save her life. Along with complex pelvic injuries, a broken right arm at the shoulder and the elbow, her right leg was so badly crushed that doctors were forced to amputate below the knee.
"I wasn't aware I had lost the leg for some time. I could still feel it. Or thought I could feel it. And when they brought me out of the coma, I just remember being thankful that I was alive," she says.
Released from ICU, Belinda spent the following seven months at Westmead Hospital followed by visits three times a week for physio for 10 more months. During this time inspired by the nurses who cared for her, Belinda decided nursing was the career for her.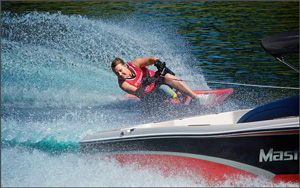 She admits it took a number of years to realise her dream. But now, as she approaches her 40th birthday, she has finally made that dream come true and is about to finish the second year of her nursing degree at the University of Notre Dame, Sydney. Already an enrolled nurse with medication qualifications, over the uni break she is set to begin work at Campbelltown Hospital.
"I absolutely love nursing and am ashamed that I was not brave enough to try this when I was younger. But everything happens for a reason and I love every second," she says.
The other dream teenage Belinda had as she lay in her hospital bed at Westmead - but one she doubted she would ever be able to fulfil - was to water ski.
"Water skiing was something I always wanted to do as a child and I remember lying in hospital and thinking that I'd never be able to do that now," she says.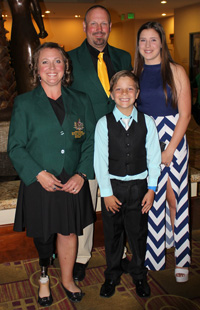 She also recalls how she was also convinced with only one leg, no man would want to take her out let alone marry her.
She was wrong on both counts.
"I was 18 when I met Glen. I was working in an office and had become friends with one of the girls there, and Glen was her brother. From the start he never saw me as a girl with a limp or someone who had lost part of her leg. He always just saw me as me," she says.
Glen and Belinda were married on 11 October 1997 and 18 years later are still very much in love and the proud parents of Britney, 15 and Ryan 10.
Raising a young family put Belinda's ambition to become a nurse on hold, but in 2007 she realised her other dream and waterskiied for the first time.
"Glen had a boat and used to go out waterskiing. I got my boat license and was either the driver or the one watching the skier in case someone fell off," she says. "The pelvic injuries from the car crash meant my left knee which despite reconstructions is still unstable. That meant I couldn't try waterskiing on just one ski as my left leg wasn't strong enough. But then I heard about waterskiing from a special ski where you can sit down and waterski that way."
The first time she tried this and began waterskiing behind Glen's boat was the most exhilarating, overwhelming experience.
"I felt this immense sense of freedom. I didn't feel as if I had a disability or that I walked with a limp. I felt as if I was standing up and having the time of my life," she says.
As a teenager she had been a sprinter and had represented Elderslie High School at the State Championships.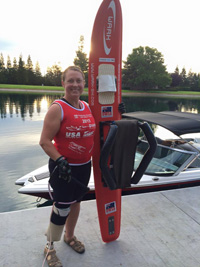 "I am no good as a watcher. I like to be involved and active. And with waterskiing I was back being active and doing something I loved," she says.
With typical determination and courage she not only conquered the sport but in less than four months after her first attempt at waterskiing, she was on the podium at the Australian Disabled Waterskiing Championships in March 2008 and being awarded her first gold medal.
She admits this gave her a tremendous boost in confidence and loved meeting the other competitors.
"Some were blind, some were amputees like me and others were paraplegic or had some other disability. But we were all going who going through similar struggles and encouraging each other to overcome them," she says.
By 2011, Belinda was a member of the Australian disabled waterskiing team competing at the World Championships in Ohio. Two years later, representing Australia for the second time, she travelled to Milan, Italy for the World Championships and won her second bronze medal.
At each World Championships including those held last month, Glen and their two children were there to cheer her on.
"I love having them with me and for my kids, it's great for them to see that no matter what life throws at you, you can still get out there and be active and involved," she says.