Irish-born Priest Fr Louis Breslan Mourned
Catholic Communications, Sydney Archdiocese,
21 Oct 2015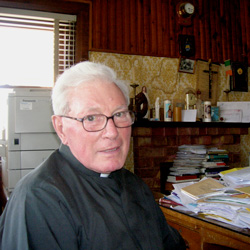 Parishioners from across Guildford, senior serving and retired officers and sailors with the Royal Australian Navy together with fellow priests and religious will attend the Pontifical Mass of Christian Burial for the much loved Irish-born priest, Father Louis Breslan at St Patrick's Church, Guildford on Friday, 23 October.
Fr Lou, as he was popularly known, died on Saturday, 17 October. He was 92 years old.
Born in Ireland in 1923, he grew up on a farm where he was the eldest of 10 children in a deeply religious and devoted Catholic family.
"We were poor and took nothing for granted," he said in an interview he gave to Catholic Outlook last year from Rosary Village to help promote the Parramatta Diocese's annual Father's Day Appeal for Retired and Sick Priests.
He recalled how growing up he and his siblings had cycled nine miles to school each day and how he had first considered the priesthood as a vocation when he was still a boy.
"My uncle James was a priest and he was an example to me as were the other priests in our local parish," he explained adding that four of his brothers also became priests.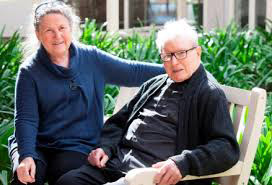 On completing the school, he began training for the priesthood at St Patrick's Seminary, Carlow where in 1948 at the age of 25, he was ordained a priest.
During his years at the Seminary he volunteered to go on an overseas mission to an English speaking country, and in 1949, less than a year after his ordination, he arrived in Australia at the invitation of the then Archbishop of Sydney, Cardinal Norman Gilroy
Initially he worked as a Curate at St Mary's Cathedral before being posted to parishes at Thirroul, Lithgow and Manly. Then in 1955, Cardinal Gilroy appointed him Chaplain to the Royal Australian Navy.
Based in Sydney at HMAS Kuttabul, he would later admit to the "Royal Australian Navy News" that when he first enlisted he had some doubts about becoming a Navy Chaplain.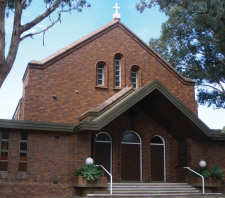 "But after 20 years I have no regrets and it is a privilege to have served," he said on his retirement from the RAN in 1975.
During the two decades he served as Catholic Chaplain with the Navy he had served on all fleet ships and had been posted to all of Australia's main naval centres with the exception of Western Australia.
Throughout his life he was able to vividly recall his years with the Navy, including his time on the HMAS Sydney during her final days as an operational carrier. But of all his memories of this time it was his time aboard the HMAS Melbourne and the collision between Australia's light aircraft carrier and the USS Frank Evans, a destroyer with the US Navy. The two ships were participating in South East Asian Treaty Organisation exercise in the China Sea when the USS Evans sailed under HMAS Melbourne's bow. The destroyer was cut in two and seventy of her crew killed.
Fr Lou recounted the bravery and calibre of the men in the RAN and USN and how they had courageously fought to save as many lives as possible.
After his retirement from the Navy in 1975, Fr Lou was posted to St Patrick's Parish, Guildford where he served for 30 years until his retirement in 2009 aged 86, spending his remaining years in the quiet surrounds of Rosary Village at Yennora.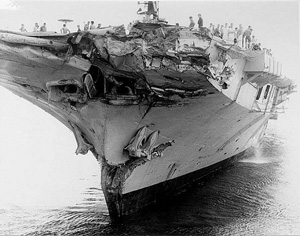 Still active and alert, he continued to celebrate morning Mass with his fellow priests, saying the rosary and the Stations of the Cross and readings from the Daily Office.
In the interview in 2009 with Catholic Outlook, he spoke of his devotion to the daily rosary and said this came from his years growing up in Ireland. "We were strong in the faith and always prayed together as a family," he said and strongly believed that in the rosary there is a reflection of all the things that are God.
Fr Lou served as a priest for 67 years.
Tomorrow evening from 7.30 pm until 8.30 pm a Vigil and rosary will take place at St Patrick's Church, Calliope Street, Guildford. The following day, Friday 23 October, the Pontifical Mass of Christian Burial will be celebrated at St Patrick's Church where Fr Lou served for so many years.
The homily at his Funeral Mass will be given by Father John Hogan, Rector of the Holy Spirit Seminary, Parramatta.