Historic Launch of Website for Deaf & Hard of Hearing Catholic Ministry
Catholic Communications, Sydney Archdiocese,
21 Oct 2015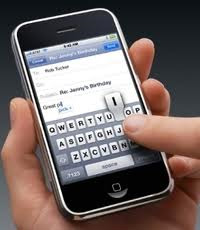 During current celebrations for National Week for Deaf People and on the Feast Day of St John Paul II, the Australian Catholic Bishops Conference (ACBC) will launch a new website designed and created to serve the nation's more than 2500 deaf Catholics who use Auslan or signing as their first language.
In addition, the Deaf and Hard of Hearing Community Catholic Ministry, as it will be known, will also cater for the many thousands of Australians who are hard of hearing or experiencing hearing loss as they age.
The choice of 22 October to launch the website has particular resonance as the celebrations will take place on the Feast Day of St John Paul II, who during the Great Jubilee of 2000, spoke to the world of the importance of "finding room for the deaf in the Church."
The official launch of the national website for the deaf and hard of hearing will include video conferencing live streamed from Canberra from 2 pm until 2.30 pm on Thursday, 22 October.
A short liturgy signed in Auslan will also be streamed, featuring live captioning for those who can hear as well as for those who have lost a large percentage of their hearing but do not "speak" Auslan.
Also planned for the launch is an address to Australia's close-knit deaf communities by Auxiliary Bishop for the Archdiocese of Sydney, Bishop Terry Brady which will be simultaneously signed in Auslan by an interpreter.
Bishop Brady is a member of the ACBC's Commission for Pastoral Life and is also Bishops Delegate for Disability Issues.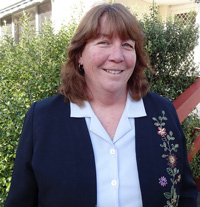 "The deaf don't regard themselves as having a disability but see themselves as just a group who speak another language," says Patricia Mowbray, Disabilities Project Officer for the ACBC who along with Anna Chandler, Advisory Visiting Teacher with the Catholic Education Office of Toowoomba have been instrumental in designing the website.
With plenty of input from the deaf themselves and people like Nicole Clark from the Ephpheta Centre in Sydney, Patricia points out that the site is specifically for the deaf and hard of hearing, featuring videos signed in Auslan with subtitles in English. And there are many other resources - a range of links to Catholic resources, liturgies in Auslan, live streaming, interaction with deaf communities across the country as well as guides for the hearing on how to act when they meet them someone who is deaf for the first time.
"The deaf community is rich, vibrant and very visual with a culture that is very much their own. We kept this in mind to decide what to put in and what to leave out when designing the website," Patricia says, adding that the website will not be static but will continue to expand and grow as members of different communities share their stories and testimonies and new links and video resources are added.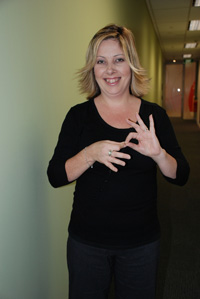 For the Archdiocese of Sydney's Nicole Clark, the long time senior interpreter with the Ephpheta Centre, and well known advocate and champion of Sydney's deaf and hard of hearing, the website's advice to hearing people on how to deal and interact with the deaf is timely.
"So many people want to reach out to them but are unsure how to do this," she says.
While the Ephpheta Centre has its own website the ACBC's Deaf and Hard of Hearing Community Catholic Ministry website will have national resources she says, and will make "a wonderful tool for the wider community no matter where they live."
Nicole gives Patricia and Anna great credit for the measured, responsible and careful way they went about creating the website.
"They made sure the deaf community and the hard of hearing not only in the cities but in regional and rural areas were very much involved in all the decisions," she says adding that she was also impressed with Patricia, who when first embarking on the project, began taking lessons in Auslan.
"I am only in my third year and I've a long way to go before I can talk as fluently and as fast as Nicole," Patricia says, but admits that even if she is still a bit slow with her signing, being able to communicate directly with the deaf in their own language, was an enormous help when it came to deciding what was needed on the website as well as to chart future plans as it expands.
In 2009, Nicole made history when she was invited to address the Pontifical Council of Health Care Ministry's three day Conference, "Ephphata: the Deaf Person in the Life of the Church." The following year, the ACBC appointed her Chairperson of the Bishops committee to raise awareness of the deaf and hard of hearing across Australia, and to come up with ways to bring them more fully into the Church. As with the recommendations of the Pontifical Council, the Committee believed a national website offering pastoral and practical care for the deaf and hard of hearing was an essential first step.
Now this vision has been realised and a group from the Ephpheta Centre will be heading for North Sydney so they can be part of the launch's video conference.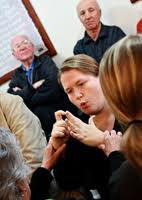 The Archdiocese of Sydney's Ephpheta Centre at Punchbowl is supported by the Dioceses of Parramatta and Broken Bay and for more than 35 years has lead the way, reaching out to the deaf community and helping to involve them in the life of the Church. As part of this outreach, Ephpheta provides a weekly Mass in Auslan along with pastoral care, practical help, and a centre where young and old, can gather to make new friends, join in coffee afternoons or take off on weekend excursions. For teenagers who can become isolated, there are weekends of white water rafting and a host of other events to enable them to meet others their age and talk not stop in their own language - Auslan.
Not only has Sydney's Ephpheta Centre broken new ground in the way the Church can involve the deaf and hard of hearing and include them in the life of the Church, but in 2001 the then Archbishop, Cardinal George Pell made global history when he appointed the first-ever profoundly deaf person to head up a Catholic institution for the deaf.
Stephen Lawler, whose first language is Auslan, was Director of Ephpheta for just under a decade and a half. Stepping down in July this year, Ephpheta's leadership is now a successful joint effort between Liz McDowell the Centre's popular Business Manager who is able to hear, and David Parker, the Centre's profoundly deaf innovative and energetic Manager of Community.
For Ephpheta this week means a double celebration, not only with the much anticipated launch of the first national "Deaf and Hard of Hearing Catholic Ministry" website but with the announcement at the weekend that David Parker had been named as the Deaf Society of NSW's Person of the Year.
"David deserves this recognition and we are thrilled for him," Nicole says.
The video conference launch of the Deaf and Hard of Hearing Community Catholic Ministry will begin at 2 pm on Thursday, 22 October. Anyone with access to a computer or tablet with internet connection will be able to view the launch by registering at https://www.catholic.org.au/dmw