Final Farewell to a Gentle Family Man
Catholic Communications, Sydney Archdiocese,
19 Oct 2015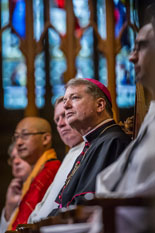 More than 1500 people, family and relatives, colleagues and friends, politicians and community leaders were welcomed to St Mary's Cathedral on Saturday by Archbishop Anthony Fisher OP to farewell Curtis Cheng.
Curtis, 58, was shot dead outside Parramatta Police Headquarters two weeks ago. His life taken and a family shattered by a 15 year old assassin.
Curtis was an accountant for the NSW Police, a gentle man who for 17 years served the police force. Commissioner Andrew Scipione led the police contingent, there to support Mrs Selina Cheng, son Alpha and daughter Zilvia. They have been there every day for the past two weeks but this was a funeral service with full police honours and they were there in large numbers from assistant commissioners to general duties police.
Despite the horrific events of the crime itself and the overwhelming sadness there was a strong feeling of unity in the Cathedral. Along with the Archbishop, there was an Anglican Minister, a Buddhist monk, chaplains and pastors.
"Two weeks ago Sydney was shocked by the violent death of an innocent man. He was leaving work after a good week's work, ready to join his family for the hot long weekend ahead," Archbishop Fisher said when he welcomed every one.
"That such a man should die, that any innocent person could be shot dead in our city, appals us.

"Adding to that shock was the fact that Mr Cheng was a civilian accountant working for the NSW Police and that it seems likely he was killed simply because he was emerging from their Parramatta Headquarters by someone who wanted to hurt the police. As such it was an attack not just on Mr Cheng and his family, but on our police force and our whole community. It was an attack on our security, apparently motivated by hate for our community. And so it was intended to shake our police force, to shake us all.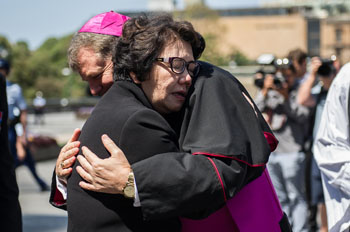 "But here we are, gathered in another place of worship, remembering Mr Cheng, a Buddhist, who had close connections to the police chaplaincy and who often visited this Cathedral and prayed here when he worked nearby at the College Street police building. His son is a Catholic and his daughter an Anglican. Together they and all of us present are a counter-sign to that recent tragedy, a sign to our world that people of all faiths can live and love as one family. We are united today in our determination not now, not ever, to give in to despair or recrimination, united in our trust in a just and merciful God, and in hope for peace and reconciliation in the community Curtis Cheng served so well. We pray that Almighty God will now welcome him into His loving embrace for all eternity and console the bereaved with the sure and certain hope that one day they will be reunited with Curtis."
Commissioner Scipione gave the valedictory describing Curtis as a much loved colleague,respected and admired. He was devoted to his family and loved his job. In fact he had worked back on that fateful Friday in order to complete some work.
Conferring posthumously the Commissioner's Commendation for Service on Mr Cheng, he added: "Curtis' life reminds us that life is fragile. It also reminds us that we are together responsible for the type of community we create.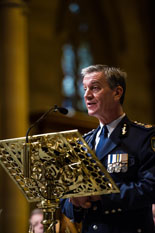 "If a positive is to be taken from recent events, it is our collective realisation that our way of life, the freedoms and protections we enjoy, are not unassailable. They need to be built, maintained and defended.
Summoning a gentle strength and with great dignity Alpha delivered the eulogy on behalf of the family.
"I am here today, in the most tragic and difficult of circumstances, to represent my family; heartbroken from the sudden loss of a beloved husband and loving father.We are honoured by all the people that are here today to pay their profound respect. Dad was an unassuming man and would have never seen himself as deserving of such attention, kind words, and tributes. During this time, we as a family have mourned, but we have also been able to celebrate the life we shared with him and the little things that matter to us. In writing this eulogy and listening to stories about his life from friends, relatives and colleagues, I have come to appreciate even more the man I am proud to call my father," Alpha said.
He spoke of his father's work ethic, always positive attitude, his love of dancing but most importantly his love for his family.
"The lasting message I feel he wants everyone to have, is that we need to do the little things for the people around us: family, friends, colleagues or just the people that weave in and out of our lives. If we all do that little bit more, as Dad did for everyone in his life, I believe that we can live in a more harmonious, and gentle world.

May he rest in peace."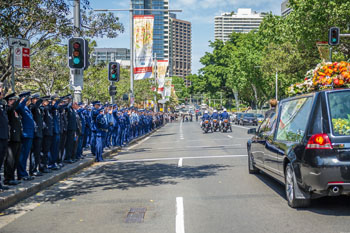 Covered in white flowers the coffin was taken by the family to the main Cathedral door where an Executive Guard of Honour awaited - the Police Commissioner and every highest ranking police officer, premier Mike Baird and Police Minister Troy Grant.
The coffin was walked down the steps to the beat of two police drummers.
The Cheng family thanked NSW Governor David Hurley, Commissioner Scipione, Premier Baird, the Archbishop, ministers and chaplains and many more.
With the coffin in the hearse and under police motorcycle escort the family quietly departed past the police lining College Street for a final salute.