Hello Sailor - the RAN Band To Give Free Concert at Sacred Heart Church, Darlinghurst
Catholic Communications, Sydney Archdiocese,
16 Oct 2015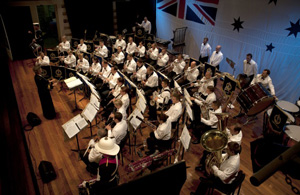 On Tuesday next week staff and mobile patients from St Vincent's Hospital along with medical students from the University of Notre Dame's campus will be treated to a very special concert by the Australian Royal Navy Band's acclaimed Commodores Chamber Ensemble.
The five members of the RAN's famous wind chamber ensemble will give a free concert for all who love music at noon on 20 October at Darlinghurst's Sacred Heart Church.
The musical program will include variations on favourites such as Colonel Bogey and Waltzing Matilda as well as superb classical interpretations of Nielsen's Wind Quintet and Ibert's 3 Short Pieces for the Woodwind Quintet.
The free concert was initiated by part-time Catholic Chaplain with the Royal Australian Navy Reserve, Anthony Crook.
"As part of HMAS Kattabul, where I help provide pastoral care, I meet many members of the Royal Australian Navy Band. And through them I discovered that within the band of approximately 50 full-time members, there were many different groups and ensembles. One of these is the Commodores Chamber Ensemble but as members of the quintet told me, there are not many opportunities for them to perform as a group," Anthony says.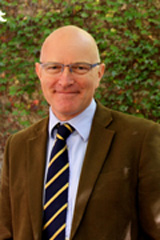 Determined to tackle the problem he set about enlisting the support of the University of Notre Dame Sydney - a place he knows well. In addition to his duties as a Chaplain with the Royal Australian Navy Reserve, Anthony is Head of Chaplaincy Studies and Head of Applied Psychology at UNDA's Sydney campus.
Receiving enthusiastic support from the University, he set about organising what he hopes is just one of many future concerts by the Navy Band's Commodores Ensemble.
"A concert is great opportunity for outreach in the inner city and local Darlinghurst area. It also offers an exceptional chance to bring wonderful music to the staff and patients of St Vincent's public and private hospitals, and to the staff and patients at the Sacred Heart Hospice," he says.
With Masters degrees in Theology, Liturgy and Religious Education, a Bachelor of Arts in Psychology and a Masters in Applied Psychology, Anthony continues to break new ground and this latest venture is no exception.
After 17 years of teaching in Catholic schools mainly as Religious Education Co-ordinator or Director of Religious Education, Anthony joined the Australian Catholic University as a lecturer in Theology. Two years later in 2006 when the Sydney campus of UNDA first opened, he joined Australia's youngest university while also acting as Dean of St John's College at the University of Sydney.
Then in 2012, confronted with what he calls "one of those milestone zero birthdays" he volunteered to join the Royal Australian Navy Reserve as chaplain.
"I wanted to do something I hadn't already done, and I knew there was a great shortage of chaplains, particularly Catholic chaplains in the Navy, so I put my name down," he says.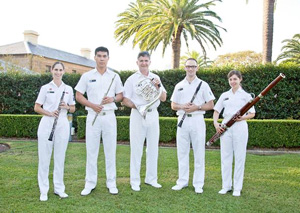 At different intervals of between two and a half and four weeks over the following year he underwent officer training at HMAS Creswell in Jervis Bay, physical training with fellow Reservists, spent 11 days at sea being taught how to abandon ship and how to fight fire at sea, before joining a navy ship and sailing from Darwin to Perth.
"It was great 'boys own annual stuff' really," he says.
The final phase of his training was three weeks at the Defence Force's Chaplain's College, Canberra.
For Anthony Crook his work as a part-time Chaplain with the Australian Navy Reserve which involves giving pastoral care and support to members of the ADF and their families, presiding at services where a chaplain is needed, providing counselling services and supporting the Navy's permanent full-time chaplains is "one of the best things I've ever done with my life."
He adds that sharing that position was helping establish and run the University of Notre Dame's Chaplaincy Studies program which was launched in 2013.
The first-ever university in Australia to offer Chaplaincy Studies as a course major within its Bachelor of Arts Program, UNDA's program has been an unqualified success.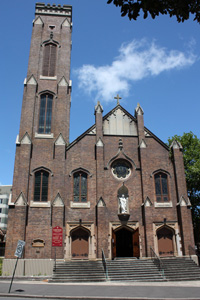 "There is a critical shortage of chaplains across Australia and in NSW the demand far outweighs the supply," he says pointing out that prior to the 1970s, hundreds of men entered the seminaries each year to train for the priesthood. As a result Australia's dioceses not only had enough priests to serve as full-time chaplains to the military, to schools and to universities, but also at the nation's hospitals, mental institutions, juvenile justice system, prisons and aged care homes as well.
But in today's world, the shortage of priests means few dioceses can spare priests for full time chaplaincies.
Notre Dame and Anthony Crook are determined to fill the void with enthusiastic, well-trained, dedicated chaplains.
Although the prime role of chaplains is to provide spiritual, religious and pastoral care, chaplains also provide practical help and support in a wide variety of areas.
"While most students with whom I have discussed the course are aware of chaplains, very few had any idea of the wide and diverse range of chaplaincies that could be open to them once they complete their degree," he says.
The Royal Australian Navy Band Lunchtime Concert by the Commodore Chamber Ensemble and presented by the University of Notre Dame will take place at 12 noon on Tuesday, 20 October at Sacred Heart Church, Darlinghurst.
The concert is free and all are welcome to attend.