Rallying Call in Song and Music Seeks Release of Kids from Immigration Detention
Catholic Communications, Sydney Archdiocese,
15 Oct 2015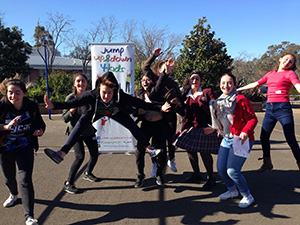 When X-factor finalist, Jacinta Gulisano performed the song "Jump" at the Archdiocese of Sydney's Southern Cross Catholic Vocational College at Burwood this morning, it was no ordinary showcase of musical talent. Instead it marked the first public performance of "Jump" which will be the rallying call of a grass roots nation-wide campaign to get all children released from immigration detention.
Penned by Mark Rix, Communications Director of the Archdiocese of Sydney's Catholic Education Office and John Long, Musical Advisor of CaSPA (Sydney's Catholic Schools of Performing Arts) the song was produced by internationally acclaimed Philippe-Marc Alquetil, former song coach for One Direction.
In addition to the song, today also saw the launch of the accompanying music video of "Jump," which was created by Jose Fernandez and features hundreds of Australians of all ages and from all walks of life jumping and singing the words of the song.
"The idea is to jump up and down about the injustice of keeping children trapped in immigration detention or in unsafe environments," Mark Rix explains.
Currently there are 93 children being held in the off-shore detention centre on Nauru with a further 104 children in detention facilities on the Australian mainland. In addition, 405 children are living in community detention across the country while awaiting residence determinations.
While these numbers are far less than the 664 children held on Christmas Island and in on-shore detention centres in November 2012 under the previous Labor Government, Catholic Mission Australia, the Refugee Council of Australia, ChilOut and the Archdiocese of Sydney's Catholic Education Office (CE0) believe no child should be held in detention.
In the wake of increasingly shocking accusations by medical staff of the ongoing physical and sexual abuse of children held on Nauru, the groups spearheading the grass roots movement are also adamant that all children detained in off-shore facilities be given proper protection.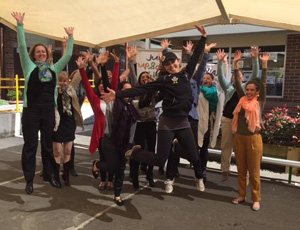 "When we see a child in danger or hurting, we instinctively do whatever we can to help them and get them to a safe place," Phil Glendenning, President of the Refugee Council of Australia and Director of the Edmund Rice Centre told those at today's launch of the song and Jump Up&Down 4 Kids music video today.
"Where a child comes from or how he or she arrives in Australia should never determine how they are treated. The words of the song 'Jump' say this beautifully," he said and quoted from the lyrics of Jump which begin: "Your child, my child, one child."
"Not only do we have to get these children out now, we must never let this happen again. And I believe the song and video can help to achieve this," he said.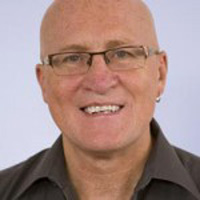 Another speaker at today's launch was Mark Isaacs, the former Salvation Army Employee who worked at the Nauru detention centre and wrote of his experiences in his explosive book, The Undesirables.
Just 24 when on the strength of a single phone call and with no experience, he was hired by the Salvos. In October 2012 with just one week's notice, he was sent to Nauru to "provide support" to the asylum seekers detained there.
"The camp was built around destroying men, of grinding them into the dust," he wrote of his time there. "It doesn't matter who you are or what side of politics you are on, if you had been in a position I was in, having to sit there and have a man's friends show you the cord he tried to hang himself with, crying with them, the rain coming down...it was overwhelming."
The son of Professor David Isaacs who has spoken publicly about the impact on the mental health of children kept in immigration detention, Mark who is now 27 spoke this morning giving a first-hand account of life in detention on Nauru.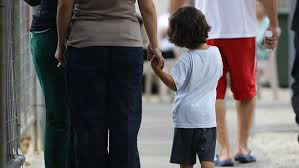 "It simply isn't possible for children to live in a place like that and not be damaged by the experience," the now 27-year-old said. "If we cannot guarantee the safety of children, we must never put them in such a place. Kids just don't belong in immigration detention."
The song and video of the Jump Up&Down 4 Kids campaign is about changing attitudes, shifting thinking and most importantly, removing children from environments that can hurt and damage them both physically and emotionally, Mark Rix says.
To hear the song https://www.youtube.com/watch?v=uqj69vnhzkE