Parishes Encouraged to Reach Out & Welcome Refugees & Asylum Seekers
Catholic Communications, Sydney Archdiocese,
15 Oct 2015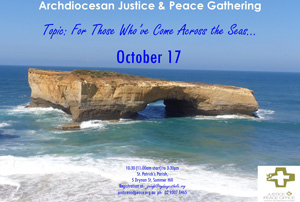 The Archdiocesan Justice & Peace Gathering on Saturday, 17 October will put refugees and asylum seekers front and centre when parishioners of all ages and walks of life explore ways to reach out, welcome and offer the hand of friendship to those who arrive from across the sea.
Based on "For Those Who've Come Across the Seas," the 2015 Social Justice Statement released by the Australian Catholic Social Justice Council last month, the Archdiocese of Sydney's Justice & Peace Gathering will discuss the many ways parishes can work at a grass roots level to befriend refugees and asylum seekers, many of whom have fled torture, persecution and conflict in their bid to find safety and a future for their children.
"We need to strengthen the conviction that we are one single human family," Pope Francis' exhorted in his encyclical, Laudato 'Si.
"Pope Francis' message will be a key theme at our gathering on Sunday," says Naomi Englebrecht, Research and Project Officer for the Archdiocese of Sydney's Justice & Peace Office and one of the key organisers.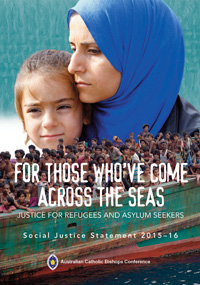 By holding the annual Justice and Peace Gathering three weeks after the release of the statement enabled each parish along with parishioners, church groups, community leaders and individuals a chance to reflect on the statement and consider the issues.
Just as the 2015 Social Justice Statement cites the Pope's words after he travelled by boat to the Italian island of Lampedusa in July 2013, the Peace and Justice Gathering will also be reminded of his powerful admonition to Catholics and non Catholics alike to put aside "global indifference" and respond to refugees and asylum seekers with compassion and understanding.
Lampedusa Island is the closest land for many of the hundreds of thousands fleeing North Africa and it is in the waters off the Island that so many travelling in flimsy overcrowded craft lose their lives.
Appalled by the numbers of those lost at sea, during his visit to the Island Pope Francis laid a wreath in the waters off the coast and said that people's need must be placed before economics and the responsibility of governments to come together in showing compassion for those in need.
For the Pontiff, asylum seeker deaths at sea of Lampedusa were a symbol of what he described as a wider lack of justice and compassion in national and international life.
"The problem is not primarily one of people smugglers or protecting borders, it is a problem of not valuing people properly," he said.
In their 2015 Social Justice Statement, Australia's Catholic bishops reiterated the Pope's words. Calling on all Australians to show compassion and solidarity towards the stranger, the Statement also recalled the Holy family's flight from Bethlehem. Fleeing Herod's slaughter of all young male children, Mary and Joseph's escaped to Egypt with the newborn Christ, becoming refugees themselves.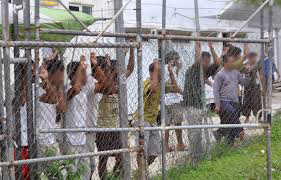 "When we Australians support policies of cruelty and rejection we close our ears to Christ's call and turn him away from our doors," the Bishops write in the 2015 Social Justice Statement and call for a return to the generosity and leadership Australians showed in the past, not only in welcoming thousands of refugees after World War II but offering a home and new life to many of the thousands who fled Vietnam by boat after the Communist takeover in the 1980s.
"When I listened to the broadcast of Pope Francis' address to the US Congress last month, what really struck me was his call for America and the world to look at refugees and immigrants as people, to see their faces and listen to their stories. And this is exactly what the Holy Father urged us to do when he visited the migrant island of Lampedusa off the Italian coast in July 2013," says Dr David Brennan, Editing and Publications Officer for the Australian Catholic Social Justice Council.
Dr Brennan will be one of the keynote speakers at Saturday's Justice & Peace Gathering at St Patrick's Parish, Summerhill when he will discuss the plight of many refugees and asylum seekers in Australia, and ways to offer a hand in friendship and support at a grass roots parish level.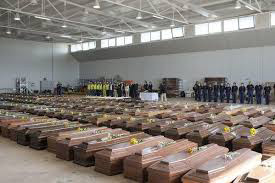 After his address there will be a Q and A session as well as a series of workshops.
Chantelle Ogilvie-Ellis, formerly Justice and Peace Promoter for the Archdiocese of Sydney and now a staff member with the Sydney Alliance with responsibility for community and asylum seekers, will also give an address and host a Q and A session.
In addition an asylum seeker will tell their own personal story which will be followed by group discussions and planned actions or ideas to include and support asylum seeker families as well as individuals integrate and become part of parish life and the community.
The Archdiocesan Justice and Peace Gathering will be held from 10.30 am until 3.30 pm on Saturday, 17 October at St Patrick's Parish, 5 Drynan St., Summer Hill. Information about the Gathering and registration to attend can be made by emailing jpoinfo@sydneycatholic.org