Dogmatism and Secular Tyranny Threatens Religious Freedom - Archbishop Anthony Fisher OP
Catholic Communications, Sydney Archdiocese,
15 Oct 2015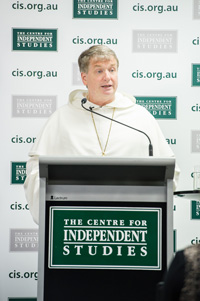 Democracy and religious freedom was put under the microscope when Archbishop Anthony Fisher OP delivered the Annual Acton Lecture on Religion and Freedom to a sold-out audience at the Centre for Independent Studies.
The Archbishop's lecture was titled:
Should Bakers be Required to Bake Gay Wedding Cakes? The State of Our Democracy and of Religious Liberty in Contemporary Australia.
Democracies ignore religions at their peril the Archbishop said saying true democracies acknowledge moral and religious convictions while at the same time allowing the expression of differences. The Archbishop used the issue of same-sex "marriage" in the US adding Australia would be wise to avoid such "secular tyranny".
After briefly transporting the audience to a hypothetical 2025 when all discussions of marriage being a heterosexual union are either prohibited by law or polite society, the Archbishop spoke about Pope Francis' call to a visionary, practical and principled statecraft for our contemporary democracies, and a politics which is person-centred.

"A good political leader is one who, with the interests of all in mind, seizes the moment in a spirit of openness and pragmatism, initiating improvements for others rather than merely protecting his/her own interests, restoring hope, righting wrongs, maintaining commitments, and thus promoting the well-being of individuals and peoples," he said.

The Archbishop explained that an essential component of good government was the respect for religious liberty in both the public and private spheres, and noted the great contribution of religion to human flourishing and to all democratic societies, including Australia. He told those gathered that politics and people needed to rediscover a sense of the transcendent - not only in a sense of the sacred, but also in terms of having hope for the future.

With this hopeful and transcendent image of social and political life now planted in the minds of the audience, Archbishop Fisher considered the quality of civil discourse in Australia today in the context of the debate around same-sex "marriage."

He spoke about how any person who would uphold marriage as a natural institution could expect to be labelled, insulted, accused and vilified. "What is new", he said, "is that such ad hominem now hails not just from fevered activists and net trolls but from respected journalists and public figures."

Archbishop Fisher identified an unwillingness by those who advocate for the redefinition of marriage to engage with the competing argument as characteristic of the debate currently underway. "The understanding of marriage found in pretty well every serious civilisation, legal system, religion and philosophy till recently... is now incomprehensible, even unspeakable," he explained.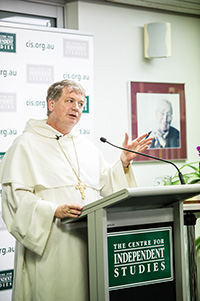 To illustrate this idea, Archbishop Fisher pointed to the anti-discrimination complaint made against Archbishop Julian Porteous of Tasmania for distributing a joint bishop's pastoral letter on marriage as "a sign of how far things have gone and are likely to go in the future if not resisted." The complaint, he explained, seeks not only a sanction against the Archbishop but also the forcing of Church schools to promote LGBTI awareness, tolerance and behaviour.
Linking in with the title of the lecture, Archbishop Fisher told the story of Melissa and Aaron Klein who believed that baking a distinctive same-sex wedding cake would be facilitating a same-sex "wedding" which would violate their religious beliefs that marriage is the union of a man and a woman. The couple filed a complaint that they had suffered discrimination and the government upheld it. Meantime the baker couple faced vilification, boycotts of their business, violent protests and even death threats. They were forced to close their shop and work from home. They were also fined $135,000 and encouraged by the Tribunal to receive behaviour modification therapy so they could be rehabilitated.
"Democracy degenerates into despotism when it licences such vilification for people's conscientious beliefs," the Archbishop said.
In concluding the lecture, Archbishop Fisher praised the "healthy, pragmatic cooperation" between Church and State in Australia and re-transported those gathered back to a parallel 2025, a result of the successful application of the visionary, practical and principled statecraft of which he spoke. In this 2025, robust and courteous debate between people of all faiths and none continues in a society where the freedom of people of faith to contribute to the formation of moral and political values and also to the service of the needy is respected, if not cherished.
In the spirited Q&A session which followed the lecture, Archbishop Fisher exhorted those gathered to model the respectful dialogue of which he spoke, encouraging them to read and listen to those with whom they might disagree.
Attendees stayed behind long after the lecture had concluded to share their own thoughts and reflections on the Archbishop's insights.
A transcript of Archbishop Fisher's Acton lecture can be found
here
, and audio is available
here
.