ACBC General Secretary To Be New National Director of Catholic Mission
Catholic Communications, Sydney Archdiocese,
14 Oct 2015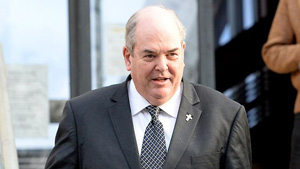 General Secretary of the Australian Catholic Bishops Conference (ACBC), Fr Brian Lucas has been appointed the new National Director of Catholic Mission.
The appointment was announced by Cardinal Fernando Filoni, Prefect of the Congregation for the Evangelisation of Peoples following the resignation of Martin Teulan.
Catholic Mission is the name used in Australia for the Pontifical Mission Societies (PMS).
General Secretary of the ACBC for the past 13 years, Father Lucas said he was looking forward to becoming more involved in the core work of the Church, which is its mission to the world.

'For the past 25 years, my work has been directed to internal issues of Church administration. While this is important and I have enjoyed what I have been asked to do, this new appointment is an opportunity to be part of the Church's work of evangelisation at an international level,' he said.
"This is a broad agenda that touches the lives of everyone. The Church is concerned with all that affects human well-being and promotes the fullness of life'.

'Australian Catholics have traditionally been very generous in their support for the work of missions and I see the role of Catholic Mission as essential in facilitating a spirit of missionary fervour,' Fr Lucas said.
Archbishop Denis Hart, President of the Catholic Bishops Conference said recognised the immense contribution Fr Lucas has made to many areas of Church life in Australia.
He said;" We are grateful that Father Lucas has agreed to undertake this new role, which will be involved with the mission of the Church and the support of the expansion of the faith in many countries'.
Fr Lucas will leave Canberra following the November Plenary meeting of the Bishops Conference and relocate to Sydney where he was Archdiocesan Secretary and Financial Administrator of the Archdiocese of Sydney for twelve years.