Dominican Sisters of St Cecilia Delighted at Appointment of fellow Dominican as Sydney's Next Archbishop
Catholic Communications, Sydney Archdiocese,
23 Sep 2014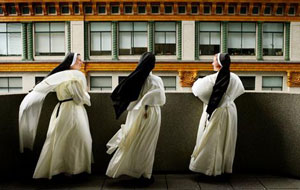 The Sydney-based community of the Dominican Sisters of St Cecilia of Nashville are delighted at Holy Father Pope Francis' appointment of Bishop Anthony Fisher OP as the ninth Archbishop of Sydney.
Following the announcement by the Papal Nuncio, Archbishop Paul Gallagher on Thursday evening last week, the Bishop of Parramatta, Most Rev Anthony Fisher, has received overwhelming support from the city's Catholic agencies, charities, organisations, parishioners, clerics, religious and in particular from youth ministries and young people of faith.
The appointment of Archbishop-elect Anthony also marks the first time in the history of the Sydney Catholic Church that a Dominican has been appointed Archbishop. It is also only the third time in the city's history that an Archbishop has been chosen from a religious order.
Sydney's first and second Archbishops, John Bede Polding and Roger Bede Vaughan were both Benedictines. But in the 130 years since the death of Archbishop Vaughan in 1883 there have been no Archbishops who have come from a religious order.
The three American-born Dominican Sisters of St. Cecilia of Nashville originally came to Sydney as volunteers to help with the mounting of World Youth Day in 2008.
They arrived in 2007 at the invitation of the then-Archbishop of Sydney, Cardinal George Pell and fellow Dominican and Coordinator of WYD08, Bishop Anthony OP.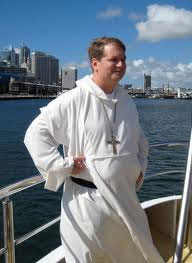 The Sisters worked closely with Bishop Anthony in the lead up to and throughout WYD08, and were not only an integral part of World Youth Day celebrations, but remained in Sydney after the event was over to establish a community of their Order here in Australia.
The community which includes lay people as well as religious follow a life of poverty, detachment and simplicity and through their active Apostolate are committed to excellence in education, love of study, a strong background in theology and philosophy, and the formation of Catholic youth.
"We wish to extend our deep congratulations to Bishop Anthony," says Sister Mary Rachel Capets, one of the original American-born Dominican Sisters of St Cecilia of Nashville who came to Sydney in 2007.
Speaking on behalf of the Sydney-based community of lay and religious, including three young Australian women who professed their vows as Dominican Sisters of St Cecilia of Nashville in Tennessee two years ago, Sr Mary Rachel paid tribute to Bishop Anthony.
"When Bishop Anthony speaks to young people he draws out of their hearts their deepest and noblest desires. Like the founder of our Order, St Dominic, Bishop Anthony has great confidence in the young," she says.
"We have seen this confidence personally in our work with Bishop Anthony during WYD in Sydney and the years since. He dreams big because he knows we have a generous God."
Sr Mary Rachel says young people feel a sense of friendship and have an easy rapport with Bishop Anthony. They also have a confidence and assurance in the solid truth which he presents with great gentleness and wisdom.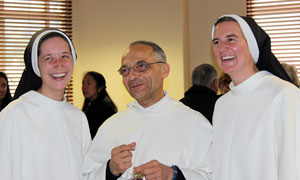 "Bishop Anthony has a wonderful ability in that he is able to mentor people through very complicated and confusing situations, and always gives them the assurance of the Lord's Presence and love," she says.
Sr Mary Rachel also pays tribute to Bishop Anthony's renowned intellect.
"It is heartening to see his love for Catholic education and the ministry of university chaplaincy, which stem from his zeal for souls and his passion for all to come to know and love Jesus," she says, reiterating that all in the community of Dominican Sisters of St Cecilia of Nashville here in Australia, as well as the many young people they minister to and work with, look forward to serving the Archdiocese of Sydney under the leadership of Archbishop-elect Anthony, and want to assure him of the community's daily prayers and support.