Archbishop-elect Anthony Fisher OP is Very Much a Man for All Seasons
Catholic Communications, Sydney Archdiocese,
19 Sep 2014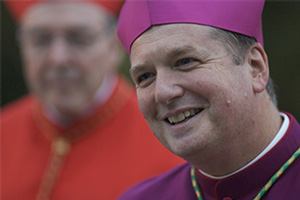 Archbishop-elect Anthony Fisher OP has been appointed by Pope Francis to become the ninth Archbishop of Sydney. Bishop Anthony who succeeds Cardinal George Pell, has served as Bishop of Parramatta since 2010 and with his installation which is expected to take place by mid November is set become the city's first Dominican Archbishop.
Accessible, approachable, warm and compassionate the Archbishop-elect is also an internationally-renowned scholar, Foundation Director and Adjunct Professor at the John Paul II Institute of Marriage and Family, Adjunct Professor at the University of Notre Dame, a Doctor of Philosophy in Bioethics from Oxford University and Chair of the Catholic Education Commission NSW.
In addition, Archbishop Anthony is a trained and former practicing lawyer and in 2008 was Coordinator of Sydney's World Youth Day. It is in this role that he is probably still best known and loved by young people outside of Australia. There is no doubt he and his small team were not only responsible for the huge success of the event but for every detail from the Sydney Harbour arrival of Pope Benedict XVI to the spectacular Stations of the Cross enactment at landmarks across the city to the number of outdoor loos needed for the WYD 400,000 pilgrims who attended the open air Final Mass at Randwick.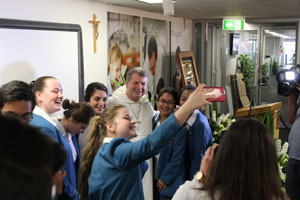 "Archbishop-elect Anthony is truly a man who is motivated to bring the heart of Christ to all, and especially the young. Working with him during WYD08 I found him to be very caring, very loving with a passion for leading young people to discover the heart of Christ," says Father Mark Podesta, who worked closely with Archbishop Anthony in the three year lead up to WYD08 as well as during the event itself when Fr Mark became one of the key commentators on World Youth Day for Sky News, Sunrise and other TV news and current affairs shows.
A year after WYD, Archbishop Anthony described organising the international event as probably "the biggest thing I will ever do in my life" and paid tribute to what he called his "terrific support team," before adding that he had been fortunate to also have "God and the Saints helping me - along with the prayers of every parish and diocese across Australia."
Welcoming the appointment of the Archdiocese of Sydney's new Archbishop, Dr Steven Lovell Jones, Dean of Arts and Sciences at the University of Notre Dame and former Promoter of Justice for the Archdiocese, paid tribute to his long time friend, colleague and fellow academic.
"Archbishop Anthony combines this amazing intellectual capacity with the Dominican charism which is a very powerful and beautiful combination. To have someone who is so intellectually-gifted and at the same time works from this centre of charity and love is what makes him such an extraordinary person, and what will make him, I believe, a greatly loved Archbishop of Sydney," he said.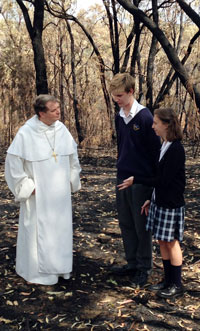 Throughout his almost four years as Bishop of Parramatta, this combination of intellect and compassion has been constantly in evidence. His acute mind and unique ability to take complex issues and make them accessible and easily understood won high praise from Catholics and non Catholics alike, particularly during the popular and stimulating series of talks held between Archbishop Anthony and Rabbi Jeremy Lawrence, Chief Rabbi of the Great Synagogue where they discussed "What is Right" and other ethical and moral dilemmas.
However for many in the Parramatta Diocese what will be remembered is Archbishop Anthony's compassion, and his strength and kindness during last year's ferocious bushfires that swept through the Blue Mountains destroying more than 200 homes as well as forcing the closures of Diocese of Parramatta schools at Springwood, Wimmalee and other areas under threat.
Not only overseeing and helping coordinate the recovery effort, he also made several trips to Springwood and the surrounding areas, and was there in person on 29 October to lead prayers of thanksgiving for the more than 1000 students at St Columba's High and the 550 youngsters at St Thomas Aquinas Primary.
This was the day students could finally return to their schools in the aftermath of the fires. Many had severely damaged homes or had lost everything in the fires. After the prayers of thanksgiving, the Archbishop spent much of the day meeting with the teenagers and children, listening to their stories and offering them comfort and solace.
Born at the Mater Hospital on Sydney's North Shore, Archbishop Anthony says one of the first people to hold him in their arms as a newborn was his great aunt, Sister Mary Carmel Fisher who was a Sister of Mercy and was one of the Maternity Nurses at the Mater.
"She was one of my earliest influences and very much the matriarch of the family who decided what schools we should go to and what we should study," he recalls with a smile.
The eldest in a family of three brothers and two sisters, Archbishop Anthony grew up in Lakemba - "when it was just an ordinary working class Anglo suburb" - where his father Colin Fisher ran a pharmacy. Like many Australians his mother Gloria Maguregui has a multi cultural background. Her family were Spanish Basques who immigrated first to China and then the Philippines and finally to Sydney, where her eldest son remains extremely proud of his multi-cultural heritage.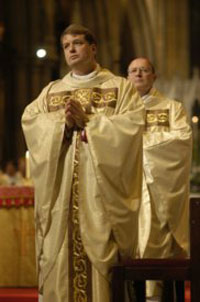 Although Archbishop Anthony served and loved being an altar boy, he says it was some years later at around age 15 when he was a student at St Ignatius College, Riverview, when he first thought about becoming a priest.
"There were two priests at Riverview who inspired me and had a big influence on me and my development. One was Fr Charles McDonald who was the English master and the school's debating master. In many ways he was the one who taught me how to think, how to speak and how to argue logically.
"The other was Fr Tom O'Donovan who was my sixth form master - what is now known as Year 12 - and he was a wonderful spiritual priest and has been a friend to me ever since," he says.
A few years behind Prime Minister Tony Abbott at Riverview, Archbishop Anthony graduated Dux of the school before enrolling at the University of Sydney where he obtained an honours degree in history and law. On graduation he joined the prestigious law firm Clayton Utz where the first contract he was given to work on was one involving the restoration of the Queen Victoria Building.
"I am still very proud every time I look at the building knowing I played a very small role in its preservation," he says.
The Archbishop-elect insists he enjoyed his years as a lawyer but says at 24 he realised he had to make a decision. "For some years I had been tossing around in my mind what God really wanted me to do and finally, I went to see the partners in the firm and asked for six months leave so I could travel and make up my mind away from work, family and friends."
The partners who were non Catholic not only agreed to grant him six months leave but said if he decided to return, the job was still his, and if he decided on the priesthood then they would understand and wish him well.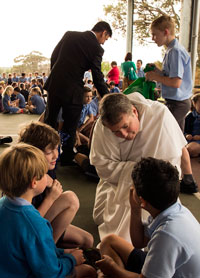 Archbishop began his travels in the Holy Land and as he backpacked across Europe, he finally came to a decision and wrote to the Dominican Province in Australia asking if they would accept him into the Order. The letter of acceptance was waiting for him when he reached Rome and a short time later he was back in Australia and beginning his studies for the priesthood in Melbourne.
Ordained in Sydney on 14 September 1991, he left almost immediately for Oxford University where he completed a Doctorate of Philosophy in bioethics. Returning to Australia in 1995, he spent the next five years lecturing at the Australian Catholic University in Melbourne before being appointed the Foundation Director of the John Paul II Institute for Marriage and Family.
Elevated to Bishop in 2003 he was appointed Auxiliary Bishop of the Archdiocese of Sydney where he served until March 2010 when he became Bishop of Parramatta.
"People think of the priesthood and think of sacrifice. Most see a priest as a man in vestments saying the Mass. They don't have much idea what else he does with the rest of his time other than read holy books and get ready for the next Mass. They don't see the endless number of ways in which being a priest is so exciting and so fulfilling," he says and insists he has never regretted his decision to become a priest, not even for one second.
"I love being a priest and in the priesthood I have found so much more than I ever imagined," he says.
He is also quick to point out as a priest there is a human side that needs to be fulfilled in addition to his spiritual side. For Archbishop Anthony this can mean relaxing by playing a regular game of tennis, cooking for friends, going to the opera. His passion for opera, particularly Nineteenth Century operas where "arias keep buzzing around in your head" and "anything by Mozart," began when he was in his first year at uni.
"That's when I went to my first opera. In those days we'd sit in the back corner in the cheapest seats of the house. Back then Joan Sutherland would perform in Australia every year and I was lucky enough to see her perform several times, and I don't think there will be such as voice again in our lifetime."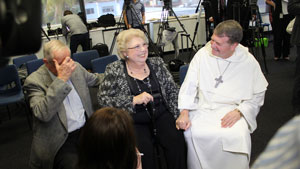 To unwind and relax, the Archbishop-elect also loves to read. His taste ranges from detective novels to biographies and literary fiction by authors such as Tim Winton.
"I've been a fan since I read Cloudstreet back in 1991," he says of the West Australian author.
This morning, less than 24 hours after the announcement of his new appointment by the Papal Nuncio, Archbishop Paul Gallagher, the Arcbhishop-elect gave a press conference in his current Diocese of Parramatta, which along with Sydney's mainstream and Catholic media was attended by his proud parents, Gloria and Colin Fisher.
"We are absolutely floored and we are behind him all the way," Gloria Fisher told journalists. "We know there is a lot of hardwork waiting for him but we know he can do it, we are very proud of him."
Many of the questions at the press conference from much of the mainstream press centred around yesterday's terror raids and the growing threat of fundamental extremism by ISIS not only in Iraq and Syria but here at home in Australia.
Admitting these were "troubling times," Archbishop Anthony nevertheless called on people of faith for calm, restraint and wisdom.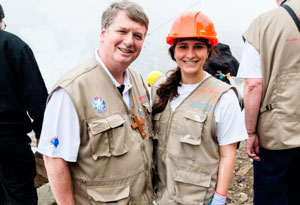 "I don't want anyone feeling they are being unreasonably targeted or in anyway profiled. In the City of Sydney every nation on earth is represented and we are an example to the rest of the world that it is possible to live together in harmony," he said.
In addition to the press, several classes from schools in the Parramatta Diocese also attended. Among these were students from Catherine McAuley Girls High School, Wollemi College, Parramatta Marist Boys High School, and St Patricks Primary School.
"The Church has a task reconnecting with young people. This is so important, not because they are the future of the Church. They are not the future of the Church. They ARE the Church," he said.
And finally when someone asked: "What will your first priority be when you are installed as Archbishop of Sydney," he instantly answered without hesitation: "My first priority will be to pray."
A full biography of Archbishop-elect Anthony Fisher OP is available here.
Media Release from the Diocese of Parramatta (PDF)
Statement from Bishop Peter Comensoli, Apostolic Administrator of Sydney (PDF)

Watch Archbishop-elect Anthony's address to the press at the Diocese of Parramatta, 19 September 2014.