Aboriginal Spiritual Pilgrimage Inspirational & Unforgettable
Catholic Communications, Sydney Archdiocese,
23 Jul 2014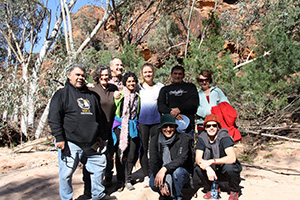 Most people in Sydney think you have to travel to the Kimberley or the Northern Territory some of the most spectacular, breathtaking and ancient Aboriginal sacred sites are right here on our doorstep in NSW, says Jenny Collins-White of Catholic Mission.
A member of the recent Spiritual Pilgrimage of Aboriginal Sacred Sites organised by the Archdiocese of Sydney's Aboriginal Catholic Ministry, Jenny says the experience was like stepping into the heart of the Aboriginal story and brought a whole new understanding and perspective on the culture, history and spirituality of Australia's first people.
"The journey was inspiring, nourishing and enriching. The Catholic faith is very much part of the Aboriginal story both past and present and to be on a pilgrimage led by people who know the country, know the sites, the history and what they mean to Aboriginal people was a great privilege," she says.
For Graeme Mundine, Executive Officer of Sydney's ACM and his wife Dr Gabrielle Russell-Mundine, ACM's Project Research Officer and sessional lecturer at the University of Notre Dame, the pilgrimage was the realisation of a long held dream.
"As Catholics some of us have been fortunate enough to have undertaken pilgrimages to the Holy Land and to follow in the footsteps of saints through Italy and other European countries. But we wanted to organise a pilgrimage much closer to home to give people a chance to better understand Aboriginal spirituality, cultures, values, knowledge and how these marry with our Catholic beliefs," Graeme says.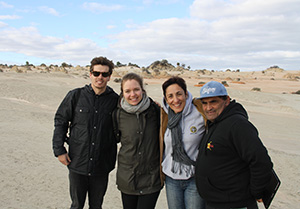 The response and overwhelmingly positive feedback from those who went on ACM's first Spiritual Pilgrimage of Aboriginal Sacred sites earlier this month that ACM now intend to make these pilgrimages annual events.
"For me it was being out there and seeing the vastness of the land, the flora and fauna and above all the sacred sites at Lake Mungo or the ancient Aboriginal rock art at Mutiwintji was deeply spiritual and unforgettable," says Hanne Pedersen, a third year Education student at UNDA.
"I've been taking Aboriginal Education as part of my studies at Notre Dame but until I went on the pilgrimage, I had no concept of how vast this country is or its breathtaking beauty. The time away gave me a connection to the land, and gave me a far deeper insight into one of the world's oldest living cultures, and their love and spiritual connection with this land," she says.

For Hanne, the insights and knowledge she gained on the pilgrimage will be invaluable once she graduates with a Bachelor in Education next year, and begins her career as a teacher, educating children from birth to age 12.
"I will be able talk to them about my experience and the wonderful stories I learned and use to teach and engage children about Australia's first people. It will also help me instil the Aboriginal children I teach with a sense of pride and an appreciation of their heritage and culture," she says.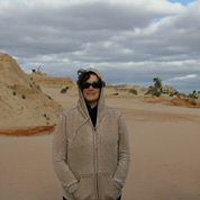 Dave Ella, Aboriginal Education Advisor for the Diocese of Broken Bay and well known elder acted as guide for the pilgrimage generously sharing his immense and detailed knowledge of the state's Aboriginal sacred sites.
For more than quarter of a century, Dave has worked extensively with both governments and independent education advisers in the development of resources on Aboriginal spirituality, history and culture for both Indigenous and non-Indigenous students. For many years he has also conducted regular field trips for school students and young adults to North Head and other Aboriginal sites in the Sydney basin.
Dave Ella says the pilgrimage was a chance for people to "live and breathe, see and feel, and experience the land and the sacred sites, and understand the great pride Aboriginal people have in their cultural identity and spirituality."
Jenny Collins-White says all those on the ACM inaugural pilgrimage had returned with a new and profound respect for Aboriginal history and culture.
"We saw first-hand how over thousands of years their very life depended on the land and learning from ancestors," she says and believes that too often the story and lore of Aboriginal people is a hidden story. "Not only are we inclined to forget the vastness of this land but too often we forget the Aboriginal story as well. For most of us who wish to learn more, we are forced to seek it out themselves."
As Education and Advocacy Officer for Catholic Mission, Jenny is familiar with many remote Aboriginal communities where Catholic Mission is well known and she has been fortunate to be able to discover and learn much about Australia's first peoples and their culture both past and present.
"But the Pilgrimage was a way of entering spaces that are at the heart and depth of Aboriginal culture and spirituality and the experience brought a whole new respect and understanding," she says.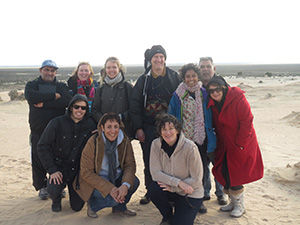 While Graeme and Gabrielle Russell-Mundine hoped the pilgrimage they organised would offer people an opportunity to acquire a deeper appreciation and understanding of Aboriginal peoples, they say it also gave them an opportunity to develop an even deeper understanding of their own cultures and spirituality, how they relate to those of other cultures, and to bring this deeper understandings to their lives and work.
"From the moment we gathered on 5 July I knew we were in for a wonderful journey," says Gabrielle. "But it ended up exceeding all our expectations. We were a diverse group but with a great deal of humour and laughter we walked the country together, broke bread together, shared experiences that were special, momentous and fun. The stunning landscapes, the wisdom and generosity of our Aboriginal guides and of course, of Dave Ella, and the willingness of all participants to share their thoughts and feelings as we journeyed through amazing places are things that will stay with us forever."