Foreign Aid Cuts Leaves World's Poor in the Lurch
Catholic Communications, Sydney Archdiocese,
15 May 2014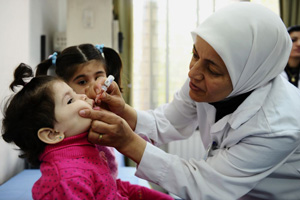 The Government's decision to slash foreign aid by almost $8 billion over five years has been greeted with consternation and deep concern by Caritas Australia and other leading aid and development organisations such as World Vision, CARE Australia and Oxfam.
"Balancing the nation's books on the back of the world's poor is out of step with national values and will undermine our positive and longstanding engagement in global politics," says Paul O'Callaghan, CEO of Caritas Australia.
Foreign aid took the biggest hit accounting for 20% or one fifth of the savings measures announced by the Treasurer Joe Hockey on Tuesday night.
Not only will the Government rip just under $8 billion from the foreign aid budget, but for the next two years will cap foreign aid at $5 billion per annum. Then from 2017, instead of indexing foreign aid to a percentage of the Gross National Income (GNI), future spending will be matched to the rate of inflation.
"We are one of the world's wealthiest nations but even before this week's massive cuts to foreign aid, we were lagging behind in terms of the amount put aside for foreign aid. Ranked 13th among the OECD's 24 nations, we will now fall even further," says Jamieson Davies, Programmes Director for Caritas Australia.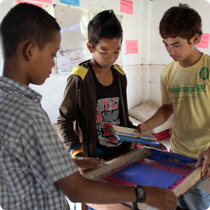 Currently the amount Australia puts aside to help the world's poor and most in need is on as par with the amount given by Portugal and Iceland.
"It is also the same amount as that given by New Zealand, which is a nation of just 4.5 million, which is far smaller than Australia's population of 23 million," she says, adding that not only has Australia slashed its foreign aid budget but has abandoned its international obligations, and its commitment to the United Nations Millennium Development Goals.
Established in 2000, the Millennium Development Goals hoped to halve world poverty with the wealthy nations of the OECD, including Australia, pledging to increase foreign aid to 0.7% of GNI by 2015.
The Gillard Government would later scale this back to 0.5% of GNI or five cents for every $100 earned.
Already well ahead of the target dates set, Britain despite coming through a deep recession following the Global Financial Crisis now gives 0.7% of GNI in foreign aid. Norway has gone even further and now donates 0.9% of GNI to overseas aid and development.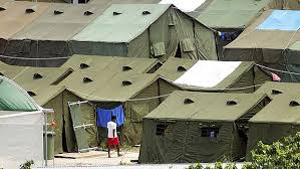 Before the cuts, Australia's foreign aid budget stood at around 3.7% of GNI and with the cap imposed for the next two years is not only well below the goal agreed by a bipartisan Parliament, but is expected to fall even lower in the coming years.
For those at Caritas and other NGO aid agencies this week's multi-billion dollar cutbacks are not only troubling because Australia has abrogated its international responsibilities in terms of the Millennium Development Goals, but because many programs helping the world's poorest and most vulnerable communities are now at risk.
Of even more concern is that for men, women and families struggling to survive on $1 or less a day in the Pacific region as well as across vulnerable communities in Asia and Africa, the closure of aid and development programs can also mean the loss of lives.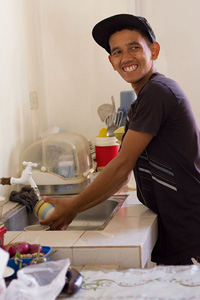 "Cuts to foreign aid have a greater impact than any other cut a government can make, because people who receive aid and countries that receive aid, are literally saving lives through the building of health systems, clean water and education," says Rev Tim Costello of World Vision.
In addition foreign aid is an important factor in promoting economic growth and political stability across an entire region.
While many of the world's poorest communities live on our doorstep, more than half live in Africa with this number expected to account for more 80.5% of the world's poor by 2025.
"Any reduction in programs in Africa will be deeply felt and while we are hopeful Caritas Australia can maintain our commitment and our work there, the significance of the cuts this week are extremely concerning," Jamieson Davies says.
The Government's cuts to foreign aid in this week's Budget are very much at odds with ordinary Australians and the Catholic community, Paul O'Callaghan believes and points to the generous and open-hearted support foreign aid charities and organisations receive from individuals and families across Australia each year.
Last year Caritas Australia's Project Compassion raised more than $10.8 million and this year is expected to top $11 million.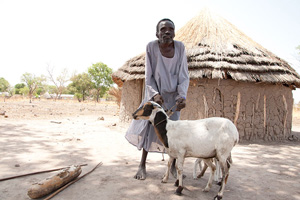 "More than 2 million households across Australia donate to aid charities each year," he says adding that Government-funding of the important work carried out by Caritas and other aid agencies helps make the hard earned dollars donated by Australian households go further.
The Caritas CEO believes that ripping $8 billion over five years from Australia's foreign aid budget will further damage Australia's reputation as a generous nation and one that punches above its weight in international relations and on the global political stage.
"We are disappointed and saddened our current Government has backed away from its leadership role amongst the world's G20 nations as well as its role as a member of the UN Security Council," he says.