Australia's First People Rejoice in Canonisation of Blessed John Paul II
Catholic Communications, Sydney Archdiocese,
23 Apr 2014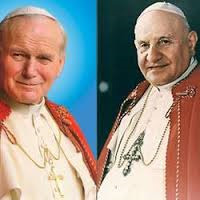 Blessed John Paul II touched the lives of millions across the world and none more so than Australia's First People.
For Australia's Aboriginal and Torres Strait Islander Catholics, the canonisation of Blessed John Paul II has special meaning.
"He publicly recognised our contribution to the Church not only as Pope during his visit to Australia in 1986 but even further back when as Cardinal Karol Wojtyla he made his first trip to Australia in 1973 to attend the 40th Eucharist Congress in Melbourne," says well known and much loved elder, Dr Elsie Heiss who for quarter of a century until her retirement in December 2012 was a driving force behind the Archdiocese of Sydney's Aboriginal Catholic Ministry and instrumental in the founding of the Church Reconciliation at La Perouse.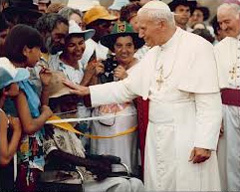 "When Blessed John Paul made his first visit to Australia as Archbishop of Krakow he reached out to Aboriginal Catholics saying that the Church understood we had a lifestyle that was proper to our own ethnic genius and character and that the Church did not in any way ask us to renounce this. He also said that not only was the Church but society itself enriched by the presence of different cultural and ethnic elements and that for the Church the values we represented were precious and deeply respected," she says.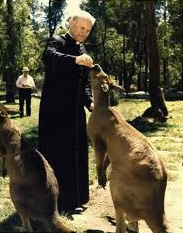 Blessed John Paul II's visit to Australia as Cardinal Wojtyla came three years after the historic visit by Pope Paul VI in 1970 who also paid tribute to Australia's First People and reiterated the Church's respect for their culture, dignity and reiterated the Church's deep affection for them.
Pope Paul VI was the first Pope to speak directly to Australia's Aboriginal Catholics but for Elsie who was born into the Wiradjuri Nation, growing up with her four brothers and three sisters on the Erambie Mission in Cowra, it was Blessed John Paul's words in 1973 and again in 1986 that resonated strongly and marked a turning point in her spiritual life as a Catholic and woman of faith.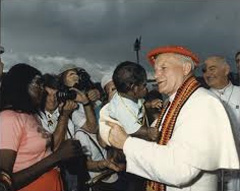 "My parents were devoted to their faith and passed the great gift of their faith on to their children. But in those days Aboriginals weren't welcome in the local churches. We always had to sit at the back of the Church. There was no recognition of us as part of the Australian Catholic Church," Elsie recalls.
"Somehow my mother managed to have us all baptised at St Raphael's Church. But as children we did not feel welcomed by the Church or a valued part of the Church of Australia," she says.
Blessed John Paul II changed this and it was his heartfelt speech to Australia's First People at Alice Springs on 29 November 1986 that will long be remembered and cherished by Aboriginals and Torres Strait Islanders.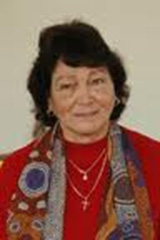 "In that speech Blessed John Paul II told us we were part of Australia and that Australia was part of us, and that the Church herself in Australia would not be fully the Church Jesus wanted her to be until we had made our contribution to her (the Church's) life and that until that contribution was joyfully received by others," she says.
Elsie softly repeats the words: "joyfully received."
"Blessed John Paul II opened the door for us to walk through. As a Pope and as a Cardinal, he knew who we were."
The words of JP II that day in Alice Springs almost three decades ago continue to resonate and on Sunday when the beloved former Pope becomes a saint, his speech of 29 November 1986 will be discussed, recounted and celebrated.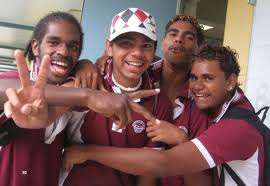 "Your Christian faith calls you to be the best kind of Aboriginal People you can be," Blessed John Paul II told the thousands gathered in Alice Springs that day. "This is possible only if reconciliation and forgiveness are part of your lives. Only then will you find happiness. Only then will you make your best contribution to all your brothers and sisters in this great nation."
Elsie says Aboriginal and Torres Strait Islander Catholics have a special reason to celebrate on Sunday when Blessed John Paul II is sanctified.
"I just wish I could be in Rome for the canonisation. We all do. We loved John Paul II. We always will. He made a difference and lasting contribution to millions of people world-wide, and for us here in Australia, he embraced and welcomed us, and opened the door for us to walk through."