Red Mass at St Mary's Cathedral Celebrates Start of the New Law Term
Catholic Communications, Sydney Archdiocese,
3 Feb 2014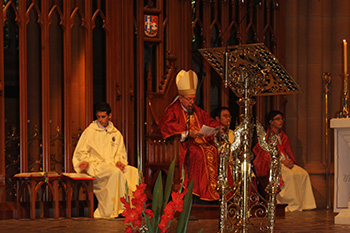 St Mary's Cathedral was awash with colour and law tradition this morning when judges and justices, magistrates, barristers, solicitors and law students gathered for the annual Red Mass which signals the start of the new Law Term.
The Archbishop of Sydney and Patron of the St Thomas More Society, Cardinal George Pell was the main celebrant. Also present was Justice Tom Bathurst QC, Chief Justice of the Supreme Court of NSW; NSW Attorney-General Greg Smith and Professor Michael Quinlan, Dean of the School of Law at the University of Notre Dame.
Wearing their red robes with white fur trim or black robes and wigs of office the justices formed an impressive procession as they made their way down the centre aisle. Magistrates in their black robes and a number of QC's joined other members of the legal profession for the mass which is convened by the St Thomas More Society for the benefit of all members of the legal community, regardless of political or religious belief.
In his homily Cardinal Pell welcomed everyone saying that all, regardless of political and religious convictions are "affirming our common belief in the rule of law and the ideals of justice, dispensed without fear or favour.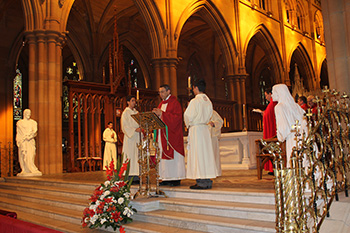 "We thank God for the strength and integrity of the justice systems in Australia, we ask God to bless all those involved in this work of justice and to continue to endow them with wisdom and insight. It is also beneficial to remember that each of us will eventually report to the Highest Judge on our life-time performance, and a sobering thought to remember Christ's other injunction that from those to whom much has been given much is expected," Cardinal Pell said.
In commenting on the Gospel (Luke 19:1-10), when Jesus entered Jericho and the story of Zacchaeus the tax collector, Cardinal Pell recalled a visit to the Holy Land more than ten years ago with a group of pilgrims on their way to World Youth Day in Rome.
"When we were approaching Jericho the guide stopped us near a sycamore and told us that it was the tree Zacchaeus climbed in order to see Jesus," the Cardinal said.
"It looked very old but most of us were sceptical that it was the ori9ginal sycamore, often called the 'foolish fig tree'.
Luke, the Gospel writer of this account, rarely or never described the height of any of his gospel characters. He probably did so here to explain why Zacchaeus could not easily see Jesus, although early commentators suggested this detail implied a weak faith.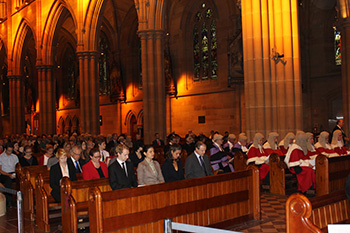 "Zaccchaeus is a good model for us today, not because he was rich, but because he was no respecter of persons, not constrained by the opinion of others, not frightened to appear ridiculous in his determination to see the Lord. He had the courage of his convictions."
The Red Mass was first celebrated in Australia at St Mary's Cathedral in 1931, but having roots in the twelfth and thirteenth centuries in Paris and London in honour of St Thomas More.
St Thomas More served as Lord Chancellor of England from 1529 to 1532 during the reign of King Henry VIII. He was executed on 6 July 1535. He died for the truths of the Catholic faith, especially the truth that the popes, as successors of Peter embodied a divinely instituted and essential element of the church, not a useful historical development. He died for this belief despite the fact that there was scarcely one religiously, respectable pope in his lifetime. It was for these reasons he could not accept his former friend Henry VIII as head of the church in England.
The Thomas More Society was first founded in 1945, as a fellowship of Australian lawyers inspired by More's example.
Concelebrating with Cardinal Pell was His Excellency Bishop Antoine-Charbel Tarabay, Maronite Bishop of Australia and Fr Peter Joseph.