$25,000 Research Fellowship Awarded to Sydney Teacher with a Passion for Maths
Catholic Communications, Sydney Archdiocese,
8 Dec 2014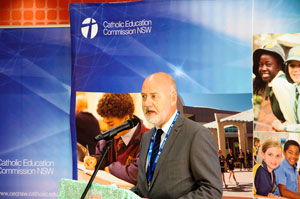 With a passion for mathematics and more than 30 years teaching experience, Mark Gronow of Stella Maris College, Manly has been awarded the Catholic Education Commission NSW's inaugural $25,000 Brother John Taylor Fellowship for a ground breaking research project aimed at igniting that same passion in students as well as improving the way maths is taught.
"The Fellowship is an important initiative by the Commission and not only recognises the achievements in Catholic education but invites important improvements," the Archbishop of Sydney and long time chair of the CECNSW, the Most Rev Anthony Fisher OP said when he congratulated Mark on being selected as the first Brother John Taylor Fellow at a ceremony held at the Polding Centre this morning.
Named after the late outstanding educator, Brother John Taylor in memory of his more than 30 years of dedication to Catholic education, equity and fairness during his time as a teacher, school principal and Executive Director of CECNSW, the Fellowship was introduced this year to promote teacher quality as well as highlight the teaching profession, particularly in a Catholic context.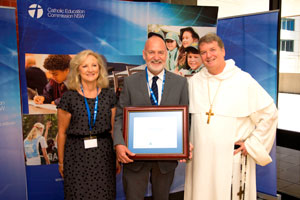 For the past 19 years, CECNSW has selected a teacher or individual who has made an outstanding contribution to Catholic education for its prestigious Brother John Taylor Award. But in August this year it was decided to recast the award as a research Fellowship to help foster thinking about ways to contribute and improve Catholic education not only now, but into the future, as well as challenge teachers at the State's Catholic schools to think outside the square.
Head of Mathematics at Stella Maris College and a Ph.D candidate at Macquarie University, Mark was chosen from a wide number of applicants as the first Brother John Taylor Fellow with his proposal for a research project aimed at exploring better ways to engage students in mathematics, and to come up with better ways of teaching mathematics.
Citing Mark's strong belief that every student can learn - and enjoy - mathematics, Archbishop Anthony said that when the findings of the research project are eventually published on CECNSW's website, they will provide teachers at public schools as well as Catholic schools across the State with an invaluable resource.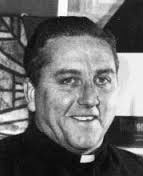 "Mark knows the solution to better student achievement in mathematics is better teaching and avoiding the "turn-off" because students feel they cannot succeed," Archbishop Anthony said.
Determined to improve confidence, motivation and the engagement in mathematics of both students and teachers, Mark knows that if a student is to enjoy and be successful at mathematics they need qualified, confident teachers.
"My research project will address this and explore how maths teachers can refocus their teaching to concentrate on 'structure,' which involves thinking mathematically to solve problems, recognise patterns, notice similarities and differences, and understand basic number and operation concepts," he says.
As part of the Commission's $25,000 Fellowship, Mark will have the support of a mentor and the funds to undertake this research. If needed, he will also be able to travel within Australia as well overseas to further his research.
"The decline in mathematics teachers and in students wishing to go on to higher levels of mathematics is not confined to Australia. This is a worldwide problem," he says.
Results of the most recent OECD Program for International Student Assessment test show that four out of 10, or 40 percent of Australian teenagers lack basic maths skills. The 2013 Teachers Survey released last month by the Commonwealth Education Department's had similar troubling results, and revealed that currently only two thirds of primary school teachers and one quarter of high school teachers were trained at university to teach maths.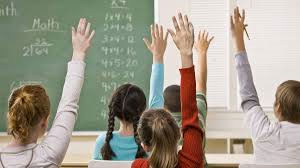 Findings by Dr Stephen Norton, Senior Lecturer in Mathematics Education at Griffith University also show how far Australia is falling behind when it comes to basic arithmetic. Of all 125 students enrolled in a Griffith University Graduate Diploma of Education, he reports that only one in four knew how to convert a fraction to a percentage, while barely half could convert 5.48 km into metres and just 13% knew the lowest common multiple of 40 and 140.
Mark's research project as a Brother John Taylor Fellow aims to change this and instil his own life-long passion for mathematics in young people at Catholic schools across the State.
"This is a wonderful opportunity," he said on being told he had been awarded the first Brother John Taylor Fellow, and revealed that he is not the first mathematics teacher in his family.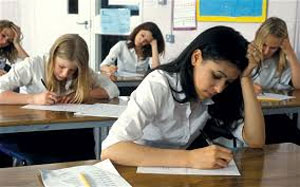 "My great grandfather was a mathematics teacher as well," he said with a smile.
In addition to his current role as Head of Mathematics at Stella Maris College, Manly, Mark's 30 year career spans a wide range of schools and appointments. Prior to joining Stella Maris College he was Deputy Principal of Monte Sant' Angelo Mercy College, North Sydney, Assistant Principal (Curriculum) at St Augustine's Brookvale, Head of Mathematics at Tamworth's Our Lady of the Rosary College, Curriculum Co-ordinator at St Clare's College, Waverly and Head of Mathematics at St Scholastica's College, Glebe.