Cathedral Mass Marks Start of the Year of Consecrated Life in Archdiocese
Catholic Communications, Sydney Archdiocese,
5 Dec 2014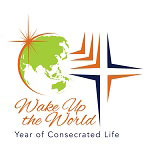 Religious, priests, seminarians and representatives from parishes across the Archdiocese of Sydney will gather at St Mary's Cathedral tomorrow morning for a Mass to herald the start of the Year of Consecrated Life.
Archbishop Anthony Fisher OP will celebrate the Inaugural Mass of the Year of Consecrated Life which was officially proclaimed by Pope Francis last month and began last Sunday, the first day of Advent.
"As I begin my ministry as Archbishop of Sydney and conscious of the great gifts that are given to the Church by consecrated men and women, I am delighted to be able to celebrate the inaugural Mass tomorrow and give thanks to them for their service and dedication to the Archdiocese," the Archbishop says.
While the inaugural Mass will give Sydney's consecrated men and women a chance for reflection and to give thanks to God, Sister Maria Casey rsj, the Archdiocese of Sydney's Vicar for Consecrated Life, says it is also an "opportunity for us to welcome our new Archbishop."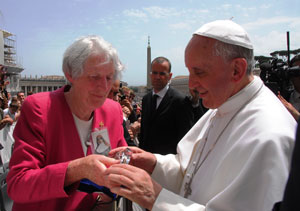 For many at the Mass it will be a chance to welcome Archbishop Anthony, for others a reunion.
As Auxiliary Bishop for the Archdiocese before being appointed Bishop of Parramatta in 2010, Archbishop Anthony was Director of Vocations and a concelebrant at the annual Mass at the Cathedral introduced by Cardinal George Pell to express his gratitude to the city's religious for their witness and their service.
"So many Catholics can attest to personal experience of their ministry. Many of us were educated, cared for in hospital or welcomed into the faith community by these great men and women," Archbishop Anthony said in 2005 when Cardinal Pell presided over the first Mass to thank Sydney's priests and sisters from the city's 75 Institutes of Consecrated Life and Societies of Apostolic Life.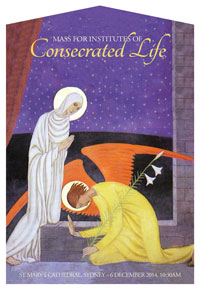 The Mass has been held every year since. But in 2014, Sr Maria admits finding a suitable date for the Cathedral Mass proved difficult. Instead of Mass being held earlier in the year, as was customary, a date was finally set for 6 December.
"Which proved to be extremely fortuitous!" says Sr Maria and admits she is delighted that the date put aside earlier in the year, long before Pope Francis' announcement in November, will now become the Inaugural Mass of the Year of Consecrated Life.
After proclaiming the Year of Consecrated Life, the Holy Father wrote to leaders of congregations and orders worldwide. In a remarkable letter Pope Francis laid out the aims, expectations and horizons for this very special Year, and urged all men and women in consecrated life to not only look to the past but to "live the present with passion" and to "embrace the future with hope."
"We can apply to the consecrated life the words of Benedict XVI which I cited in the Apostolic Exhortation Evangelii Gaudium," the Pope wrote. "It is not by proselytising that the Church grows but by attraction. The consecrated life will not flourish as a result of brilliant vocation programs but because the young people we meet find us attractive, because they see us as men and women who are happy!"
He also urged consecrated men and women to "wake up the world," and reminded those in religious life that the distinctive sign of consecrated life is prophecy.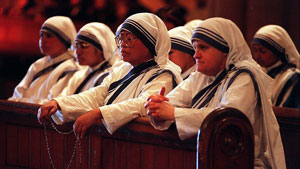 "Radical evangelical living is not only for religious: it is demanded of everyone. But religious follow the Lord in a special way, in a prophetic way," he wrote. "Prophets know God and they know the men and women who are their brothers and sisters. Because they are free, they are beholden to no one but God, and they have no interest other than God. Prophets tend to be on the side of the poor and the powerless, for they know that God himself is on their side."
According to the Australian Catholic Bishops Conference's Pastoral Research Office, the nation currently has 4973 religious sisters, 1884 diocesan priests and 1169 priests belonging to religious orders with a further 226 young men training to become priests in seminaries across the country.
At present in the Archdiocese there are 1051 religious sisters, some of whom are sisters with some of Australia's oldest congregations such as the Sisters of Charity who celebrated the 175th anniversary of their arrival in Australia this year, the Sisters of Mercy who founded their first congregation in Perth in 1846, and the Sisters of St Joseph of the Sacred Heart which was founded by Fr Julian Tenison Woods and St Mary of the Cross MacKillop in 1866.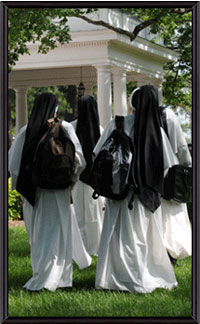 There are also newer religious orders such as the Dominican Sisters of St Cecilia of Nashville, the Marian Community of Reconciliation and Verbum Dei Missionary Fraternity.
Long associated with founding schools and hospitals and well known as teachers and nurses, less well known are the many and varied fields in which Australia's religious sisters carry out their ministries. They can be found giving practical, pastoral and emotional support to prisoners, refugees, asylum seekers, the homeless, providing shelter and support as well as job skills for those on the margins. Social justice advocates religious sisters continue to lead the way in the fight against human trafficking, a safe and sustainable environment and support and care of the disabled.
"These days ministries frequently require special qualifications and aptitudes which are endorsed and supported by the congregation to which a religious belongs," says Sr Maria.
In addition to ministering to the poor, marginalised and vulnerable many orders have also established foundations that help youth find work and employment, support self-help initiatives in rural and remote communities, teach asylum seekers and new arrivals English, create scholarships to university for Australia's Indigenous men and women, provide swimming lessons to refugee children and come up with ways to enable homeless men and women to care for a beloved pet, which is frequently their only companion.
In welcoming the Pope's initiative in celebrating consecrated life, President of Catholic Religious Australia (CRA) Sr Berneice Loch rsm hopes the Year of Consecrated Life will lead to new interest in the many forms of consecrated life in the church.
"I also hope for a renewed understanding of where religious life fits within the full spectrum of ways in which all the baptised live out their baptismal commitment," she says.
Executive Director of CRA, Sr Leone Wittmark, rsc shares these hopes and says the year provides a great opportunity for all of us to really reflect personally on how we walk this earth, and to reflect on our commitment to walk with those people experiencing poverty and marginalisation.
"Pope Francis is a wonderful model for all of us," she says.
Sr Leone also believes the Year for Consecrated Life will enable many priests, brothers and sisters to move outside their own Orders and Congregations to be enriched by the wide range of religious orders and communities in Australia, and the diverse spectrum of different nationalities and cultures among our religious men and women.
"The Year of Consecrated Life will give all of us across the board a chance to look again at our charism and how it applies to today," says Sr Maria. "It is no good doing things just because we have done them a certain way for many years. We have to adapt to conditions and look at the needs of today and respond to the needs of the future."
The Mass for Members of Consecrated Life will be held at St Mary's Cathedral at 10.30 am tomorrow, 6 December and will be celebrated by the Archbishop of Sydney, the Most Rev Anthony Fisher OP. The public are welcome to attend.
Archbishop Anthony Fisher's decree concerning obtaining indulgences for the Year of Consecrated Life. Here
To read the full letter from Pope Francis for the Year of Consecrated Life log on to:
http://www.news.va/en/news/pope-issues-letter-for-year-of-consecrated-life
http://www.romereports.com/pg159307-the-year-of-consecrated-life-begins-en