Spectacular Lights of Christmas Opening Next Week
Catholic Communications, Sydney Archdiocese,
5 Dec 2014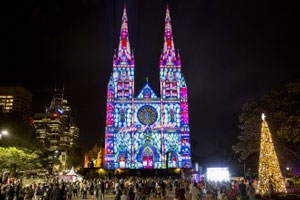 The traditional and incredibly popular Lights of Christmas on the main facade of St Mary's Cathedral will be "switched on" next week in a spectacular Opening Night display.
This year the Lights of Christmas presented by PAYCE will run every night from next Tuesday at 8.30pm to midnight right through to Christmas night.
The Lights comprise an animated laser show with sound scape and is a visual narrative that resonates with the ideals of the Christmas season of peace, joy and goodwill.
Now in its fifth year the free digital 3D Lights of Christmas attracts thousands of people with everyone from young families, students, parishioners and tourists enjoying the display.
On Tuesday night there will be an Opening Night Concert on the steps of the Cathedral featuring the St Mary's Cathedral Boy's Choir, ARIA Award winner Paulini and also the young classical tenor Mark Vincent. This will be followed by the "switch on for 2014" by the Archbishop of Sydney, the Most Rev Anthony Fisher OP.
The creative concept for the Lights of Christmas was developed and produced by AGB Events. With the Archdiocese of Sydney hosting the event it has now become a fixture on the calendars of many families and brings the true meaning of Christmas to the centre of the Sydney CBD, this year promoting and encouraging people to reflect on service and what each one can give to another.
The Lights has been generously supported in previous years by the Australian Catholic University, a foundational supporter.
Another supporter is Catholic Cemeteries and Crematoria and also Catholic Super. ACU, Catholic Cemeteries and Crematoria and Catholic Super continue to support the Lights.
Now this year the Lights of Christmas is presented by the Sydney property development company PAYCE.
PAYCE Chairman, Brian Boyd, said he was delighted to present a free event for Sydneysiders that embraces the same spirit of community which PAYCE is committed to delivering through its own projects.
"PAYCE transforms places to create innovative and integrated precincts which bring people together. It's about bringing traditional values of goodwill and friendship to new urban environments."

"The Lights of Christmas have brought joy to hundreds of thousands of Sydneysiders. It's inspiring to see how the diverse Sydney community comes together in front of the cathedral each year to celebrate the season. This year we are proud to partner such a worthwhile project and help bring the true spirit of Christmas to life." said Brian.
Official guests at the Opening will include ACU Vice Chancellor Prof Greg Craven and the CEO of PAYCE, Dominic Sullivan.
The Premier Mike Baird will also be attending along with the Lord Mayor, Clover Moore.
Every night after the opening there will be live entertainment before the light display at 8.30pm.