Day of Solidarity and Prayer for Christians in the Middle East
Catholic Communications, Sydney Archdiocese,
4 Dec 2014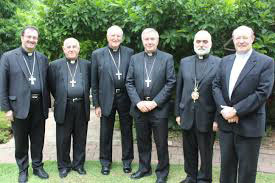 On Sunday, 7 December Catholic parishioners across Australia will join with parishioners from the nation's Eastern Churches to pray for Christians in the Middle East who are suffering unspeakable atrocities and being driven out of the region by Muslim extremism.
Prayers will be raised in each church during the Divine Liturgy. Financial offerings from men and women of faith will also be taken up and go towards helping alleviate the sufferings of Christian communities in the Middle East.
The Cradle of Christianity as much of Syria and Iraq are known, is under attack from the merciless fanatical armies of ISIS. Since June this year when these ruthless terrorists emerged from the rebel militias of Syria, entire Christian communities dating back more than 2000 years have been wiped out.
This week the USA's prestigious Hudson Institute said that these communities now faced "an existential threat to their presence in lands where Christianity had its roots."
Open Doors, the international organisation that tracks persecution of Christians, now ranks Syria at number 3 and Iraq at number 4, behind North Korea where Christianity in any form is forbidden, and Somalia which is a failed state with marauding bands of Muslim extremism, in its list of 50 nations where Christians face severe persecution.
As the bloody civil conflict inside Syria becomes more and more sectarian, targeted violence against Christians has escalated with Christians in all spheres of life being abducted, physically harmed or killed, their homes and churches ransacked and burned.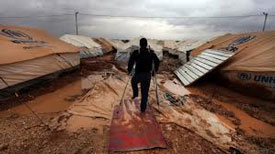 Five weeks ago, Islamic militias invaded the ancient Christian settlement of Sadad, slaughtering 45 men, women and children and injuring many more.
In Northern Iraq where ISIS continues its brutal rampage, entire Christian communities have been wiped out. In June this year terrorists emerged from the rebel militias of Syria and attacked Mosul, Iraq's second largest city. Although the attackers were relatively few in number, the Iraqi army fled, leaving the militant extremists to take control of the city. The result was a mass exodus of tens of thousands of citizens, including virtually all of Mosul's remaining Christian population.
Taking only what they could carry, most Christians fled to the relatively safe Kurdish region. As refugees they are living in extreme hardship.
Since then the ISIS insurgency has spread across the country with the UN estimating more than 1.8 million Iraqis have now been displaced from their homes.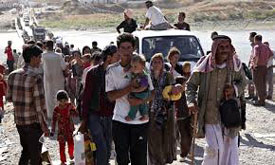 For the Christians that remain in Iraq the future is equally grim. Women are being raped and men publicly beheaded for no other crime than the fact they are Christian. Others are being forced to convert to Islam or face death.
Even for the Christians that managed to escape, life is uncertain. Living in tents in overcrowded refugee camps in Jordan, Turkey and surrounding countries, with little more than the clothes they are wearing, they are now facing months of bitter cold with the approach of winter. Always scarce, food is now at a premium with the United Nations World Food Program announcing this week that funds have dried up, and at least $64 million is still urgently needed to provide food vouchers for the millions in the camps throughout December and early January.
By designating this Sunday, 7 December as a Day of Solidarity with Christians in the Middle East, the Australian Catholic Bishops Conference (ACBC) wants all of us to pray and reflect on the terrible sufferings of our fellow Christians.
"We hear the plea of our brother bishops from the Eastern Churches and join them in expressing our grave concerns about the suffering of Christian communities that trace their roots back to apostolic times, and the danger of their disappearance from their ancient homelands," says Archbishop Denis Hart, President of the ACBC.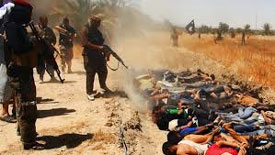 He also points out that as we approach the celebration of the birth of Jesus Christ, the situation for Christians and other minorities in the Middle East deteriorates day by day with their lives and those of their families in constant danger.
As a further show of solidarity of Australia's Catholics, the ACBC is sending a delegation of Australian Catholic Bishops to the Middle East where they will offer spiritual support and humanitarian aid and visit refugees in Kurdistan, Iraq and Lebanon.
The delegation which leaves Australia on 14 December will include the Archbishop of Hobart, the Most Rev Julian Porteous, the Archbishop of Canberra and Goulburn, the Most Rev Christopher Prowse, Australia's Melkite Archbishop Robert Rabbat, the Chaldean Archbishop Jibrael Kassab and the Maronite Archbishop Antoine-Charbel Tarabay.