Archbishop Urges Sydney's Young People to Live the Joy of the Gospel
Catholic Communications, Sydney Archdiocese,
2 Dec 2014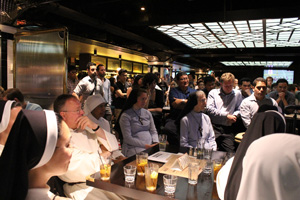 The Archbishop of Sydney, the Most Rev Anthony Fisher OP spoke of his hopes and vision for the Sydney Archdiocese by the year 2035 when he addressed the final meeting of Theology on Tap for 2014.
"I want the Archdiocese to be one in which the Gospel is preached with joy, the wisdom of our tradition lived with fidelity, the Sacraments celebrated with dignity and welcome, and the seminaries, convents and youth groups teaming with new life," he told the crowd of more than 250 young people crowded into Le Pub in Sydney's CBD last night. "I want a Church in which our schools, parishes and chaplaincies are truly centres of the New Evangelisation, our laity theologically literate and spiritually well-formed, our outreach to the needy effective and growing, and God glorified above all."
Urging the young people to imagine what Sydney would be like in the year 2035 if everyone present lived the "the joy of the Gospel," Archbishop Anthony admitted his hopes might seem "pie in the sky."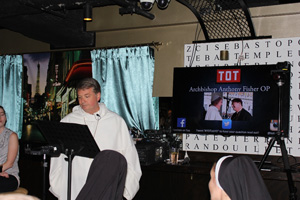 But he insisted the hopes and vision he laid out for the future of the Archdiocese over the next 20 years could be achieved.
"We need to dream and set high goals and through the faithfulness and commitment of Sydney's current generation of young people, I believe it is possible," he said.
Formerly Auxiliary Bishop to the Archdiocese of Sydney before being appointed Bishop of Parramatta, Sydney's ninth Archbishop told those there that "it was a joy to be back in Sydney."
"I love this city," he said.
Telling those present that he believed he had been called to be an Archbishop who speaks the truth in love, he challenged Sydney's young people to be the ones to bring about the changes he had laid out as his hopes for the future. "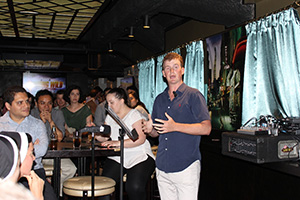 They could do this through their chosen careers and professions, by being well-formed in theology and becoming Catholic teachers, by taking part in political and public life, by forming strong Catholic families and by being faithful to the Catholic Church, he said.
Founded by Patrick Langrell, who is now Convenor of Chaplaincy at the University of Notre Dame, in 2007, Sydney's Theology on Tap has grown exponientally and is now one of the largest and most well attended worldwide.
Each month between 250 and 300 young people gather in a pub, make new friends, share a beer or wine and hear some of the most outstanding national and international Catholic theologians, spiritual leaders, apologists, bishops and religious academics discuss the Catholic faith, its history, the New Evangelisation and the issues facing today's young people.
Archbishop Anthony who was co-ordinator of Sydney's World Youth Day in 2008 and led contingents of young people to WYD in Madrid in 2011 and to Rio in 2013, is known for his easy rapport and his ability to connect with young people.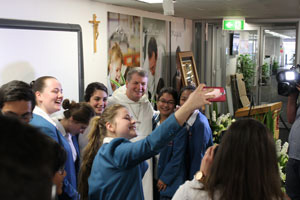 A frequent and inspiring speaker at Theology on Tap since its founding , Archbishop Anthony has not only given more than nine addresses at the pub and faith gatherings , but been a regular attendee at Theology on Tap's standing room only monthly meetings.
Initially TOT as it is popularly known was held in P J Gallagher's Irish Pub in Drummoyne. Then in 2010, the same year Archbishop Anthony, then Auxiliary Bishop to the Archdiocese of Sydney, was appointed Bishop of Parramatta, TOT moved to a pub in Parramatta.
But as of Monday, 1 December, Theology on Tap is back in Sydney with a new format, new pub, new city and a new Archbishop.
"Last night felt like a bit of a homecoming," says Patrick Langrell of TOT's return to the city.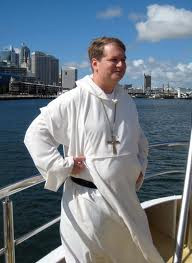 But perhaps Archbishop Anthony with typical humour said it best when he told those present that he was unsure whether "the new TOT is following the Archbishop or whether the new Archbishop is following TOT!"
From mid 2015, Theology on Tap is not only likely to be a regular fixture on Sydney's inner city calendar but may well be a fixture in other parishes across Sydney as well as in the Diocese of Parramatta.
When Archbishop Paul Gallagher, the Apostolic Nuncio to Australia, announced the name of the ninth Archbishop of Sydney in September this year, Archbishop Anthony made a point of mentioning Theology on Tap and his plans to expand Theology on Tap.
"The Church has a task reconnecting with young people. This is so important, not because they are the future of the Church. They are not the future of the Church. They ARE the Church," he told Sydney's media at the press conference held the day after his appointment as Archbishop was made public.