Vinnies Brings Christmas Cheer to City's Homeless
Catholic Communications, Sydney Archdiocese,
23 Dec 2014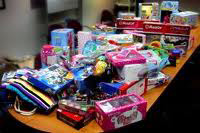 The balloons, holly, streamers and Christmas lights are about to go up while the cold room at St Vincent de Paul Society's Matthew Talbot Hostel at Woolloomooloo is filled to overflowing with hams, turkeys, Christmas puddings, cakes, bags of potatoes, pumpkin and 24 kilos of peas.
On Christmas morning, 200 volunteers will arrive and the rest of the day will be devoted to giving Sydney's homeless and families doing it tough a Christmas to remember.
At the Matthew Talbot Hostel, staff and volunteers will serve up more than 600 meals throughout the day, while at Vincentian House in Surry Hills, 44 families living in temporary crisis accommodation will also be given an extra special Christmas. Each child will receive a special Santa pack of toys and treats.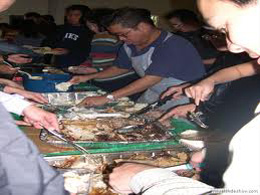 With typical sensitivity and tact, each toy-filled Santa pack will be quietly passed to each parent so it is the parent rather than the charity who gives their child his or her Christmas presents.
"It is what each of the parents would be do if they weren't going through hard times, and had the wherewithal to buy their children gifts," says Jay Gleeson, Services Administrator at Matthew Talbot.
Each day, at its Matthew Talbot kitchen in Woolloomooloo, Vinnies staff and volunteers prepare and serve between 400 and 450 meals to the city's homeless.
"Matthew Talbot Homeless Services is so large that just to stay open we rely on 200 volunteers each week day and weekend. They are absolutely vital and an essential part of the support and help we are able to give men, women and families not just at Christmas but throughout the year," Jay says.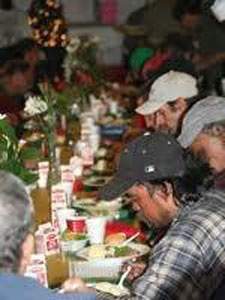 On any given night of the year across Australia at least 105,000 have no shelter and no where safe to bed down. Instead they sleep rough in parks, on the streets or in a car.
Of this number more than 33,000 are children.
The popular image of a homeless person is of an aged man in rags befuddled by years of drink and drugs. But this is far from the reality.
Disturbingly not only is 30 - 35 the average age of those experiencing homelessness, but many are victims of today's fast changing world where traditional jobs are being replaced by the rapid advances in technology, and where companies are downsizing with thousands given reduced shifts or laid off completely.
The impact of today's technological revolution is as far reaching and life changing as the Industrial Revolution of the nineteenth century.
CEO of Vinnies NSW, Michael Perusco says it is not unemployment so much as under employment that is causing deep concern across the country. Thousands want to work and are keen to work but they cannot get enough shifts to make a living wage, let alone support their families, he says.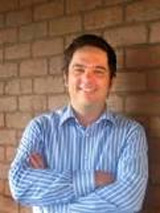 This is further exacerbated by Sydney's skyrocketing real estate, high rents and lack of affordable housing.
As always on Christmas Day, Vinnies NSW and the team of staff and volunteers at Matthew Talbot Homeless Services are making sure that they provide an all day feast.
The day will start with a cooked breakfast of fruit juice, fried eggs, bacon, grilled tomatoes, toast and jam. Then after a 9 am Mass celebrated by Bishop Terry Brady who began volunteering at Matthew Talbot more than 50 years ago as a teenager, there will be morning tea with festive biscuits and Christmas cake.
Lunchtime is the main Christmas dinner which features roast turkey, baked ham, homemade gravy, roast potatoes, minted and buttered peas and honeyed pumpkin. After which, those at Matthew Talbot and families at Vincentian House will enjoy Christmas pudding with custard and ice cream.
Afternoon tea is served later and includes more special treats and Christmas cake and in the evening a supper of roast beef and salad will be served.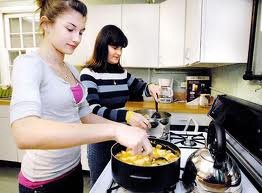 As with all meals served in the Matthew Talbot Hostel kitchen, much of the food has been generously donated by corporations such as Manildra who supplied the 40 hams and 25 turkeys for this year's Christmas dinner. But much of the food throughout the year is also the result of the generosity of individuals, families or groups of friends.
Although at Christmas there is never a shortage of volunteers, Jay says throughout the year volunteers are also needed. So too are donations of food and he suggests a great way of contributing is to get together with a group of friends or extended family and pitch in and sponsor meals for the homeless at different times throughout the year.
"All they have to do is ring us up and ask what we'd like to cook. Then once the meal is sponsored we can go ahead and organise the 45 kg of lamb or beef or 70 chickens for the guys and other bits and pieces for one of the main meals of the week," he says.
Another way to help those in need and the vital work of Vinnies' staff and hundreds of volunteers across NSW is to donate to Vinnies' annual Christmas Appeal.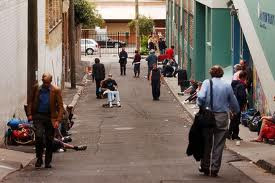 Vinnies NSW is gearing up to assist 40,000 people providing around $3.7 in support. This will include as much as $2 million in food and $1 million to help people cover energy bills and utilities.
Support will also include gift hampers and toys as well as the hand of friendship and much needed emotional support for families and individuals doing it tough.
"Christmas can be extremely stressful and a difficult time for families who are struggling on the margins and I urge Australians to dig deep and donate to help them and to help us reach our 2014 Christmas Appeal target of $1.1 million," says Yolanda Saiz, spokeswoman for Vinnies NSW.
To find out more about Vinnies and to donate to the Christmas Appeal log on to www.vinnies.org.au