Beginning of Advent and Blessing of Outdoor Nativity in Cathedral Square
Catholic Communications, Sydney Archdiocese,
1 Dec 2014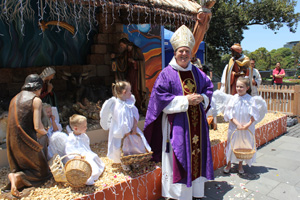 Youngsters dressed as angels and carrying baskets of rose petals sat patiently on the straw floor alongside the life-size figures of the outdoor Nativity in Cathedral Square while the Solemn Choral Mass for the first day of Advent was concluding inside St Mary's Cathedral.
Just as some of the angels were getting a little restless the St Mary's Cathedral Choir came down the main steps followed by the Archbishop of Sydney, the Most Rev Anthony Fisher OP.
This was their moment. The Archbishop had arrived for the Blessing of the outdoor Nativity on the First Sunday in Advent which is the time of preparation for the coming of Christ at Christmas and the start of the liturgical year in the Roman Catholic Church.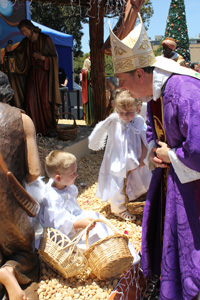 In its eighth year, the annual Blessing of the outdoor Nativity is a much anticipated event and like every other year families gathered in their hundreds - especially those whose "little angels" took up their positions in the stable.
On the hot, sunny day the little ones were quite happy to be sprinkled with Holy water by the Archbishop who thanked them for their role in the Nativity Blessing.
Normally the outdoor Nativity, which is believed to be the first and only outdoor Nativity in Australia, takes at least two weeks to erect and install. However with Sydney's run of near perfect weather over the past few weeks, installation of the outdoor Nativity was completed last Thursday, almost two days ahead of schedule.
For Archbishop Fisher's Homily on the First Day of Advent go to http://www.sydneycatholic.org/people/archbishop/homilies/2014/20141130_1032.shtml