First Student Under Sisters of Charity Tertiary Scholarship Program Graduates with Double Law Degree
Catholic Communications, Sydney Archdiocese,
18 Dec 2014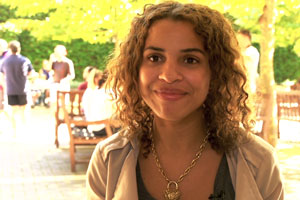 When 23-year-old Amber Boatman was awarded a Bachelor of Law at the University of Notre Dame's graduation ceremony in Sydney this week, her foster family and members of the Sisters of Charity Foundation were there to cheer her on.
For everyone at the Sisters of Charity Foundation the ceremony marked an important milestone with Amber the first student to graduate under the Foundation's Tertiary Scholarship Program for young people who have lived in out-of-home care and, who like most who grow up in foster care, are financially disadvantaged and need support to help them continue their studies.
At present just 2.8% of young people who have lived in foster care go on to university compared with 40.4% of other young Australians, says Reba McIntyre, CEO of the Sisters of Charity Foundation.
"We are working to turn this around and since 2012 we have created nine scholarships at universities in Sydney, Melbourne and Queensland, with plans to include further universities next year," she says.
Not only was Reba McIntyre at the graduation ceremony to applaud Amber and her remarkable achievements, but so too was the Foundation's Chairman, Richard Haddock AM, and two enthusiastic supporters and benefactors of the scholarship program, well known philanthropists and generous donors, Anne and Robert Cahill.
Amber whose mother died when she was still in primary school, grew up in foster care but as she is the first to admit, was especially lucky with her foster family who loved, cherished and inspired her throughout her primary and secondary school education, and were the ones who encouraged her to go on to university.
"Most of my foster family had been to university and I remember all the degrees hanging on the wall I used to admire when I growing up. I used to walk past them every day and hoped that one day I would have one as well," Amber says beaming as she holds up her graduation certificate. "My foster sister is a solicitor and I wanted to follow in her path."
On leaving school, Amber was accepted into the Bachelor of Laws/Bachelor of Social Science double degree course at the University of Western Sydney.
"I wasn't sure whether I would like it but I knew that it would be good to try. And it ended up being the biggest learning process of my life," she says.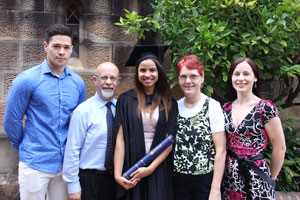 At the Western Sydney Uni, Amber scrambled to finance the cost of her studies, working any job she could find, living in shared accommodation on campus and eking out her expenses with the help of Centrelink's Youth Allowance and a HECS loan, still to be repaid.
The strain was almost too much and she admits she had a lot of health issues in those early years and frequently had to miss university classes as well as work.
Finally, she managed to move out of shared accommodation and find a small affordable apartment on her own. In desperate need of basics as well as a fridge and a washing machine, Amber contacted Aftercare Resource Centre, the NSW Government agency that supports young adults aged between 15 and 25 who have spent much or part of their lives in out-of-home care.
"When I got in touch with them, my caseworker, Faith had just heard about the Sisters of Charity's scholarship and she sent me all the information in the mail. I remember opening it up and immediately emailing the Foundation," she says and recalls how she simultaneously sent through applications for the Foundation's scholarship and the University of Notre Dame to enrol in their Bachelor of Laws program.
Not long afterwards, Amber became one of the first students supported by the Sisters of Charity scholarship in 2013 was able to continue her studies at the University of Notre Dame's Sydney School of Law.
"The Scholarship helped with tuition fees and the textbooks, which are really expensive for law. In the old days I used to have to get second hand editions that were out of date, or go without. But with the scholarship I could afford to buy the books I needed each semester," she says.
To finance her living expenses, Amber took a job as a waitress in the evenings and at weekends and somehow found time between her job and the demands of studying for a law degree to volunteer two days a week in the crime division at the Aboriginal Legal Service.
"I would love to work for them if a job ever becomes available. I wasn't always sure what career I would end up working in but I have always known I wanted it to be one with a community-based focus with people who are struggling and are disadvantaged," she says.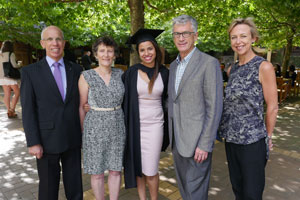 Now with two degrees under her belt, she is certain she made all the right choices.
Amber is now about to embark on her practical legal training with the University of Technology, Sydney and will also complete an intensive online course over the summer.
"I hope to be admitted as a solicitor by April next year," she says and has her sights set on eventually becoming a barrister and working in criminal law.
For Amber, her graduation was a day she will treasure forever.
Having both her foster family and Reba McIntyre, Richard Haddock and Anne and Robert Cahill from the Sisters of Charity Foundation at the ceremony was doubly special, she says.
"My foster family took me out to dinner to celebrate ," she says. "I want to thank them for all their support over many years and I always want to give my heartfelt thanks to the Foundation for giving me the opportunity to achieve my tertiary education goals. The support, encouragement and help I was given by the Foundation is something I will never forget. A huge percentage of children who grow up in Out of Home Care have not been as lucky and have not had the opportunities I have been blessed with."
To find out more about the Sisters of Charity Foundation Tertiary Scholarship Program for young people who have been in Out of Home Care and are financially disadvantaged log on to www.sistersofcharityfoundation.com.au/scholarships