Archbishop Announces First Catholic School for Students with Special Needs
Catholic Communications, Sydney Archdiocese,
19 Dec 2014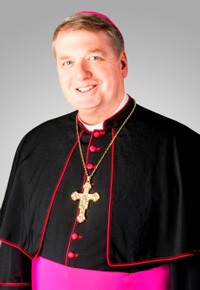 The city's first-ever purpose-built Catholic secondary Special School for children with moderate intellectual disabilities and complex learning needs will open its doors in February 2016.
And what will be a huge relief to the parents of these children is that they will pay the same fees as those at any other Catholic school in the Archdiocese.
In his first education announcement since being appointed Archbishop of Sydney, the Most Rev Anthony Fisher OP gave details of this groundbreaking initiative, and also outlined the long range vision to support students with special needs who attend the city's Catholic primary and secondary schools.
The Special School for secondary students in Years 7 and 8 is the first stage in a plan that will eventually include older students and K-6 Special School for primary age students with intellectual disabilities and learning difficulties as well as a network of regional satellite classes for schools across Archdiocese to help students with special learning needs.
In addition, the Archdiocese's Catholic Education Office (CEO Sydney) will create a centre of excellence for the professional development and training of special needs teachers.
The Archbishop who is also Chair of the Catholic Education Commission NSW (CECNSW), a position he held from 2005-2006 before being appointed ongoing Chair in 2009, says that as the oldest and biggest education provider in the world, the Catholic Church has a strong track record of caring for those in need.
"In this country alone we now have a growing number of early learning centre places, around 700,000 primary and secondary school desks, around 33,000 tertiary places, and many adult education and formation offerings in parishes, dioceses and other settings," he said.
"Add to that the extraordinary network of church-run orphanages, children's hospitals and research centres around the world, as well as health, welfare and aged-care provision for those of us who are a little older, and there can be no doubt that the Church walks the talk about reverence for every person and care for those in need.
"But we could always do more and one area that we have been particularly aware of is in the education and other support of children and young people living with various disabilities. I would like to see us at least as present and more so than government and other charities in this space. And so I am especially pleased to announce that part of this new Strategic Vision of Sydney Catholic Education Office is to establish our first dedicated "Special School" for secondary students to be located here at the Eileen O'Connor Centre in Lewisham."
Archbishop Anthony has long promoted the transformative power of education, and like his predecessor Cardinal George Pell, has also long held the view that the high quality learning experiences offered by NSW Catholic primary and secondary schools be a available to all children, regardless of the challenges they face in terms of physical, cognitive or intellectual disability.
Last year 12,708 children with a disability attended Catholic schools across NSW, with this number expected to increase further in 2015 and 2016.
Nationally, Catholic schools educate, assist and support more than 32,000 children with disabilities, with more than a third of these attending schools in NSW.
Over the past 30 years there has been a 300-fold increase in the number of children with special needs attending Catholic schools. Back in 1985 at NSW Catholic schools there were just 377 students with disabilities. This amounted to less than 0.2% of the overall student population, a far cry from the 5.1% of children with disabilities enrolled at NSW Catholic schools.
One of the reasons for these low numbers was that in the 1970s and 1980s many children with a disability continued to be educated separately away from the mainstream. And even for those parents who wanted their children to attend mainstream public, independent or Catholic schools, funding, resources and the back up support needed from well trained specialist teachers was limited.
Archbishop Anthony revealed he has drawn inspiration from disability advocate, author, writer, comedienne and commentator, Stella Young who died prematurely and unexpectedly last month aged 32.
Citing her determination to change community perceptions about people with disabilities, he quoted from a letter she wrote earlier this year addressed to her 80 year old self.
"Difference, as you knew it then, was a terrible thing. I used to think of myself in terms of who I'd be if I didn't have this pesky old disability. Then at 17 something shifted. To borrow from Janis Ian, I learned the truth at 17: that I was not wrong for the world I live in. The world I live in was not yet right for me."
The Archbishop also cited a recent address by Pope Francis who referred to communities of disabled people teaching us to "welcome one another with our limitations, because we all have capacities, but we all have limitations too."
The decision by the Archdiocese and the CEO to open a Special Needs School is the result of more than 200 hours of interviews during the past year with principals, teachers, parents, students and CEO and regional office staff. Surveys among school teaching staff and principals were also taken and the support needs of students with significant and complex disabilities explored and investigated.
The months of extensive research led to the recommendation in the Strategic Plan and Framework for Special Education in the Archdiocese of Sydney, released in August this year, that CEO Sydney consider setting up a Special School to provide Catholic families across Sydney with alternative educational options for children with learning difficulties and moderate intellectual disability, with authentic programs developed to meet each child's learning and social-emotional needs as well as enhance educational outcomes.
It is anticipated the city's first Catholic Secondary Special School will begin operating at the start of the 2016 school year. The School will initially cater for 20 students in Years 7 and 8. Post-2016 enrolment is expected to increase to between 80 and 90 students and will include students in Years 9 through 11 as well.
Simultaneously, a network of regional satellite classes for Catholic secondary schools across the Archdiocese will be established.
The next stage will include the first Catholic K-6 Special school for primary age children with intellectual disabilities and complex learning also with a network of satellite classes for the Archdiocese's primary schools.
And to staff these important initiatives, a centre to train and develop best practice special needs teachers to assist, teach and support children with moderate intellectual disabilities and learning needs at Sydney's Catholic schools will be launched by CEO Sydney.
Archbishop Anthony Fisher's full address can be seen here
Visit the website of the Eileen O'Connor Catholic College Lewisham here http://eocc.nsw.edu.au/.