Public Outpouring of Grief Displays Sydneysiders Determination to Protect the Australian Way of Life
Catholic Communications, Sydney Archdiocese,
18 Dec 2014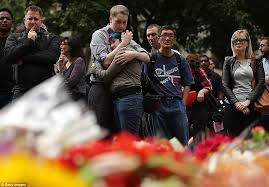 The outpouring of public grief in the aftermath of Monday's terrifying 17 hour siege at the Lindt Cafe in Martin Place continues as of thousands of Sydneysiders from all walks of life leave floral tributes at the spontaneous memorial in the centre of the city.
Traumatised by an act of terror in the midst of a normal working day and at a cafe where many of the city's barristers, lawyers, public servants and other workers met for their morning coffee before work, people come to pay their respects to the two hostages who lost their lives, Cafe Manager Tori Johnson,34 and barrister Katrina Dawson,38 and mother of three.
Some stand in silence, others weep. Some of the surviving 15 hostages themselves were joined by family and friends of the two victims just the day after tactical response police stormed the cafe, killing the gunman and bringing the siege to an end. Everyone stood shoulder-to-shoulder in grief.
From just a single rose the floral tributes now covers a huge area of Martin Place. Some flowers come with special cards of tribute and calls for hope and peace. Condolence books are also available for people to sign.
"But what they are doing by placing flowers at the makeshift memorial or attending the special Mass at St Mary's Cathedral on Tuesday is expressing and addressing their grief in a positive way," says Professor Rhonda Craven, Director of the Australian Catholic University's Institute for Positive Psychology asnd Education and an expert on stress, trauma and post traumatic stress syndrome.
"By leaving flowers at the memorial and attending other church services, the Australian community is showing its support for the victims, their families, the survivors and what the police did to save lives by putting their own lives at risk. But what they are also doing is part of a celebration of us as Australians, and the knowledge that in the face of whatever tragedy and adversity that may befall us, as Australians we will triumph," she says.
Professor Craven says the overwhelming public response is also a celebration of Australian values, our Australian way of life and our determination that terrorist acts or any other threats will not change this.
What we are also seeing is a very public commitment to the freedom we enjoy, to our innate decency, compassion and long held belief in a "fair go for all," which includes the Aussie mateship ethos which says when someone is in need, mates help mates.
"The psychological impact on what is happening now is very positive and shows how well-connected we are as Australians, as a community and as a city, and the value we place on our way of life and our traditions," Professor Craven says.
While life in the city will gradually move forward, sadly the emotional distress and trauma for the survivors and families of the two who lost their lives will continue to resonate for months or even years to come according to those working in this area.
"There is no time line to recovery with post traumatic stress. Recovery will vary from person to person involved in the siege as well as the families who spent those long hours waiting for news of their loved ones being held inside the cafe," Professor Craven says.
For survivors and the families of the victims one of the best ways of assisting them to get through this difficult time is for friends, colleagues and members of the extended family to actively listen to what they are saying.
Professor Craven says it is also important that survivors and those feeling stress seek appropriate counselling support.
"The Department of Health would have given counselling on the scene yesterday but I would also encourage those involved to contact the state's mental health services for further and ongoing support," she advises adding that the best way of doing this is to call the NSW Government Mental Health line at 1800 011511.
She also advises survivors and their families to avoid mass media as well as social media that exploits the video demands made by Islamic extremist "lone wolf" Iranian refugee, Mon Haran Monis and spoken under duress by his hostages.
"This would definitely be disturbing for survivors and none of them should be exposed again and again to the incident that has triggered their trauma and anguish," she says.
Professor Craven will also be on hand to advise and ensure the emotional and mental wellbeing of the NSW police force including those involved in the siege, but more importantly the entire force who put their lives on the line each day.
An ACU-led landmark research project headed by Professor Craven began in August this year to assist the NSW Police Force in developing fresh solutions to help officers become more resilient and support those suffering from stress related illness.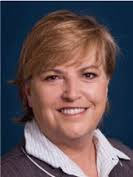 Professor Craven and the team at ACU's Institute of Positive Psychology & Education are working closely with representatives from the NSW Police Force, the University of Western Sydney and three other international universities covering a range of expertise that includes psychology, management, policing and criminology.
The three year study will survey more than 20,000 serving police offices and for the first time develop an information-based scientific analysis of the NSW Police Force and come up with practical applications and psychological tools and counselling to prevent stress and ensure the well being of all officers.
Emotional stress and trauma from working on the front line, putting their lives at risk and frequently seeing the worst of humanity has wide ranging impacts on the police. Some may cope well, Professor Craven says but others can develop traumatic stress disorder, mental and emotional problems which can lead to marriage breakdowns and breakdowns in relationships.
"Their bravery is an inspiration to all of us and what we are interested is in stopping them becoming stressed and ill, and ensuring that each and every officer is able to thrive is emotionally well supported by the NSW Police and the public as well," she says.
While investigations and inquiries continue into just what happened at the Lindt Cafe, and why, civic, political and religious leaders visited Martin Place.
Australia's most senior Muslim cleric, the Grand Mufti, Prof Ibrahim Abu Mohammed and other Muslim clerics came to Martin Place to pay their respects. They also condemned the devastating act by the gunman.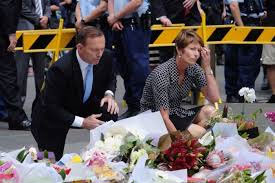 Prime Minister Tony Abbott and his wife Margie were among the thousands who also laid flowers and former PM John Howard also placed flowers at the ever-expanding memorial.
"Like the 23 million other Australians I am deeply saddened by what happened," he said describing the siege as "a very sad event for this country."
During his time as PM, terrorists flew passenger aircraft into New York's Twin Towers as part of the devastating 9/11 attacks, killing more than 3000 including many Australians. A year later Mr Howard had to steer the country through another terrorist outrage when a nightclub in Kuta was bombed by Muslim extremists, killing 94 Australians and 108 others.
He was unequivocal in his assessment of the siege at the popular Martin Place cafe calling it an "act of terror."
The Religious Leaders Forum is also planning a special Interfaith Prayer Service to be held at St Mary's Cathedral at 9am tomorrow (Friday) morning. All are welcome.