Notre Dame Confers Highest Honour on President of Catholic Relief Services & Former Dean
Catholic Communications, Sydney Archdiocese,
18 Dec 2014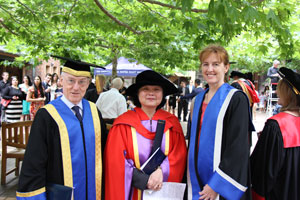 Dr Carolyn Y. Woo, a Governor of the University of Notre Dame Australia, respected academic, long time Dean of the Mendoza College of Business at Notre Dame University in the USA, and now President of America's Catholic Relief Services, was conferred with an Honorary Doctor of Laws at the University's graduation ceremony in Sydney this week.
"Dr Woo has had a distinguished academic career and more recently in the international humanitarian sector in the service of the American nation, the world's poor and the Church," Vice Chancellor of UNDA, Professor Celia Hammond said.
"Her contributions to academia, business, the not-for-profit sector, the Church and the public good have been vast. Her lifelong commitment to the Church, and to utilising the moral energy of business as a force for good, is evident in her many achievements and her continuing passion for service," she told all those gathered at St Benedict's Church Broadway for yesterday morning's graduation of students from the university's School of Law and School of Business.
The daughter of refugee parents who fled to Hong Kong to escape China's long years of war, Dr Woo was the fifth of six children. Educated by the Maryknoll sisters, who founded schools, hospitals and clinics, and who believed you could do anything with God's help, inspired Dr Woo. She credits the Sisters with fostering her love of learning, strength of faith and entrepreneurial spirit.
In 1972, after being accepted into Purdue University in the US, she emigrated from Hong Kong with just enough money for her first year of tuition. After that first year she won a scholarship against the odds at a time when it was almost impossible for a foreign student and especially an undergraduate to receive one. During her time at Purdue she earned a Bachelor of Science in Economics, a Masters of Science in Industrial Administration. A PhD followed with outstanding research into strategic management, an area of business most people had not heard of at the time nor appreciated that this was a new, vital and growing field.
She joined the Purdue University faculty in 1981 and when she finally left to join the University of Notre Dame in Indiana, she remained Purdue's Associate Executive Vice President of Academic Affairs.
From 1997 to 2011, Dr Woo served as Dean of Notre Dame's Mendoza College which was regularly recognised as one of America's leading business schools in ethics education and research.
She also broke new ground when in 2004 she became one of the first lay members of the Board of Directors of Catholic Relief Services which was founded by the Catholic Bishops of the US and is a member of Caritas Internationalis, the aid and development arm of the Church.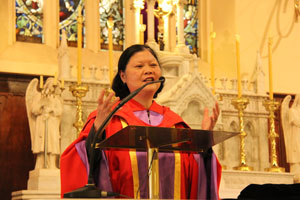 Eight years later she accepted the position of CEO and President of CRS where she now oversees more than 5000 employees worldwide providing emergency response, health, education and peace-building programs to more than 130 million people in almost 100 countries.
As CEO and President of one of the world's largest and most respected international humanitarian and relief agencies, Dr Woo was listed as one of the 500 Most Powerful People on the Planet in the June edition of America's Foreign Policy publication, and one of only 33 in the category of "a force for good."
For the past 20 years, Dr Woo has also served as a governor of the University of Notre Dame, Australia and throughout this period has made numerous trips to visit the Fremantle, Sydney and Broome campuses.
"She has contributed significantly to the strategic discussions and decisions about the university over the years and as Dean of Mendoza College of Business she was responsible for furthering the long time partnership that exists between Mendoza College and Notre Dame here in Australia," Professor Hammond told all those at the graduation ceremony. "The partnership continues to this day with an academic from Mendoza visiting Notre Dame for one semester each year alongside as many as 30 Study Abroad students who have made a significant contribution to the university life at our campuses here in Australia."
A Doctor of Laws honoris causa is the highest honour UNDA can bestow. Others who have been conferred with an honorary Doctor of Laws include former Prime Minister John Howard and former leader of the Opposition and admired diplomat, Kim Beazley.
Dr Woo was conferred with her honorary Doctor of Laws yesterday by the Chancellor of the University of Notre Dame Australia, Mr Terence Tobin QC.