Martin Place Siege Over - and Now the Healing Needs to Begin
Catholic Communications, Sydney Archdiocese,
16 Dec 2014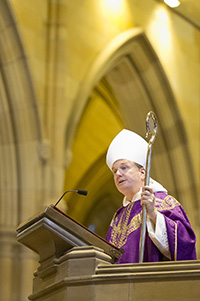 The terrifying siege has ended and now the healing must begin.
There has been a tragic loss of life and many people are traumatised. However today at St Mary's Cathedral the healing began with Archbishop Anthony Fisher OP offering the mass for the victims of the siege and the families, survivors, police and emergency workers, civic and political leaders.
In welcoming the Governor General of Australia, Sir Peter Cosgrove and Lady Cosgrove; NSW Premier Mike Baird, his Deputy Troy Grant and other State Ministers along with Federal Communications Minister Malcolm Turnbull and Mrs Lucy Turnbull and other civic leaders, Archbishop Fisher said; "I invite continuing prayer for peace, healing and generosity to our neighbours after this tragic event, in solidarity with people of all faiths in our blessed city of Sydney and country of Australia."
City workers, many from the legal profession, visitors to Sydney came to the Cathedral to pray, pay their respects or seek comfort. Many were extremely upset by the terrible events of the past 24 hours and were comforted by friends.
In his homily the Archbishop said; "We are not used to hearing words like 'siege', 'terrorist', 'hostages' and 'security forces' associated with our city. Yet for the past day and night we were subjected to pictures and sounds we tend to associate with alien lands. In a café only two blocks away from St Mary's Cathedral, only one block away from the Supreme Court, even closer to the New South Wales Parliament, the Reserve Bank and the Channel 7 studio, hostages were pinned for hours against the windows and forced to hold up a flag which blasphemously used the name of God as a threat. The distress was visible on their faces, as was the relief of the first five to escape. We went to bed hoping to wake to good news. But despite patient efforts to maintain calm and negotiate there were, in the early hours of this morning, flashes of gunfire, intervention by our police to save lives, merciful escapes, but finally death. Hell had touched us.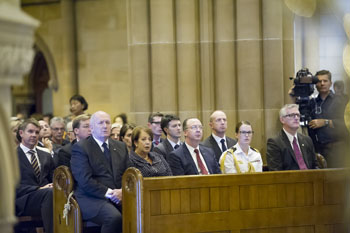 "Only history will tell how much 16 December 2014 will affect our attitudes, behaviour, life-style. But today the heart of our city is broken by the deaths of two innocent 'hostages' along with their tormentor, the injuries of four others and trauma to many more, the paralysis our city has experienced this day past. One of the deceased was Katrina Dawson, a mother of three young children and gifted barrister, presumably on her way to chambers for another day's service of her clients. The other, Tori Johnson, was the young manager of the café, likewise intent on serving his customers. And the third was Sheik Man Haron Monis the perpetrator of this nightmare. Much is still unclear about him, his motivations and affiliations, and we must avoid too quickly jumping to conclusions and pointing fingers.
"We are used to living in a peaceful, tolerant, secure society in which people may enter a café and order a hot chocolate without fear: I've been a customer at the Lindt Chocolat Café myself more than once. For such ease of living, such assumptions of safety, to be so radically challenged can be disorienting and harden our hearts. The risk is that we become cautious, cynical, suspicious of our neighbours, or worse, that we turn on them. In the process we undermine what we most love about our Australian way of life."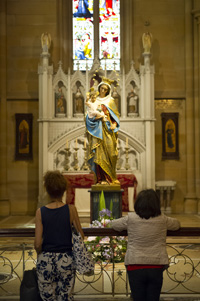 It was soon after two o'clock this morning when heavily armed tactical response police stormed the cafe in Martin Place bringing to an end the 16-hour siege.
The two hostages and the gunman were killed. Seventeen hostages were left traumatised, some injured but alive.
Haron Monis, 50 had walked into the Lindt Cafe around 9.45 yesterday morning. At gunpoint he locked down the cafe with the hostages inside.
He forced some to hold a black and white flag with Arabic writing up against a window and a terrible standoff was launched.
For many yesterday and today was a black day but the Archbishop said the darkness need not continue. He spoke of spontaneous tributes appearing in Martin Place and on the internet; leaders of all religious, political and ethnic backgrounds calling for calm, for prayer and for support for each other.
For Archbishop Anthony Fisher's complete homily click here.