Prayers follow Sydney siege
Catholic Communications, Sydney Archdiocese,
15 Dec 2014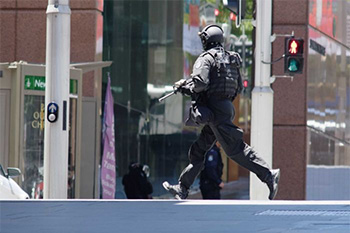 While a hostage siege continued in Sydney's CBD for most of the day Archbishop Anthony Fisher OP called for prayers for the hostages and their families and for a peaceful resolution.
Archbishop Fisher said; "We are all shocked and saddened by what is happening in Martin Place today. My thoughts and prayers - and those of the entire Catholic community - are for the hostages and their families, and for our police officers who are working to resolve this situation peacefully."
An armed man locked himself and about twenty staff and clients in the Lindt cafe in Martin Place at around 9.45 this morning.
Soon after some members of staff were seen to have their hands to the window, some holding a black and white flag to the window.
Police including riot and anti-terrorist police swarmed the area closing down Martin Place and nearby Macquarie Street near Parliament House.
Buildings nearby went into lockdown as exclusion zones were established. However as the siege continued nearby office buildings were evacuated.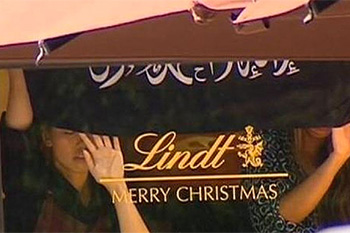 Police and emergency workers were able to evacuate some people including a small child from the siege building using ladders.
Nearly six hours after the siege started three hostages ran from the cafe. Another two followed soon after. All were ushered away by police.
Apart from being an extremely busy pedestrian thoroughfare Martin Place is home to several prominent government buildings including the offices of NSW Premier Mike Baird and the Reserve Bank as well as the US Embassy.
The Premier said during the afternoon; "We are being tested today in Sydney. The police is being tested, the public is being tested, but whatever the test we will remain a democratic, civil society.
"There could be some disruption obviously, we are asking also to be patient - we will get through this."Police confirmed there was one armed offender and although police negotiators had made contact no demands were made known.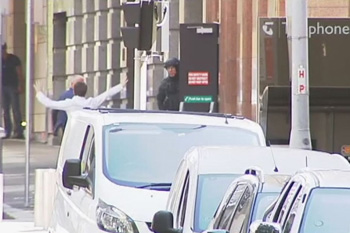 Archbishop Fisher said; "Two of the greatest attributes of our nation are its atmosphere of ease and safety and its history of harmony between people of different ethnic, religious and political affiliations. Today's incident will test our determination to remain such a society. We must not allow it to turn us on each other or to undermine our sense of security.
"At Christmas we look forward to the birth of Jesus as Prince of Peace. Let us pray to him, recalling God's promise to Jeremiah: "So call upon me and I will answer you, and lead the hostages to safety, " he said.
Meantime the Grand Mufti of Australia, Professor Ibrahim Abu Mohamed said he and the Muslim community was devastated by the incident.
The President of the Lebanese Muslim Association, Samier Dandan said Australian Muslim leaders were in talks to see if the community could help.